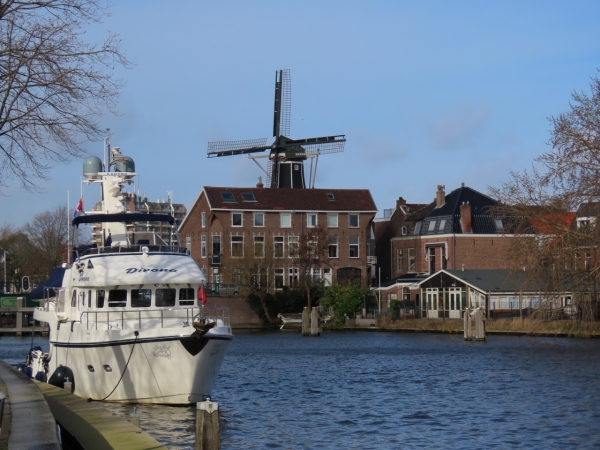 When we visited Haarlem last year by train, we didn't even consider that we could bring Dirona here through the narrow inland canals with our 2.1m water draft and 9.1m mast. But a route does exist, and in mid-February we set off on a trip from Amsterdam to Antwerp via the Netherlands' inland canal system.
The route is scenic and protected, allowing us to travel while strong winter winds blew in the North Sea. But it is not fast. The distance from Amsterdam to Haarlem is only 12 nautical miles, but it took us four hours as we passed through nine bridges and a lock en route.
We spent two wonderful nights moored canal-side in Haarlem, still marvelling that we actually were there, and enjoyed revisiting the beautiful city and also touring Haarlem-based De Voogt Naval Architects, the design and engineering center for superyacht builder Feadship.
Below are trip highlights from February 18th, 2020. Click any image for a larger view, or click the position to view the location on a map. And a live map of our current route and most recent log entries always is available at mvdirona.com/maps.
2/18/2020
Departing Amsterdam

The bridge at City Marina IJDok lifting for us to depart just past 8am this morning. We were moored in one of the tightest spots we've ever been in, and working out in gusts to 25 kts was challenging. In conditions like these, we especially appreciate the reliable hydraulic thrusters.

We've had another wonderful winter in Amsterdam, but are looking forward to the next adventure. We'll be taking the alternate "Standing Mast" or "Mast Up" route to Haarlem and Leiden and through the southern Netherlands. After a few days' stop on Antwerp, we'll continue south offshore to the Mediterranean as weather permits.
Phoenix Reisen

Four river boats of the German Phoenix Risen line moored for the winter along the North Sea Canal.
Taets

Taets Arts and Events Park houses in a 19th-century industrial building.
Kissing Couple XXXL

A giant-sized version of the famous "Dutch Kissing Couple" at Hempontplein along the North Sea Canal as we head west from Amsterdam.
Westhaven

Looking south into Westhaven, one of largest of the several harbour areas that make up the Port of Amsterdam.
Albert Heijn

Huge Albert Heijn distribution center along the north shore of the North Sea Canal. We've enjoyed being an Albert Heijn customer while in the Netherlands, particularly their

grocery delivery

service.
Amerikahaven

Amerikahaven, another harbour area in the Port of Amsterdam. In addition to handling container shipping, Amerikahaven also is used to transship waste and to construct and store wind turbines.
Buitenhuizen Bridge

Waiting at the Buitenhuizen Bridge for an opening. In the winter, requests must be made 24 hours in advance.
10:00 am

At precisely our booking time of 10:00am, the Buitenhuizen Bridge opened for us to enter the Zijkanaal C that will take us south towards Haarlem.
W.V. IJmond

Boats moored at the marina Watersportvereniging IJmond along the Zijkanaal C.
Brug Rijksweg

Waiting at the Brug Rijksweg for our 10:30am opening. Like the the Buitenhuizen Bridge, this bridge requires a reservation 24 hours in advance in the winter. But the highway is so busy that it will only be opened three times per day, at 10:30am, 2:15pm and 7:45pm.
10:30 am

The Brug Rijksweg opened precisely on schedule for us at 10:30am. We can see why they don't want to open the bridge very often—traffic built up quickly way into the distance as soon as the road closed.
Rijnland Sluis

The bridge at Rijnland Sluis opening for us to enter the lock.
Grevelingen

The commercial barge Grevelingen churning up the water as it exits the Rijnland Sluis ahead of us and into the Noorder Buiten Spaarne.
Pumping Station

The Boezemgemaal Spaarndam pumping station was built in 1844 with a steam-powered engine that used scoop wheels to move water. It is on the North Holland provincial list of monuments as a rare example of a very large paddle-pumping station.
Waterfront Homes

Modern housing complex along the Noorder Buiten Spaarne.
Schoterbrug

The Schoterbrug opening for us after a few minutes' wait. This and the rest of the bridges through Haarlem open on demand and no reservations are needed.
River Cruise Ships

Several river cruise ships moored just north of Haarlem.
Waarderbrug

The commercial barge Grevelingen passing through the Waarderbrug.
Recycling

From a distance we thought this barge was full of bicycles, but it's recycled metal (a large percentage of which are old bicycles).
Prinsenbrug

The Prinsenbrug lifted slightly on the left to allow Grevelingen to pass. We passed through the rightmost section that is just starting to lift in this photo. Beyond, the rail bridge Spaarnespoorbrug already is open for us.
De Adriaan

The windmill De Adriaan has been a prominent feature in the Haarlem skyline for centuries. The windmill looks old, but was actually built in 2002. The original mill is is based on was erected in 1778, but burnt down in 1932 and was rebuilt 70 years later. Visible in the background at right is the St. Bravo Church.
Tight Corner

The commercial barge Grevelingen churning up water as the skipper navigates a tight corner. The ship was right up against the wooden barrier at right in order to make the turn.
Catharijnebrug

Grevelingen up against the side of the Catharijnebrug to pass through. Navigating a long barge through Haarlem looks really challenging.
Moored in Haarlem

Dirona

moored at the guest pontoons in Haarlem with the De Adriaan windmill visible in the background. We didn't cover much ground today, only 12 nautical miles, but after passing through nine bridges and a lock, we were ready for a break.

When we visited Haarlem last year, the idea that we could bring Dirona here through the inland canals seemed incredible. And it still feels pretty amazing to actually be here.
Bakenessergracht

Looking north to the Bakenessergracht, one of Haarlem's inner canals, from the bridge Gravestenenbrug over the main canal.
Big Barge

While we were having lunch at Spaarne66, a huge barge passed through the canal just outside our window. It seemed impossibly large to get through the bridges and make the turn, but it slid through town without touching anything.
Grote Markt

Haarlem's main square, Grote Markt, with St. Bavo Church in the background.
St. Bavo Church

Looking to massive St. Bavo Church from the corner furthest away from

Grote Markt

. The church was founded in 1245 and the current structure dates from the 16th century.
AZ

The sculpture AZ (a memorial for Lennaert Nijgh) by renowned Dutch artist Marinus Boezem. The city of Haarlem commissioned Boezem to create the memorial for Haarlem-born Nijgh, a notable Dutch lyricist. The first and last letter of the alphabet, A and Z, symbolize the medium used by writers and poets to create their work.
Zijlstraat

Looking east along Zijlstraat, one of Haarlem's many beautiful and historic streets, with St. Bavo Church prominent in the background.
Crocuses

Crocuses are in bloom throughout Haarlem. We're still a month too early for the region's famous tulips though.
Modern Home

Haarlem is full of historic buildings, but also some impressive modern ones such as this home along the canal Kloppersingel.
Kloppersingel

Looking southwest along the Kloppersingel, one of Haarlem's many interior canals.
Spaarnespoorbrug

At Spaarnespoorbrug, the railway bridge that we passed under shortly before arriving into Haarlem.
Line Ashore

This line ashore from a barge along the Haarlem canal looks like it's been there awhile. The line is hardly visible where it attaches to shore due to all the moss and dirt around it.
Egyptian Goose

This Egyptian Goose was quacking loudly alongside the canal. The birds are native to Africa, but have become established in Europe mainly from escaped ornamental birds.
Catwalk

A fashion show runway is called a catwalk because the models walk somewhat like cats. We spotted a catwalk for real cats on the side of this house in Haarlem.
Popocatepetl

A delicious dinner, with fantastic margaritas, at Popocatepetl The Mexican in Haarlem.
2/19/2020
Felix

We enjoyed the huge faucet outside W.A. Felix. Sadly it appears the business is no more.
Air

A model of the 266 ft (81m) superyacht

Air

, launched by Feadship in 2011 as hull number 682. The ship has accommodation for 12 guests in 7 staterooms and 21 crew, carries 46,230 gallons (175,000 L) of fuel and 10,300 gallons (39,000 L) of water, and is powered by 2 MTU 16V4000 M60 engines. If you're looking for a memorable vacation,

Air

is

available for charter

for "only" € 875,000 per week.
Folkert Schoots

With Folkert Schoots at his Feadship office. Folkert is responsible for Business Development and Operations for Feadship's new

Refit and Services

division and also is the founding president of the Netherlands chapter of

Young Professionals in Yachting

, an organization of professionals up to the age of 40 working on land-based yachting businesses in the Netherlands. We'd

met Folkert last year

when he'd come for a visit and a tour of

Dirona

while we were in Amsterdam. Since we were in Haarlem, he invited us tour the

De Voogt Naval Architects

facility.

Here we are in Folkert's office prior to the tour, learning more about Feadship history and its business. The company was founded in 1949 by naval architect Henri de Voogt as an export association that originally included seven shipbuilders who shared the design and engineering support from de Voogt—the name stands for First Export Association of Dutch Shipbuilders. Currently only two shipbuilders remain from that consortium, Royal Van Lent and Koninklijke De Vries, who continue to share the design and engineering center De Voogt Naval Architects. We really enjoyed spending time with Folkert, learning more about Feadship and touring the facility.
Koepelkathedraal

The huge Koepelkathedraal, built between 1895 and 1930, is the newer of Haarlem's two major cathedrals. The building has twelve towers of various sizes and a 213-ft (65m) dome.
Haarlem City Theater

The Haarlem City Theater opened on this site in 1918 and re-opened again in 2008 with a striking modern renovation designed to mirror nearby

Koepelkathedraal

.
Jopenkerk

A fun evening, with great beer, at Jopen's brewpub Jopenkerk in Haarlem. The brewery and restaurant is built inside an old church, with large stained-glass windows and soaring ceilings.
Click the travel log icon on the left to see these locations on a map, with the complete log of our cruise.

On the map page, clicking on a camera or text icon will display a picture and/or log entry for that location, and clicking on the smaller icons along the route will display latitude, longitude and other navigation data for that location. And a live map of our current route and most recent log entries always is available at mvdirona.com/maps.