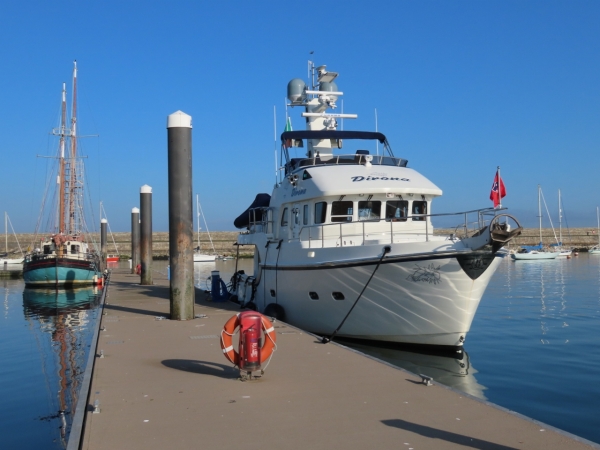 Our second visit to Dun Laoghaire marina outside Dublin was as enjoyable as the first. In the same berth as last time, we watched many spectacular sunrises over the harbour walls. The weather was clear and calm most days, and we took several walks, including to the end of each harbour pier. We also explored the outlying area, this time on foot and by tender instead of taking trains and taxis. And we continued to monitor the weather and prepare for the upcoming North Atlantic crossing.
Below are highlights from April 13th through 27th, 2021. Click any image for a larger view, or click the position to view the location on a map. And a live map of our current route and most recent log entries always is available at mvdirona.com/maps.
4/13/2021
Dublin Arrival

After spending two weeks at

Strangford Lough

in Northern Ireland, we departed on the last of the ebb tide and traveled 74 miles south to Dublin, Ireland. Conditions were beautifully clear and calm in the Irish Sea, with generally positive current, and we reached our berth at Dun Laoghaire in time to enjoy Happy Hour in the cockpit.
4/14/2021
Dawn

Beautiful dawn from our berth at Dun Laoghaire marina near Dublin.
Dirona

Our berth at Dun Laoghaire marina in Dublin in the same place as our

previous visit

in 2017. The only difference is last time an

RNLI lifeboat

was moored beside us.
Sail Drop

A surprising number of drop bins for sail repair at the Dun Laoghaire marina office.
First Smell

Spitfire out on deck for his traditional "

first smell

" ceremony, required for all new countries.
Dusk

Dusk on a calm evening at Dun Laoghaire marina near Dublin.
4/15/2021
Railroad Equipment

Construction machinery equipped for running on railroads alongshore in Dun Laoghaire harbour.
East Pier

Looking down the east pier forming Dun Laoghaire harbour, built in the early 1800s. On our previous visit we walked the west pier and both inner piers, but not the outer east pier.
Gringo

A heavy workboat tied off to the stanchion of the sailboat Gringo.
Anemometer

The anemometer on East Pier was built in 1852, one of the earliest in the world, and is still in working order.
Harbour Entrance

The Dun Laoghaire harbour entrance between the east (red lighthouse) and west piers.
Dun Laoghaire Harbour

Looking across Dun Laoghaire Harbour as we return back to town. The harbor is huge at 250 acres (101-hectare)—Dirona (not visible) is moored behind the wall way in the distance at the right.
Killiney Hill

Obelisk on Killiney Hill visible from East Pier. We plan to walk up there in the next day or two.
4/16/2021
Dalkey

Dun Laoghaire harbour was constructed in the early 1800s from stone quarried at nearby Dalkey. The old railway used to transport the rock is now a popular walking path, "The Metals", leading to the town of Dalkey and on to the quarry in Kilkenney Park. Dalkey is an appealing town with many pubs and two medieval castles. The old quarry now is a popular rock-climbing destination with a great view back to Dun Laoghaire harbour, while the two hills in Kilkenney Park provide even better views over the surrounding area.
4/17/2021
River Liffey

The River Liffey runs through the center of Dublin and has long been a source of water, recreation and commerce for the city. Trade along the river was recorded as early as the Viking days and the first bridge across was built in 1428. Today at least two dozen bridges span the flow in the Dublin area, many dating from the 1800s. And while the river still carries significant commercial traffic, most is near the mouth at busy Dublin Port. And along the shores are historical centuries-old buildings side-by-side with modern masterpieces.
4/19/2021
Dawn

Our berth at Dun Laoghaire marina has fabulous sunrise views looking across the inner harbour entrance.
BGAN

Our primary satellite system is a

KVH V7-HTS mini-VSAT

, but we also have Inmarsat BGAN and Iridium (see

Communications at Sea

). We favor the KVH system because the service is excellent and the data rates are very good relatvie to current marine technologies. We use Inmarsat BGAN when we are in a part of the world not covered by the KVH system or if there has been a system outage. At $6,000/GB, BGAN data transfer is 30x more expensive than KVH, so we only use BGAN when there is absolutely no other choice.

Here we are testing the BGAN system for our upcoming Atlantic crossing to the US. We should have full coverage on the KVH system for the entire run, and don't expect to use the BGAN system. But it's a good backup should we have an outage. We bought a small amount of BGAN data that we can use to stay connected in an emergency and to buy more data if the outage is likely to be prolonged.
4/21/2021
DPC Tolka

The 2019 pilot boat

DPC Tolka

entering Dun Laoghaire harbour, possibly to pick up or drop off a pilot.
Oil Change

Performing the 44th oil change on our John Deere 6068AFM75 main engine. This change is a little early, at 210 hours on a 250-hour change interval, but we've got a 200-hour run ahead of us to Horta in the Azores. If we don't change it now, we'll exceed the change interval underway and we generally prefer not to change the oil on passage (although we have done it:

Oil Change at Sea

.)
Swiftstone

Old diesels don't like to start. The marina filled with smoke when the 1952 heritage tug Swiftstone started up.
Paddle Boards

To a large extent, paddle boards seem to have gone out of style in most parts of the world, but they still are exceedingly popular here in Dun Laoghaire. Dozens pass by every day.
Sunset

Fabulous pink sunset off our stern in Dun Laoghaire marina.
4/23/2021
Sunrise

Another spectacular sunrise over Dun Laoghaire harbour.
Weather

We've been keeping a close eye on the weather in preparation for our upcoming passage to Horta in the Azores (at center of screen in the middle of the red/purple area). This is a difficult time of year to make the passage, as major low-pressures system seems to be crossing the Atlantic every few days, so we need to pick a weather window carefully.

From Horta we plan to to follow the Azores High, the large high pressure system at bottom left, back to the US. This is longer than the more direct route via Bermuda, but will hopefully keep us out of the path of the steady sequence of low pressure systems that move east across the Atlantic. We'll be making the passage at about the same time of year as our crossing from Newport, RI to Kinsale, Ireland and have first-hand experience on what those systems are like. And on that crossing we were running with the wind and waves. This time we'd be running against them, so we have even more reason to avoid them.
Tesco

Making a final provisioning shop at the local Tesco in preparation for our crossing. We stocked up the deep stores in

Stornoway

, so mostly need produce, lots of it, to last about 5-6 weeks. We'll not provision again until we reach the US in late May/early June.
Full Cart

Returning to Dirona with a full cart of groceries.
Old EPIRB

We replaced the boat's EPIRB recently and today disassembled the old one to disconnect the battery so we could safely discard it without risk of it subsequently being triggered.
Spitfire

Spitfire relaxing in the sun on a pillow. He's really been enjoying being outside a lot more recently. Sunshine and a pillow are like a magnet for Spitfire.
4/24/2021
Full Fridge

Our fridge is completely packed in preparation for the Atlantic crossing.
4/25/2021
Harbour Head

View across the inner protected head of Dun Laoghaire harbour, filled with small recreational craft. More and more small boats are being launched as summer approaches.
Dublin Bay

View north across Dublin Bay at low tide from Dun Laoghaire west pier. At least one ship, and often several, are arriving or departing busy Dublin Port whenever we get a view to Dublin Bay.
Dun Laoghaire Marina

View across Dun Laoghaire Marina with Dirona visible roughly at center. The marina is huge at 820 berths.
West Pier

Looking down the outside of west pier towards the Dun Laoghaire harbour entrance. The two outer piers, all built by hand two centuries ago, are an impressive feat of engineering to still be weathering the fierce Irish Sea storms. And besides providing shelter, the piers are very popular for recreation. At any time, no matter the weather, from our berth we can always see dozens of people out walking, jogging or cycling on the piers.
Heron

Heron surveying Dun Laoghaire harbour from west pier.
Drone

This distinctive-looking large drone was surprisingly stable in the gusty winds at the end of west pier.
East Pier

The light on Dun Laoghaire east pier, viewed from west pier.
Mavic Air 2

We've generally not seen a lot of drones on our travels, partly because we often are in parks where their use is restricted. But this DJI Mavic Air 2 is the second drone in use on west pier.
Dalkey Quarry

Dalkey Quarry, the source of stone for Dun Laoghaire Harbour is prominent in the distance from west pier. The old

signal tower

is visible atop the hill at left. We really enjoyed our

walk out there

last week.
Seal

Seal relaxing in Dun Laoghaire inner harbour.
Teddy's Ice Cream

Teddy's Ice Cream is amazingly popular and always is lined up whenever we pass.
Sail GP

The first round of the 2021

Sail GP

series took place in Bermuda this week and are viewable on

online

. The competition runs one-design high performance F50 foiling catamarans and the field is full of top sailors, including Tom Slingsby, Jimmy Spithill, Ben Ainslie, Nathan Outteridge, and Peter Burling. The races were tight and incredibly exciting This is by far the best sailboat racing we've ever seen. Sadly, our man

Tom Slingsby

lost to Ben Ainslie in the winner-take-all final match race after Tom had won all but one race leading up to the final.
4/26/2021
4/27/2021
Clearing Cockpit

Moving the scuba tanks out of the cockpit to stow below in the lazaratte to make space for our

deck fuel bladders

. The weather is looking reasonable to

depart for Horta

tomorrow and we will fuel on our way out. We won't need the extra fuel for the short 1,300-mile run to Horta, but will for the 2,900-mile second leg to the US. Since fuel is roughly twice as expensive in Horta, we'll fill everything up here and only take on in Horta what we consumed to get there. This is similar to our trip from

Cape Town to Barbados

via

St. Helena

, where we filled the bladders with inexpensive

Cape Town fuel

and only topped off the load at St. Helena.
Storm Windows

We turned the boat around briefly to install the storm windows on the port side. It takes less than a day to prepare the boat for an ocean crossing. Here's what we usually do:

Preparing for the North Atlantic Crossing

.
Towing

A gaggle of small sailboats being towed out to a recently-installed raft in the outer Dun Laoghaire Harbour. They reminded us pictures of fishing skiffs being towed out to the fishing grounds from the salmon canneries on the British Columbia coast in the early 1900s.
Kayaker

We stepped outside this evening to find a kayaker in distress, trying to get out of the water at our stern. We lowered the ladder so she could climb aboard and onto the dock. We later saw this RIB carrying her and her kayak back to shore, so perhaps she'd had another spill.
Click the travel log icon on the left to see these locations on a map, with the complete log of our cruise.

On the map page, clicking on a camera or text icon will display a picture and/or log entry for that location, and clicking on the smaller icons along the route will display latitude, longitude and other navigation data for that location. And a live map of our current route and most recent log entries always is available at mvdirona.com/maps.