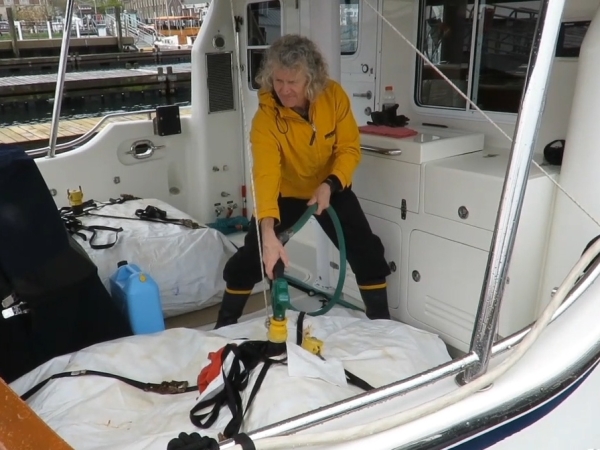 Below is a 24-minute narrated video preparing Dirona for the 2,801 nautical-mile North Atlantic transit from Newport, Rhode Island to Kinsale Ireland. We first show storm plate (clear window protection covers) installation at the dock using the tender as a working platform on the port side. Then we move the SCUBA tanks below and secure them in the lazerette, plug the furnace exhaust to prevent flooding the boiler, install 8 stainless steel deadlights (port light covers), secure the anchor using a stainless steel pin, secure the refrigerator contents for rough sea usage, install the deck fuel bladders in the cockpit and Portuguese bridge, and finally take on 2,000 gallons of diesel and do the "ready for passage" visual survey.
See Passage Preparation for additional work done in Newport prior to the passage.
Update: See Fuel, Option Value, Speed, & Safety and Fuel for the crossing for details on how we manage fuel and the fuel bladders.