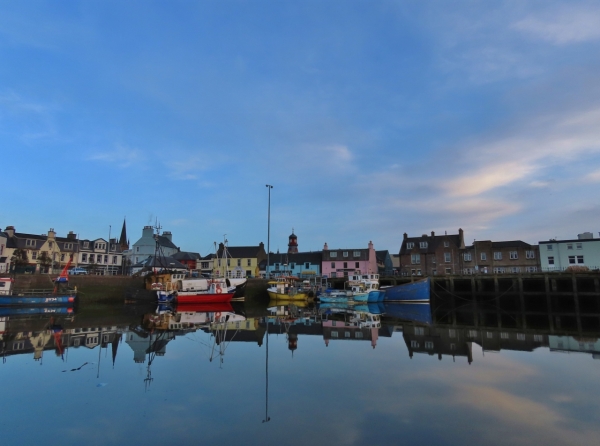 Our first visit to Stornoway in 2018 was only for a week. We hit the highlights of the town and the Isle of Lewis, but didn't have time for much else. Our second visit in 2020 was much longer at a month, but we were busy with some major projects such as a changing the cylinder head on our generator, waxing the boat, repainting our teak furniture, replenishing our deep stores and hauling out for bottom paint and an insurance survey.
On our third trip, in early 2021, we had fewer projects and a little more time to explore as we waited for some deliveries and a weather window to run south. Whenever the weather was nice, and sometimes when it wasn't :-), we made sure to get out and do a long walk in the area. We didn't come close to covering all the trails, but had a great time and a newer appreciation for all the town had to offer. We also learned much about the 1919 sinking of the HMY Iolare just off Stornoway, one of the worse peacetime maritime disasters in UK history.
Below are highlights from March 16th to 29th, 2021. Click any image for a larger view, or click the position to view the location on a map. And a live map of our current route and most recent log entries always is available at mvdirona.com/maps.
3/16/2021
Stornoway Arrival

After completing

quarantine at Longhope

in Orkney, we returned to Stornoway to refuel, provision and accept several deliveries. Perhaps because we haven't been home to Seattle for well over a year now, Stornoway is starting to feel a bit like home. The town is one of the few places we've visited three times over the past four years.
3/17/2021
Mural

Mural by Iain Brady on the end of a building at the intersection of Shell and James streets. The mural incorporates notable Stornoway features, including Lews Castle at the top, a CalMac ferry in the middle, and a fishing vessel near the bottom.
HMY Iolaire

Memorial to the sinking of the HMY Iolaire, one of the worst UK maritime disaster during peacetime. The ship sunk Jan 1, 1919 in terrible sea conditions just outside the entrance to Stornoway harbour, killing at least 201 of the 238 on board (the ship was badly overcrowded and records poor, so the death toll likely was higher). Most were Royal Navy Reservists returning home to the Outer Hebrides after World War I and represented nearly the entire generation of young men from the islands.
Propane

After exchanging three empties, we now have a full set of propane tanks that will last us about a year.
Clysedale Bank

On our previous visit to the UK, we learned that pound sterling notes weren't issued just by the Bank of England. Several banks in Northern Ireland issue their own notes, and in Scotland we've got notes from the Royal Bank of Scotland and the Clysdale Bank. Our experience has been that the other UK countries generally will accept only their own notes or Bank of England notes. We couldn't spend our Northern Ireland and Scottish notes outside the issuing country. The diversity of currency used across the UK is pretty unusual.
3/18/2021
Fog

A foggy morning in Stornoway (clockwise from top left: forward, aft, starboard and port).
Herring Girls

The Herring Girls statue along the Stornoway Wharf wearing PPE. Dirona is just visible in the background through the fence directly right of the corner post.
Tesco

With our folding cart at Tesco on our first of several major ships to replenish our deep stores. The store is a little easier to shop in as the

one-way routing

has been removed in favour of a traffic light system limiting the number of people in the store at a given time with masks now required for entry.
First Load

Returning with our first load of groceries from Tesco in Stornoway.
Daffodils

Daffodils just starting to bloom outside the CoOp grocery store in Stornoway.
Second Load

Returning with our second load of groceries in Stornoway, this one from CoOp.
3/19/2021
Antibiotics

We needed to replenish the supply of antibiotics in our ship's medicine chest prior to the passage back to the US. Normally we would have picked up some more on a return trip to the US, but haven't been back in over a year. We'd not had much luck getting a prescription here in the UK as we don't have a local doctor here and the doctors we contacted wouldn't issue a prescription for ship-board use.

We asked Donald Murray, the coxswain for the RNLI lifeboat Tom Sanderson who also did our insurance survey last year, for advice. Donald recommended we contact Alastair Macarthur of Stornoway Shipping Services. Alastair quickly and efficiently delivered what we needed.
Kidney Care

Spitfire was diagnosed with kidney problems a bit more than two years ago and needs a special diet. We feed him Hill's k/d (Kidney Diet)

Chicken Pate

and had gotten low in Norway because the vendor we purchased it from went out of business. But we weren't concerned because we knew we could easily get more in the UK. Unfortunately most UK vendors we've tried have been out of stock due to what we were told was a manufacturing issue. These kidney diets are very effective at mitigating the problem, and there's no way he'd be alive now without them. However, they apparently aren't the best-tasting and this is the only one we've found that Spitfire will actually eat. And even then he's sometimes reluctant, so the supply shortage is a big concern for us.

We contacted the manufacturer Hill's to possibly learn more, and weren't expecting much of a response. But we received a very detailed reply within a couple of hours, indicating that they are having a worldwide shortage due to difficulty sourcing some ingredients because of the pandemic and recommending some alternative foods. We were really impressed.

Their chicken stew version was still available, so we bought a small flat to see if Spitfire would eat it. The order arrived today and Spitfire gobbled a can down. Whew! It's a good thing he liked it because we transitioned him to normal cat food for a few days as our supply ran low and his health deteriorated dramatically, his water consumption nearly doubled, and neurological problems appeared, where his hind legs would not work fully. After a day of eating just k/d, he's back to his normal spunky self and his hind leg control is very close to normal.
3/20/2021
Virus Levels

Our original plan for this year was to spend the summer cruising Sweden. But with the Swedish border closed to entry from Norway and various other considerations, we

decided to return to the US

instead. When we departed Norway for Scotland at the end of February, the infection level in Norway was much lower than the UK. Now the

UK is at 8 cases per day per 100,000 over the past week

, Norway is twice that at 18 and Sweden is nearly six times that at 45. Ultimately we're heading to the United States, and now even the US is also slightly better than Norway at 16.
Snubber

Replacing the anti-chafe on our snubber line and adding a new piece where it lies against the windlass capstain. The snubber is hooked onto the chain and then tied back onto the boat and provides some elasticity to an all-chain rode, reduces strain on the windlass and can reduce the noise transferred to the boat of the chain dragging over rock.
Sena Expand

Dirona

is not that big a boat, and we've never found communicating while docking to be much of a challenge. But Dick Carey, owner of Nordhaven 55

Tai-Pan

, recommended

Sena Expand

as reliable, easy-to-use, and helpful. For us, ease of use probably is the most important thing because, of course, we'd like to be able to talk back and forth easily. But its never been important enough to us to want to deal with complex or unreliable equipment. Another factor we like about the Sena Expand is they are unobtrusive. We've never liked looking like we're a seal team arriving on a tactical mission. We're just docking the boat.

In testing out the headsets we're actually fairly excited by them. We just throw them on, power them up, enable intercom and all conversation, even at quiet inside levels, can clearly be heard. They work just as well when we are outside in the wind. In all our testing thus far, it seems like they might really be a winner.
Repackaging

Jennifer repackaging some chicken wings to re-portion and to reduce space consumption and garbage.
3/21/2021
Morning Calm

A wonderfully calm morning in Stornoway. It won't last—we've got several days of big winds coming.
3/22/2021
Cnoc nan Uan Hill

Cnoc nan Uan hill is just north of Stornoway, and an easy walk from town. The hill is the highest in the area and has sweeping views across Stornoway and the Isle of Lewis, along with a sobering reminder of the toll of war.
3/23/2021
The Iolaire Disaster

The shipwreck of the HMY Iolaire was one of the worst UK maritime disaster during peacetime. The ship sunk Jan 1, 1919 in a severe southerly gale off Holm Point just outside Stornoway harbour. With a big southerly storm system in play, we went for a walk out to Holm Point to view the storm and the Iolaire memorial there.
Light Years Ahead

Tonight we watched Robert Wills outstanding presentation

Light Years Ahead: The Remarkable 1969 Apollo Guidance Computer

, recommended to us by blog reader Stacy Kenworthy. Wills is an excellent communicator and his great enthusiasm for the topic really brought the computer to life. You don't have to be a programmer or even particularly interested in space flight or computer technology to enjoy this engaging presentation on how Neil Armstrong and the Apollo guidance computer were able to safely land on the moon, despite numerous hardware faults on the trip down. It's amazing, at least for us, that the guidance computer can fault and restart multiple times during the landing, and yet the landing still was made successfully.
3/24/2021
Lews Castle Grounds

Sir James and Lady Matheson created the Lews Castle and its grounds over a period of seven years starting in 1847. The extensive grounds encompass 687 acres (278 hectares) of woodland and included the widest range of exotic flowers in Scotland at the time. The subsequent owner, Lord Leverhulme, gifted the property to the people of Stornoway in 1923.
W J Macdonald

At W J Macdonald butcher in Stornoway to purchase some more of their excellent Scottish steaks.
Apollo 11

Watching

Light Years Ahead

renewed our interest in the Apollo 11 moon landing so tonight we watched the 2019 documentary

Apollo 11

. This film brings together lots of previously unpublished footage, and annotates it with what is happening and what is being said at the time. The movie really brings the excitement of the mission and the landing to life, and having watched

Light Years Ahead

, you'll know exactly what those 1202 and 1201 alarms indicate.
3/25/2021
Viovet Order

Returning from the Stornoway Port Authority office with the last order we were waiting for: special food for Spitfire from VioVet. We sure use that folding cart a ton—getting this big heavy order back to the boat would have been a real challenge without it, particularly since the large cardboard shipping boxes had gotten wet and were coming apart.
Kidney Care

Spitfire was diagnosed with kidney problems a bit more than two years ago and needs a special diet that needs to be special-ordered. We just received an order of his

new favourite

, Hill's k/d (Kidney Diet) Chicken Stew. This looks like a crazy amount, but it will only last about four months, sufficient to get us back to North America with a little buffer. Spitfire's weight varies between 14 and 16 pounds, but based on what he eats it should be about 80 :-).
Tom Sanderson

The RNLI lifeboat Tom Sanderson heading out on a training run.
Sena Expand

Our short fueling trip this morning was the first live test of our new

Sena Expand

headsets and we love them. Communication is much easier and better, and we really like how unobtrusive they are.
3/26/2021
Toe Injury

James stubbed his toe on deck. It hurt quite a bit given it wasn't that hard of a hit. The next day the toe was looking like it felt.
Weather Station

Our Maretron WSO100 weather station stopped working this morning so we installed our spare. The unit is out of production, so we'll need to find a compatible replacement.
Hirta

The boat Hirta, moored behind us, departed this morning. As we watched it leave, we were surprised and slightly uncomfortable to not see anyone at the helm given how close they were to us. As it turned off our bow in the harbour, the puzzle was solved: the Endeavour was towing alongside.
Dirona

Looking across fishing nets ashore to Dirona moored at the port of Stornoway. Fishermen here are constantly repairing their nets.
More Seals

A second set of seal sculptures along the Stornoway commercial harbour.
Water Intrusion

We get acceptable life from the Maretron WSO100, where each one lasts 2-3 years. They always fail the same way, where the two plastic halves, glued together, eventually allow water in. Even this doesn't stop them from working. The humidity sensor will fail almost immediately from corrosion, but the rest of the system will keep operating for a long time before it eventually succumbs to corrosion.
Final Groceries

Returning from our final grocery run in Stornoway. We likely won't shop again until we reach Kinsale in south Ireland just before setting off for the Azores.
Cleaning Fridge

Before filling the fridge back up with our newly-purchased produce, we took everything out and gave the interior a good clean.
Dusk

A peaceful evening in the Stornoway inner harbour before another big weather system comes through.
3/27/2021
Storms

A large storm system will be passing through the British Isles over the next few days, bringing strong southerly winds to the Minch between the Outer Hebrides and mainland Scotland. Winds will be lighter and from the north around Wednesday of next week, when we expect to depart for Ireland.
Stornoway

A calm and sunny morning in Stornoway shortly before the storm arrives.
Tom Sanderson

The RNLI lifeboat Tom Sanderson heading out to work.
Storm Arriving

The expected storm has arrived and we've seen gusts up to 39 knots (tell-tale on wind gauge at upper right).
3/28/2021
Wind Settling

The winds peaked overnight and have settled down now, but we expect them to pick back up again this afternoon as another system passes through.
Hail

Hail as the next weather system arrives.
Soldering Iron

We've been using thirty-year-old, primitive soldering irons. They were cheap at the time, but struggle to produce enough heat and have poor thermal control. We decided to upgrade to an

SQ-001

which is both fairly inexpensive but also very fast to heat with precise heat control. We should have done this years ago.
3/29/2021
Guilty

Spitfire looking very guilty as he's just about to head into the space left by a temporarily-removed drawer in the pilot house.
Perimeter Trail

Our final walk in Stornoway was also on the

Lews Castle grounds

, this time along the Perimeter Trail. Much of the trail follows the River Creed, and gave a sense of what the property might have been like in the mid-1800s when Sir James and Lady Matheson created the castle and grounds.
Click the travel log icon on the left to see these locations on a map, with the complete log of our cruise.

On the map page, clicking on a camera or text icon will display a picture and/or log entry for that location, and clicking on the smaller icons along the route will display latitude, longitude and other navigation data for that location. And a live map of our current route and most recent log entries always is available at mvdirona.com/maps.