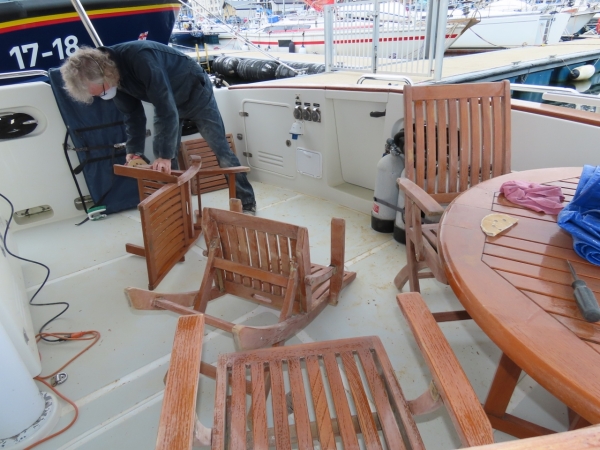 The replacement parts for our failed generator arrived from the US into the UK two days after we reached Stornoway, but got stuck in the UPS system for another eight days. While we waited, we completed some other projects, including finishing off the wax job we'd started at the Isle of Gigha. We also arranged a haul-out at the recently re-opened Stornoway slipway for bottom paint and an insurance survey.
The haul-out wouldn't happen for an additional couple of weeks after we replaced the cylinder head, so we tackled some larger maintenance items in the interim, including refinishing our teak cap rail and deck furniture. We also took advantage of being at a fixed address to place some on-line orders for bigger purchases that we were expecting to do this summer in the Mediterranean before that trip got cancelled, such as special renal food for Spitfire, and forwarded our surface mail from Seattle. And we decided to replace our laptops, since they're getting old and it takes some time to move to a new system.
Below are highlights from June 13th through July 5th, 2020. Click any image for a larger view, or click the position to view the location on a map. And a live map of our current route and most recent log entries always is available at mvdirona.com/maps.
6/13/2020
Waxing Hull

With a couple of days of nice weather forecast, we're taking advantage of being on a dock to wax the hull. We were able to do all the topsides while at Gigha, and we could drop a tender in to do the hull, but it's much easier to do from a dock.
Waxing Bow

Because we're in a side-tie with a lot of space beside us, we were able to pivot Dirona to bring the bow on to reach it for waxing. It looks a little odd, but is super-effective for efficiently waxing the bow portion of the hull.
Port Side To

We've finished waxing the starboard side, and have turned the boat around to wax the port side.
Stornoway Inner Harbour

A beautiful calm evening in Stornoway's scenic inner harbour.
6/14/2020
Morning Calm

Calm conditions at 5am in Stornoway. We should have another clear and sunny day to complete the wax job.
Waxing Port Side

We did a portion of the port side yesterday and are finishing it off today.
Dirona

Dirona looking all clean and shiny again after a full wax job. Including the topsides, it took the two of us nearly six full days to do the complete wax job, plus the stainless. It was a big effort, but we're really pleased with the result and happy to have the job behind us.
6/15/2020
Fishing Net

Local fishermen using a forklift to pull a net off a fishboat, presumably for on-dock repairs.
6/16/2020
Fridge Full

Our fridge and freezer were looking pretty lean when we arrived into Stornoway, but are now close to as full as they'll ever get. We still have a few more items to pickup, but are close to fully stocked now.
Compacter

We heard from Chris Barber, owner of Nordhavn 47 Paragon, that the compacter is nearly impossible to remove if it fails in the down position. We thought we'd have a quick look to see if there was anything we could to do easily correct that. It does look very challenging. Hopefully we'll not have to face that issue in the future, but we don't see an easy way to correct it.
Jack Screw

While we had the

compacter partially apart

, we decided to grease the jackscrew, to see if we improve the lifetime of the overall unit. 12-inch compactors no longer are made, so if this one fails, we won't be able to replace it.
6/17/2020
UPS Package

The good news is that our

replacement cylinder head

arrived from the US into the UK at 2am last Friday June 11th (6 days ago). Each day we hear another reason why its been delayed, are assured that it's corrected and that it will ship the next day. The next day, we repeat the process. (For those of you who have seen the movie

Groundhog Day

, we've started to hum "

I Got You Babe

".) We know we've spent just over $1,200 to ship these parts, but we don't know when we're going to see them.
Fresh Lettuce

Alison Alston, partner of

Olly Alston

who gave us the fresh mackerel at Loch Mariveg, brought us some fresh lettuce from her garden. It was amazingly good, potentially the best lettuce we've ever tasted.
6/18/2020
Celestial Dawn

The net being loaded back onto

Celestial Dawn

three days after it was

offloaded

. The skipper had help bringing the net off, but was single-handing as he pulled the net off the dock and back onto the spool. We were impressed.
I Got You Babe

Two days after we paid the invoice, we finally got UPS to confirm that and move the package out of "Duties or taxes are due on this package" status. But our cylinder head still is stuck in Castle Donington, now delayed for "aviation security screening", and we're still humming

I Got You Babe

.

We have no idea how a package can pass UPS aviation screening and cross the Atlantic by air, and then fail security screening for a regional hop. UPS claims they will get it to us by Saturday, in two more days.
Gratitude K

It must be the season to do

net repair

in Stornoway. Here the net is being lifted off

Gratitude K

using a forklift.
| | |
| --- | --- |
| | Blind Failure |
Disassembled Blind

We took the

failed blind

apart, but weren't able to fix it without parts. The clutch mechanism has failed, and it's a sealed unit that needs to be replaced. It might be possible to drill the rivets out of that unit and service it, but it looks challenging. We don't use the

top-down

feature much, so we ran a couple of screws through to keep it from falling down and are back operational with the blind able to go up and down.
6/19/2020
Inverness!

Our

cylinder head

finally has moved from Castle Donington, exactly one week after it arrived there, and now is in Inverness. UPS promises that we'll have it tomorrow. They are on track to charge air freight pricing for sea freight delivery time.
Stepping Mast

Mast being stepped at the boat launch opposite our berth in Stornoway.
Lunch

Lunch in the cockpit on a nice sunny day. We're really enjoying being back in Stornoway.
Thomas MacLeod

As we were walking through town, we noticed this plaque commemorating Stornoway native and

Polar Medal

recipient

Thomas MacLeod

who sailed on three expeditions to the South Pole, including on Shackleton's

Endurance

.
W J Macdonald

Back at W J Macdonald to buy more high-quality steak for our dinner.
Shipment Arrived

Amazingly, our package arrived on tonight's ferry and the Stornoway Port Authority delivered it right to the boat. Amazing service. They sure are treating us well.
Box On Board

We'll sleep well tonight knowning that shipment with our new cylinder head is now on board.
6/20/2020
Christmas Again

It felt like Christmas getting a load of

essential groceries

at Gigha and it feels just like that again seeing our cylinder head shipment arrive. We also received the gaskets and other parts we'll need to complete the cylinder head job and to change the rear main oil seal, and a replacement PTO clutch for the one we

changed earlier this year

.
| | |
| --- | --- |
| | Removing Old Cylinder Head |
6/21/2020
Gen Running

A happy James with the generator running for the first time after completing the cylinder head replacement. This morning we adjusted the valves, re-installed the air filter, refilled the coolant and bled the fuel lines, then started the generator. It started up without a hitch and sounds smoother than before. We'll post a video of the full job.
Valve Seat Recession

After replacing the cylinder head, we examined the old head to determine the cause of the problem and think we got to root cause.
6/22/2020
Baking Powder

On all six trips to the two grocery stores here in Stornoway, we've not yet been able to find baking powder. Tesco was expecting a resupply on Sunday when the store is closed. So we went first thing Monday morning to see if we could get some. And we did, but there weren't many left. As the sign shows, baking soda still is sold out, but we don't need any. The notices Tesco puts up to indicate when a restock is expected are quite helpful.
Seventh Groceries

Returning from our seventh grocery shop. It was much easier shopping first thing in the morning as the crowds were less. We didn't feel quite as rushed moving through the store, so were able to spend time locating a few more elusive items on our list.

People must follow a one-way path through the store and aren't allowed to pass in the aisles due to social distancing, so a strict line of shoppers flows through the store like a snake and a queue builds up if anyone spends too long browsing. Shopping when the store is busy can feel a bit like a game show, where you have a limited amount of time to locate items in the shelf and get them into your cart before you have to move on to the next aisle.
Armed Forces Day

Armed Forces Day, previously known as Veteran's Day, is an annual event commemorating the service of those in the British Armed Forces. A small ceremony took place this morning in Stornoway's main square. A major event scheduled to take place in Scarborough, North Yorkshire was postponed until 2021 due to the Covid-19 pandemic.
Piper

A piper playing at the

Armed Forces Day

presentation. We always love hearing a piper, and actually have piping in the family. James' uncle Gordon Hamilton was the pipe major of the internationally renowned

Black Watch

, the oldest pipe band in North America.
Dirona

Dirona

moored at Stornoway next to the RNLI lifeboat

Tom Sanderson

with the turrets of

Lews Castle

visible in the background.
Fisherman's Co-Op

Shopping at the well-stocked Fisherman's Co-Op in Stornoway.
Spanner

We found an adjustable wrench almost as big as Jennifer at the Fisherman's Co-Op.
Amazon Order

Our first Amazon order, from Amazon UK, since departing Amsterdam in mid-February.
6/23/2020
Amity House

Picking up a package from the Stornway Port Authority at Amity House. The building dates from the early 1800s and initially was the Stornoway Customs House.
Buoys

The ferry just came in and some really large fishfarm buoys are being unloaded in the yard next to

Amity House

.
Islander Seafood

Islander Seafood always has a queue outside whenever we pass. On our way back from picking up our package, there was no queue, so we stopped in to pickup some delicious fresh salmon for dinner.
6/25/2020
Sanding

Sanding our teak furniture and the cap rail for refinishing. The last time we did them was four years ago in Cape Town. They've done pretty well since then, mostly because we've been in temperate climates. When we were closer to the equator, we needed to refinish them after two years. We use 2 coats each of Cetol Marine Light, followed by 2-3 coats of Cetol Marine Gloss for shine and UV protection. This treatment looks great and lasts well.
Thunderstorm

We'd painted a first coat of Cetol Marine Light on the teak when a sudden, intense thunderstorm hit. It looks like this did damage the fresh paint in a few places, so we have a little more sanding to do. :(
6/26/2020
Laptop Fan

This morning Jennifer's laptop wouldn't start, showing the message "Fan Error". We took it apart and found that the fan had thrown all it's blades, some visible at bottom right. Fortunately James' old laptop is identical, so we took the fan from it and got Jennifer's up and running again. Since our backup laptop has now been raided for parts, we'll need to get another laptop soon.
Bottom Paint

Two 20L pails of Interlux Micron 99 bottom paint just arrived today. We've not had the bottom painted since early 2018 in

Southampton

, and also need an insurance survey done (due at the 10-year-old mark and every 5 years after). We were planning to do this in the Mediterranean later this year, but instead will haul out here in Stornoway next week.
6/27/2020
Sanding

Resanding the cap rail, table top and parts of the chairs where the

thunderstorm damaged the paint

. We've got a

Coolaroo Square Shade Sail

out for rain protection and also to capture heat so we can turn our cockpit

patio heater

on to help dry the paint faster. We'll also secure drop sheet around the corners. With close to 100% humidity, we've a ways off ideal painting conditions. But if we waited for several days of sunny weather, we'd never get the job done.

We purchased the Coolaroo Shade Sail, or "the roo" as we call it, while in Hawaii to shade the cockpit from the hot tropical sun. It has worked out super well. We string it between the boat deck rails and the swim step staples and can deploy and pack it away in minutes. It takes the cockpit from intolerably hot in direct sun to quite comfortable.
Painting

Putting another coat of Cetol Light on our teak furniture and cap rail. We've taped drop sheet around the corners of the cockpit for rain protection where "

the roo

" doesn't reach. It also helps enclose the cockpit to retain the heat from our

patio heater

to help dry the paint.
Umbrellas

The

drop sheet

worked well for protecting our paint work from light rain. But the lightweight sheets tore off as the wind picked up later in the day. So we replaced them with umbrellas. This looks a little odd, but is fairly effective against light rain at least. Ideally we'd be painting with a forecast for days of hot, sunny weather, such as the last two refinishing jobs in

Cape Town

and

Whangarei, NZ

. But, well, we're in northern Scotland :).
IR Shot

Every six months, we do an infrared scan of the breaker cabinet and the high amperage DC switching panel in the lazarette. We try to do this under high load, looking for any evidence of loose connection, excess resistance or other issues that can lead to fire. We use the relatively inexpensive ($400)

Flir One

. Using this, hot spots are easy to see and we can make follow-up mechanical tests where there are suspicious levels of heat.

We haven't found anything for years, but back when the boat was about 4 1/2 years old we did see one connection so hot is was easily seen without aid as a red-hot connector. We recommend a retorque of all connections after a boat has been in use for a year, or one year after any major electrical work. Many recommend an annual retorque, which makes good sense given the potential cost of a problem. But in our experience, it seems like after the first retorque things don't change or only change very slowly thereafter.

This picture shows our KVH V7hts satellite system. The infrared imagery is not a concern from a connection or fire perspective, but is a good IR picture example since this system dissipates a surprisingly large amount of power in operation and shows what an IR photo can reveal about heat and heat flow.
6/29/2020
Milwaukee Jigsaw

We've been slowly switching all our corded power tools to Milwaukee battery-operated ones since our

first purchase

while in Boston in 2016. We really like the convenience and ease-of-use of battery power, and the Milwaukees are well-made.

Normally we couldn't buy any kind of power tool or applicance locally in Europe, since we're a 60 Hz boat with 120-volt outlets and everything here is 50 Hz, 240V. But battery-powered tools are fine, as is anything such as electronics that charge via USB. Normally we'd be returning to the US in July and bringing back several suitcases loaded with parts and supplies. But that won't be happening this year, so we're buying what we can locally instead.
Tool Storage

We retrofitted the tool box from our old DeWalt corded jigsaw to fit the new Milkauekee jigsaw and a right-angle drill.
Stornoway

Colorful boats moored in Stornoway below pastel-painted buildings. We're really enjoying being back in Stornoway and especially getting the boat fully fueled, provisioned and any outstanding issues addressed. The plan is we'll be hauled out this week for

bottom paint

and an insurance survey.
6/30/2020
Painting

Applying the final coat of Cetol Light to the teak furniture and caprail. We've had a couple of days of quite rainy weather, so haven't been able to paint. But we're in the homestretch now and just have a few coats of Cetol Gloss to apply. The teak already is looking a lot better.
7/1/2020
Happy Canada Day!

Happy Canada Day! And for those really old Canadians, Happy Dominion Day! Growing up in Canada, it seemed all our language and culture came from our larger neighbour to the south. So when we moved to the US in 1997, we were surprised to learn of many words that only existed in Canada or had different meanings there. But we weren't that surprised to learn that most Americans knew little about Canada.

Here's the "Are you Canadian?" test Jennifer used to give her friends at Microsoft. All the Canadians easily passed and the Americans usually could only answer one, mabye two, correctly.

Name the capital city of Canada.
What is a chesterfield? (It's not a cigarette.)
Who eats pablum?
What do you do with a toque?
What is a loonie? (With respect to a toonie.)
How do you pronounce the last letter of the alphabet? (It does not rhyme with 'B'.)
How many states does Canada have? (Trick question.)
How many beers are in a half-sack? (Bonus if you are from Vancouver Island.)

Molson captured some of this in their I Am Canadian: The Rant ad back in 2000.
Donald Murray

With Donald Murray of

ACRO Marine Services

for the interior portion of our insurance survey. He'll inspect the hull and running gear when we haul out. Donald also is the coxswain for the

RNLI

lifeboat

Tom Sanderson

moored next to us, and is the first person we've had on board since the UK immigration officials in

Ramsgate

on March 14th.
Cetol Gloss

With sunny weather predicted, we removed "

the roo

" and the umbrellas we had out for rain protection and put the first coat of Cetol Gloss on the teak. It's looking great.
7/2/2020
Emma

The fish boat Emma heading out this morning. The skipper often is up early to head to the fishing grounds.
Painting

Applying a second coat of Cetol gloss to the teak. It's really starting to shine now. We've got more rain in the forecast starting late tonight, so we might not get the third and final coat on for a few days.
Chocolate Chips

We've not been able to find a few items on our list, such as soy sauce and chocolate chips. These seem to be completely sold out due to the lockdown. But we were able to order them on Amazon.
7/3/2020
Bird Watching

Spitfire watching the birds swooping in Stornoway harbour. He's not much of a hunter, and prefers to be inside with glass between him and his "prey".
Removing Tape

Removing the tape around the cap rail after the painting it with

Cetol

. In between periods of rain over the course of a week, we managed to get three coats of Cetol Light on all the exposed surfaces, three coats of gloss on the cap rail and tabletop and two coats of gloss on the rest. If we find ourselves with some time and good weather, we might put another coat of gloss on.
Pull Up Bar

We're always looking for ways to stay fit while living on the boat. Walking and hiking are part of the solution, but we haven't been doing much of that of late. And we need to do more for the upper body. There's not much space on the boat, and height is at a premium, but we did come up with a way to do 3/4 pull-ups, combining an Ultimate Body Press bodyweight resistance trainer with a long half-inch extension and a big socket.
X1 Carbon

Jennifer's laptop fan

failed

last week. We've got it back running well, but it's a reminder that both of our laptops are getting close to needing replacement. We can't afford to have either one of these down for long periods of time so we investigated the possibility of getting new laptops here in the UK. We could get two ThinkPad X1 Carbon Gen8 laptops shipped within a week, and they just arrived tonight.
7/4/2020
Setting Up Laptops

We spent much of the day setting up our new laptops. So far we really like them, but the UK keyboard layout, although remarkably similar to the US layout, still is taking a little getting used to.
Flying Polishman

The Stornoway Port Authority helping the Flying Polishman land at the berth behind us. Scottish marinas still are generally closed to all but local vessels and this is the first visiting boat we've seen since we arrived into Stornoway nearly a month ago. The crew were here for a brief stop to wait out some bad weather before crossing the north end of Scotland en route to Poland. Their stop was even briefer than they'd planned as the forecast improved shortly after their arrival and they departed within a few hours.
7/5/2020
Spitfire

Spitfire doing what he does most: sleeping on his fleece pad. He just loves that sleeping pad and will howl for it to be brought to him if he wants to change sleeping locations.
PSS

Our PSS (packless shaft seal) has been leaking since our last haulout and on inspection appears a little crooked. The bellows on the port side (upper) look more compressed than on the starboard side. When we haul out next week, we'll see if we can fix that. The reason why a PSS works is the shaft floats inside the carbon flange that seals up against the rotor. If the shaft contacts the flange, and there's any runout at all in the shaft, the seal will leak. We don't know that we can see the problem here, but we're suspicious and will investigate while the boat is out of the water for bottom paint.
High Tide

This very high full moon tide in Stornoway reminded us of the astronomically high tide, or

King Tide

, that flooded the streets in Portland, Maine when we were there in 2016.
Click the travel log icon on the left to see these locations on a map, with the complete log of our cruise.

On the map page, clicking on a camera or text icon will display a picture and/or log entry for that location, and clicking on the smaller icons along the route will display latitude, longitude and other navigation data for that location. And a live map of our current route and most recent log entries always is available at mvdirona.com/maps.