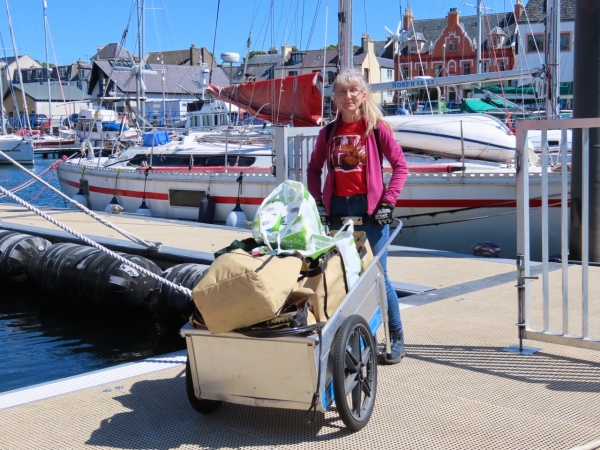 We spent our first few days in Stornoway busily reprovisioning the boat. After six trips to the grocery store, sometimes twice in one day, we still had a few more items to purchase. But our list was down to a half page from three. We also topped up our propane and engine oil supplies, and modified our oil storage system to allow storage of both the cylindrical pails still used in the US and the square jugs used in Europe. And we got Chinese food take-out, our first meal not cooked on board Dirona in 89 days.
Below are highlights from June 10th through 14th, 2020. Click any image for a larger view, or click the position to view the location on a map. And a live map of our current route and most recent log entries always is available at mvdirona.com/maps.
6/10/2020
Morning Calm

With a full tank of fuel and a start on our provisioning, we slept well on our first night back in Stornoway and woke to a beautiful, calm morning.
Propane

It's wonderful having

local propane tanks

. The Stornoway Port Authority gave us a lift to the local Calor Gas supplier and we were soon back with a full tank to replace the one we'd recently emptied.
One-Way

Shopping at the Stornoway Co-Op with our folding cart. As with the Tesco grocery store, shopping traffic is all one-way through the store to maintain social distancing.
Second Groceries

Returning with our second cartful of groceries. We'll have a few more to go before we've fully reprovisioned.
Retrofit

Retrofitting our oil storage system to allow storage of both the cylindrical pails still used in the US and the

square jugs

used in the EU.
Oil Storage

We now can store either square jugs or round pails of oil, or both. The square jugs in front are shorter than the cylindrical pails behind, so when we do have two kinds, we need to add a couple of blocks of wood as spacers.
Green Bags

To keep our produce fresh for weeks, we wrap them in paper towel and repackaging them in produce-saving

green bags

.
Meat

Repackaging the meat into consumable portions for freezing to reduce storage space and minimize on-board garbage.
Smoked Salmon

Repackaging several packages of hot-smoked salmon.
Wanna Order Chinese Food?

During our nearly ten weeks anchored off the Isle of Gigha during the Scottish lockdown, we'd sometimes jokingly suggest "Wanna order Chinese food?" Well, tonight we actually did. This was our first meal not cooked on board

Dirona

in 89 days, since our last restaurant meal at

L'Officina

in Antwerp on March 12th.
Nearly Midnight

We're not quite in the land of the midnight sun, but we're pretty far north. The sky is still fairly bright at 11:45pm (the cameras display the time in GMT, one hour earlier).
6/11/2020
Card

Blog reader Claire Tiernery sent us a lovely card care of the Ardminish Stores on Gigha that

Joe Teale

scanned in and emailed to us.
Spitfire

Everyone is feeling a bit more relaxed now that we have a load of fuel and are making headway on our provisioning. Although Spitfire rarely needs an excuse to relax.
Queue

Queuing at Tesco for another load of groceries. We were third in line last time we went, but this time at least eight were ahead of us.
Third Groceries

Returning from Tesco with our third cartful of groceries.
Longer Queue

An even longer queue for our second shop of the day at Tesco.
Well-Stocked

Both Tesco and the Co-Op in Stornoway are well-stocked, and we're able to get almost everything on our list. Shopping with the one-way system in an unfamiliar store is a bit challenging, as you have only a limited amount of time to look around without building up a long queue behind and you can't go back if you've missed anything.
Fourth Groceries

Our fourth cartful of groceries coming back to Dirona. And we still have at least two more trips to go.
Vacuum-Sealing

Repackaging and vacuum-sealing cocktail shrimp to reduced space consumption and for freezing.
6/12/2020
No Bread Flour

The local stores are well-stocked and we've been able to source most items on our list except for some bakery supplies. Bread flour, baking powder, and chocolate chips are completely sold out in both stores. The stores restock regularly, so we tried coming to the Stornoway Co-Op when they opened at 7am in the hopes of finding bread flour, but no luck there either.
Fifth Groceries

Returning from the Co-Op with our fifth cartful of groceries.
Bread Flour

After quickly emptying our cart, we scurried over to Tesco in the hopes of finding

bread flour

there and were in luck! There wasn't much left from an order that likely was put on the shelves this morning or last night.
Checkout

The local grocery stores have installed plexiglas shields to protect their cashiers.
Folding Cart

Tesco won't let us bring our

folding cart

inside, claiming it's too large and would impede social distancing somehow, although it looks almost identical in size to the larger carts they supply. So we lock it up outside and use a regular cart, or trolley as they call them here, then transfer to the folding cart to bring the groceries back to

Dirona

.
W J Macdonald

Buying some high-quality Scottish sirloin steaks from the extensive selection at W J Macdonald in Stornoway. It's one of the best steaks we've had in years—we're going to have to open up some more space in the freezer to buy extra.
Sixth Groceries

The sixth load of groceries returning to Dirona. We still have a few more items to purchase, but our list is down to a half page from three.
Click the travel log icon on the left to see these locations on a map, with the complete log of our cruise.

On the map page, clicking on a camera or text icon will display a picture and/or log entry for that location, and clicking on the smaller icons along the route will display latitude, longitude and other navigation data for that location. And a live map of our current route and most recent log entries always is available at mvdirona.com/maps.