Batteries are complex electro-chemical devices and sensitive to operator mistakes and charging system configuration errors. Just a couple of deep discharge cycles can lead to early failure. Long periods without fully charging can reduce the capacity of a battery bank. Equalization (extended charge periods at controlled high-voltage charging) can partially reverse some of these effects, but the improvement from equalization is only partial. And, equalizing too frequently can also reduce battery operating lifetime.
To learn more about battery lifecycles, we capture battery voltage and charge/discharge amperage every five seconds in a database, and have been doing this for nearly nine years. This post looks at this data and draws some conclusions. The discussion focuses on lead-acid battery chemistries—our house bank consist of eight Lifeline 8D batteries. Li-Ion chemistries have some characteristics in common, but differ in important ways like being far more tolerant of deep discharge.
From our perspective, the most important factor is to ensure battery float, absorption and bulk charging parameters are both temperature-corrected and match the manufacturer specs. This isn't hard to do and it's an easy way to improve battery lifetime. Of course we do that and, in addition, we also have alarms and send email on any out-of-specification operating condition. This is a bit more work to set up, but the returns in increased battery life can pay for monitoring systems fairly quickly, so we do this as well.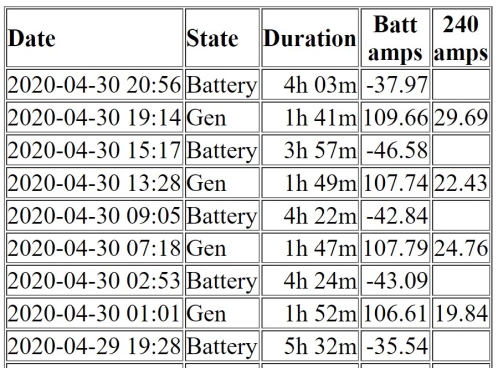 Since we record battery voltage and charge/discharge amperage every five seconds we are able to check to see if we have made any operating mistakes over the entire multi-year lifetime of a given battery bank. Our first set of batteries did see some operator errors where they were excessively discharged during their lifetime. To make the boat easier to operate, to ensure the batteries never deeply discharge, and to allow us to be away from the boat for more than a battery discharge cycle, we installed generator auto-start early in the boat's lifetime.
Auto-start has been a real blessing, and it's only because of this feature that our second set of batteries, went their entire lifetime without a single excessively deep discharge cycle. They have never been down below 50% charge. Avoiding deep discharge allowed us to reach over 1,500 cycles when Lifeline reports their batteries are good for 1,000 cycles at no more than 50% discharge. The only way we were able to get this high cycle count is through a combination of never excessively discharging them and continuing to use the batteries when the capacity had fallen to between a quarter and a third of their original design specification.
| | |
| --- | --- |
| Dirona's Northern Lights 12kW Generator | Generator Autostart via Northern Lights Wavenet Controller |
On our boat, operating a battery bank with such a reduced capacity requires running the generator at least every three hours. This would be an inconvenience were it a manual operation. But, when handled by automation, the generator just runs more frequently and it's otherwise not noticeable. Having the ability to use the batteries far longer (effectively extending their usable lifetime), has two big advantages. The first is that a given battery bank investment can be used longer, reducing the effective cost of the battery bank. The second advantage is more subtle: when you are planning a trip and the batteries are in serviceable but not great condition, there is great temptation to just replace them to avoid getting let down when away from civilization. We are careful but, since we know we can use the batteries to end of life, we aren't tempted to change them early. We just run the batteries until they are nearly out of capacity.
| | |
| --- | --- |
| House Bank Generation 2, Dec 2013 | House Bank Generation 3, Jan 2018 |
Battery capacity tends to slowly decrease over time. Except for rare faults where batteries have a mechanical failure such as warped plates, or suffer from thermal overload, the capacity just slowly diminishes over time. We don't worry about these rare fault modes, since our boat has four parallel and independent groups of two batteries each. If a battery suffers a sudden, serious failure, a single flip of a switch takes that pair of batteries out of rotation and the boat continues to operate with three quarters of the designed battery bank capacity.
We have evolved to a model where we basically ignore the generator and rely nearly exclusively on auto-start. In fact, we have become so dependent upon auto-start that we installed it on a second generator (two generators when you only have one). Generator auto-start is very helpful in extracting the last bit of value out of a bank and we suspect that, without this feature, instead of getting 1,500 cycles from our last set of batteries, it would have been far less than 1,000 cycles.
Looking at the data below, we will track a new set batteries throughout their lifetime looking first at performance when new, the performance after a couple of years of full-time live aboard use, and finally we look at their performance at end-of-life. Then we check battery performance for the first two years of a new battery bank to see if the original results are repeatable.
December 2013 in New Zealand
Battery age
New
Avg gen run duration
2:09
Avg time on batteries
6:53
Gen runs/day
2.5
Max battery duration
12:30
% time on gen
22%
% time on batteries
78%
The table above shows our normal operating mode in New Zealand in December of 2013 on freshly installed batteries. We treat the boat like a small apartment so our power consumption is high for the size of the boat. Our at-rest draw tends to run in the 35A to 45A range at 24V (840 to 1080W) and often runs higher. We could conserve more, and many do, but this is our home and we like to be comfortable.
When charging, we charge fairly hard where the early part of the charging cycle we will be charging at 250 to 275A at 24V. With new batteries, on average the generator can charge the batteries in just over 2 hours, giving us about 7 hours on batteries until the next generator charge cycle. With new batteries, the generator was running 2.5 times per day for 22% of the day, and the longest we went on batteries without charging was 12.5 hours.
January 2016 in St. Helena
Battery age
2 years
Avg gen run duration
1:46
Avg time on batteries
6:24
Gen runs/day
2.7
Max battery duration
9:22
% time on gen
20%
% time on batteries
79%
Avg daily kWh
28
The next table (above) shows how the batteries were operating after two years of live-aboard use. We didn't pull the exact number, but we know these batteries had 1,500-1,600 cycles at 4 years, so at this point we would expect they will be in the 650-750 cycle range, or roughly halfway through the lifecycle they will get on board our boat. Here the generator charge times are now 1.75 hours on average instead of just over 2 hours, and the time on batteries has decreased to 6.5 hours on average from nearly 7. This shows the battery capacity is slowly reducing as they age.
The margin of error on this data is fairly large since the loads will fluctuate, but the trend is clear. New batteries that were delivering nearly 7 hours between charges now are down to an average of 6.5 hours, and average charge times have decreased from just over 2 hours on new batteries to 1.75 hours at mid-life. These batteries still are in good shape, but are showing some loss of capacity.
September 2017 in Orkney Is, UK
Battery age
4 years
Avg gen run duration
0:56
Avg time on batteries
1:41
Gen runs/day
9.0
Max battery duration
4:13
% time on gen
35%
% time on batteries
65%
Avg daily kWh
43
The table above shows a very different picture from 2 years ago, where charge cycles were 1.75 hours on the gen and 6.5 hours on battery. This is two years later as the battery bank nears end of life. The charge times are down to an hour and the average on-battery time is down to 1 hour and 40 minutes. The generator is now running 9 times a day, and the longest we went between charges is 4.25 hours.
These batteries have less than a third of their original capacity, but they are still functioning fine and the boat is still operating the same as ever. We're no less comfortable in the Orkney Islands area with tired batteries than we were in New Zealand with new batteries. The only difference is the generator is running more frequently.
What we find interesting is the actual percentage of time the generator is running each day with end-of-life batteries is not that much higher than it is on fresh batteries. The generator just runs more frequently for shorter times. At end-of-life it is running on average 9 times a day rather than less than 3 times per day but the percentage of generator run time each day on new batteries in our usage cycle is about 20% on new batteries and 35% on end-of-life batteries. Running batteries down to very low storage capacity is possible without substantially changing the percentage of time the generator runs each day.
May 2018 in Norway
Battery age
New
Avg gen run duration
2:04
Avg time on batteries
6:57
Gen runs/day
2.4
Max battery duration
8:19
% time on gen
20%
% time on batteries
80%
Avg daily kWh
29
The table above shows Dirona back on new batteries and this data from Norway closely parallels what we saw with new batteries in New Zealand. We got on average 7 hours on battery and spent 2 hours running the generator to charge them.
April 2020 in Scotland
Battery age
2 Years
Avg gen run duration
2:21
Avg time on batteries
6:26
Gen runs/day
3.2
Max battery duration
7:30
% time on gen
27%
% time on batteries
73%
Avg daily kWh
39
Above is the data on two-year-old batteries at the Isle of Gigha in Scotland. Again we see the data is similar to what we saw when our previous batteries were two years old in St. Helena. The average time on batteries in Scotland is 6.5 hours, with 2 hours and 20 minutes to charge. The maximum on-battery duration is quite a bit lower, 7:30 compared to 9:22 in St. Helena, likely due our heating the boat in the colder Scottish climate.
This most recent data shows another interesting phenomenon. We'd been sitting in the same anchorage for the entire month without moving the boat due to the UK being in lockdown attempting to control the spread of COVID-19. The boat hadn't moved during this period and, of course, the boat hadn't been plugged in. As usual, we spent about 70% of each day on batteries and, in our operating mode, we do 3-4 charge cycles a day and did 122 cycles since the last time the boat moved. In this short time, our battery capacity had reduced from the 6 to 7 hours of time between charges on battery and 2:20 min to charge down to 4.5 hours on battery and only 1.75 hours to charge. This is a serious degradation in 122 battery cycles and only 5 weeks.
This rapid degradation is caused by short cycling between 55% and 85% state of charge and not fully recharging during this extended period. It's far better to fully charge lead acid batteries, but doing this frequently is inefficient. They can be charged to 85% in around 2 hours but fully charging the batteries takes closer to 5 hours. Certainly, this can be done but it's a long time with the generator at very low load and it would mean the generator is running half the time. It's not what we want, so we don't do it and it's an interesting experiment to learn about the long-term effects of prolonged short cycling (not fully charging).
A practical alternative is to fully charge once a week or every three days. This is much better for the batteries and is convenient for the operators, since laundry and other electrically intensive jobs might need to be done weekly. And this mode of operation is almost as good as always charging fully. We probably should move to this operating mode, but we're engineers and like to see the results of running in different operating modes. So we only fully charge when underway on the main engine and, as a result, can end up with long periods of short cycling. Most of the capacity lost by short cycling will come back after equalization but not all of it. We're interested in seeing how much equalization brings back. That data may cause us to move to a weekly full charge model and will give us a chance to see how much better that operating mode is on battery capacity degradation.
Summary
The table below combines the previous data, for ease of comparison, and includes some additional metrics on the calculations.
What we see from the data is mostly unsurprising. Battery lifetime usually slowly degrades over time. At least two distinct forms of degradation are in fact happening at the same time. One is the overall decline of the battery bank capacity over its lifetime—this takes years and hopefully more than a thousand cycles. The other form of capacity reduction is the short-term reduction caused by short-cycling. Both forms of lost capacity, but particularly the latter, can be partly restored by periodic battery equalization.
Our data shows a gradual decline from day one to end-of-life. And, overlaying this steady reduction is a saw-tooth, up-and-down function due to the negative impacts of battery aging and short cycling and then the partial capacity improvement contributed by battery equalization.
The part of our data that we find a bit surprising is the number of cycles that batteries can run if maintained reasonably well, aside from being short cycled. The negative impact of short-cycling is serious, but mostly is short-term and largely correctable by equalization. Another point in this data that surprised us is when operating with very poor-capacity battery banks, the percent of the day where the generator is running isn't really that much longer than when using a new set of batteries. The generator is just on more frequently but for shorter periods.
The data also shows that battery lifetime can be remarkably long in terms of cycle count if the batteries are never excessively discharged and you are willing to operate on a substantially reduced capacity battery bank.
Overall, we're pretty happy with our AGM batteries. We'll eventually move to Li-Ion but the price/performance of lead acid remains pretty impressive so we've not been in a rush to make the change.