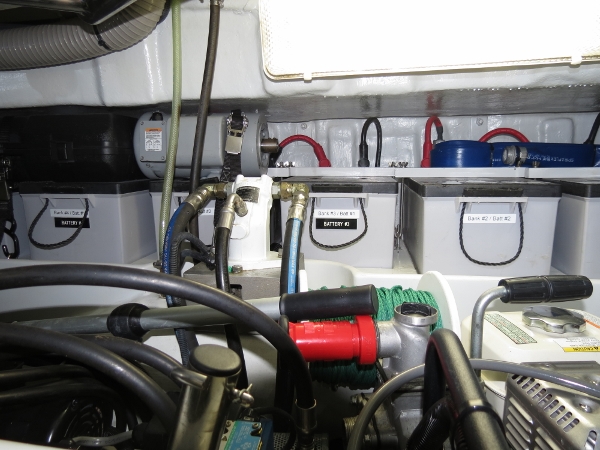 One of our eight Lifeline AGM GPL-8DL batteries recently went into thermal runaway, and we've had a few questions on the nature of the problem and why we chose to replace the full house battery bank.
The lazarette smoke/CO alarm had gone off at 3am, and upon investigating we found a rotten egg smell (hydrogen gas) and a lot of heat in the lazarette, with water dripping from the ceiling. We dug around a bit more and found two batteries were at 170F on the outside of the case, and probably well over 300F inside. A normal battery temperature on our boat is around 80F. Two of the batteries were boiling their electrolytes out–one of our eight batteries had gone into thermal runaway and taken its pair with it.
A nice Nordhavn design feature is to have battery isolation switches for every pair of batteries. We can turn a switch to isolate the failed pair, and the boat continues to operate fine, just with less house battery capacity. That night, we turned off battery pair #3, ensured the batteries were cooling, and went back to bed. The following morning they were still at 131F. One question sent to us was what if that had happened at sea? We would probably have seen it sooner with more frequent engine room and lazarette checks, but otherwise there would be no difference: we'd just turn off the battery pair isolation switch.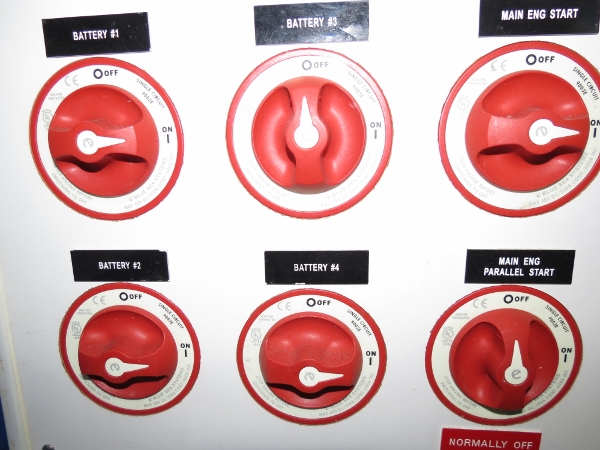 All our chargers are multi-step smart chargers. They go through three phases: 1) bulk charge where current is as high as can be delivered and the voltage rises as charge goes up until it hits a max of 28.6V, 2) absorption where the voltage is held constant at 28.6V and current drops as the battery gets more full, and 3) float where the voltage is maintained at 26.6V. These voltages are assuming 77F batteries. The battery problem occurred while on float charge.
Thermal runaway can occur in most battery types including flooded lead acid, valve regulated lead acid, and even non-lead/acid designs such as Lithium-Ion. The general condition is when increased temperature cause more energy to be released which yields yet more temperature and a feedback loop develops. In flooded lead acid batteries, this can be caused by plate warping or plate material sulfating, and sloughing off to the bottom of the battery. The warpage or sloughed off plate material can cause a plate-to-plate connection, which generates heat, which leads to more warpage, more current, and more heat. Absorbed Glass Matt (AGM) batteries like our Lifelines are not prone to plate shorting from sloughed off plate material, and plate warpage causing shorts is not a common fault, but they still can suffer from thermal runaway. Fortunately, it's not a very common failure mode. Usually batteries just get old, lose capacity, and quietly fade away. But, thermal runaway does happen and, when it does, the energy released is somewhere between amazing and scary.
Dirona's Lifeline AGM batteries are rated for 1,100 cycles down to no less than 50% charge. They have seen far more than that, so we were getting close to replacement time anyway. We could just change the two damaged batteries since the rest continue to operate fine. But, with the use they have had, the bank was due for replacement some time back. We expected that we'd need to change them in Hawaii, but they tested fine at that time (using a Midtronics MIDMDX-640 Digital Battery Analyzer).
We now need eight Lifeline GPL-8DL batteries that list for a booming $8,264. And they are 156 lbs each, which each means we'll be changing a half ton of batteries. With one string of two batteries disabled, we are down to 75% capacity but otherwise there is no change. So fortunately we don't need to be in a rush to replace them.