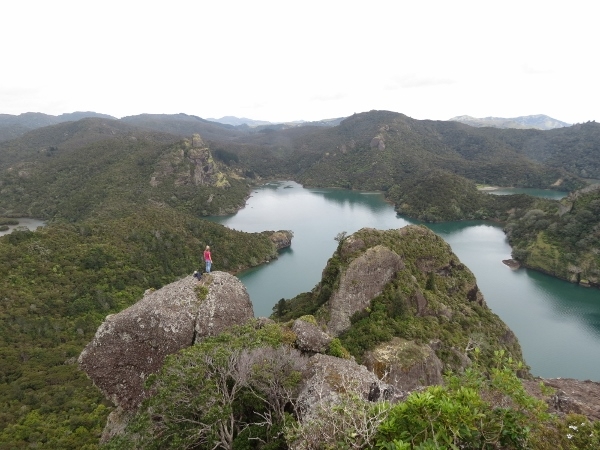 Even after travelling through the South Pacific, New Zealand's Bay of Islands is a standout cruising destination with many sheltered anchorages, walking trails to viewpoints, and several nearby towns for provisioning or enjoying a meal ashore.
Opua, in the Bay of Islands, was our first landing in New Zealand after a 1,200-mile run from Port Vila in Vanuatu. The crossing has a reputation for rough seas, but we had a pretty easy run between two low pressure systems. New Zealand has strict biosecurity regulations, and entry there was the most difficult of every country we've travelled to in the South Pacific. But it wasn't as bad as we were expecting. We knew that we couldn't bring in any fresh produce, but had heard rumours that Quarantine would take our flour, rice and even spices. They mainly, however, confiscated any honey, ginger, garlic, eggs of any form (powdered, cooked or fresh), popcorn kernels and any meats (cooked or raw) not in their original packaging. We were surprised to able to keep some USDA-approved meat from Hawaii. The most difficult aspect of clearing through, of course, was having to put our cat Spitfire into quarantine. He's never spent a night off the boat since we took delivery, and Dirona felt empty without him. They took good care if him though, and he was back on board in ten days. Spitfire is now an official New Zealand resident, and can stay longer then we can.
After clearing through, we spent a few days exploring and reprovisioning at the nearby towns of Paihia and Russell, and enjoying the water-view pubs and restaurants there.
We also explored the Paihia area by dinghy, to Haruru Falls along the Waitangi River and suprisingly far up the Haumi River.
We later spent a few nights anchored in and exploring the Bay of Island proper. The New Zealand Department of Conservancy maintains excellent walking tracks throughout the country. We're really enjoying the tracks here–the scenery and views they provide access to are amazing.
And about 25 miles north of the Bay of Islands is Whangaroa Harbor, with excellent protected anchorages and even more impressive views from several tracks. The picture at the top of this post was taken from Duke's Nose while we were anchored at Rere Bay. The pictures below were taken from Whangaihe Bay and St. Paul's Rock.
Click the travel log icon on the left to see these locations and more on a map, with the complete log of our trip through the Bay of Islands.

On the map page, clicking on a camera or text icon will display a picture and/or log entry for that location, and clicking on the smaller icons along the route will display latitude, longitude and other navigation data for that location. And a live map of our current route and most recent log entries always is available at http://www.mvdirona.com/maps/LocationCurrent.html.