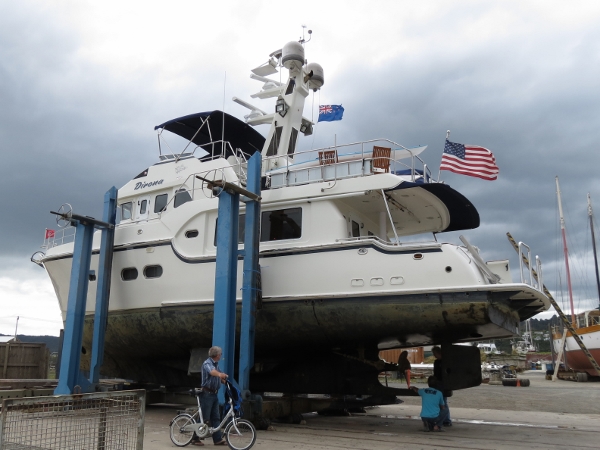 Last Friday we hauled out at Norsand Boatyard in Whangarei, New Zealand for bottom paint, zinc replacement and other minor work. This was the first time Dirona has been lifted on a rail-trailer, where the boat is pulled ashore while it rests on a track-mounted trailer. All other times we've used a TravelLift, that lifts and carries the boat on two straps around the hull. TravelLifts are much faster for the yard, but the rail-trailer might be easier on big heavy trawlers in that the weight is more evenly distributed along the keel, and the sides of the boat don't take load. And there was an incident a few years ago where a Nordhavn 47 was destroyed when the TravelLift sling parted durin the lift. This isn't a design failure with the TravelLift, but it shows no lift mechanism is without risk. Having experienced both haulout systems, either appears to work well with experienced operators.
The haul-out area is tide-constrained, so much so that when we explored the area by dinghy at low tide, we couldn't find more than 1.7′ of water. All haul-outs are done at high tide. We first tied off to a small dock below the ramp, where the Norsand crew ran lines ashore bow and aft. The wind was blowing 25 knots, so they held one the upwind stern line with a forklift.
With the lines in place, we moved the boat forward into the trailer-mounted cradle that Norsand had pre-prepared to match our hull. Once Dirona was in the cradle, some final adjustments were made to ensure a secure hold, including adding some blocks on each side.
At that point, everyone disembarked and the trailer was pulled slowly up the ramp. The entire assembly is pulled up using a hydraulic winch the size of a car, which began life on the back of a tugboat running the tow line. The power for the winch comes from the wheel loader you can see below. The hydraulic pump on the wheel loader drives the winch. The second picture below is looking towards the winch from the trailer after the while loader has moved away.
Here's a video photo sequence of the entire process: