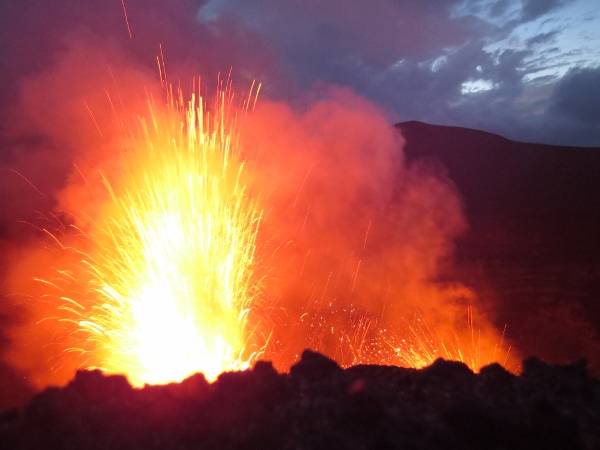 Vanuatu, a small country in the South Pacific previously known as New Hebrides, is home to the world's most accessible active volcano. Mount Yasur, pictured at the top and bottom of this post, regularly erupts in a fireshow that is amazing to experience firsthand.
From Fiji, we travelled 475 miles southwest to Analgawhat in Vanuatu, our furthest point south so far in Dirona. We landed at Analgawhat mainly because it was a convenient place to clear through in order to visit Yasur Volcano to the north. But we quite liked the anchorage and ended up staying for five nights. Several villages are strung along shore at the anchorage, connected by a foot path. Some more modern construction techniques were in use. But many of the buildings, particularly the homes, were in the traditional style. As in French Polynesia, all the yards and pathways were well-kept, and many with nice gardens.
| | |
| --- | --- |
| | |
You'd think Analgawhat would be a secluded and little-known place, but in fact 6,000 people visited while we were there. They came to tour nearby Mystery Island from the cruise ships Pacific Dawn, Carnival Spirit, and Pacific Pearl. We walked ashore there pre-cruise-ship–well-tended walking trails circled and crossed the island, with frequent interpretive signs. Overall, the infrastructure was quite tastefully done.
After Analgawhat, we visited Yasur Volcano on Tanna Island, then spent a few days on Erromango Island. We stopped first at Dillon's Bay on the west shore. There we did an excellent dive right off the boat, and explored the area by dinghy, including going up William's River.
Dozens of trails crisscrossed the area At Ponomias Bay on the north end of Erromango Island. We followed one that was reasonably well-trod and climbed up steeply, hoping for a view down into the anchorage. We couldn't get near our cove, or the water even, but did get some nice views across the island.
Our final stop in Vanuautu was at the capitol, Port Vila, our furthest point west in Dirona. There we got cellular connectivity, prepared for the run to New Zealand, and sampled a number of the city's restaurants.
The Iririki Resort near our anchorage had an pretty decent fire dancer show:
But the real fire show in Vanuatu was Yasur Volcano on Tanna Island. The half-hour truck ride to the volcano with other boaters from our anchorage at Port Resolution was an adventure in itself. The road was narrow, bumpy and steep, with sections nearly washed away in places:
Yasur is the world's most accessible active volcano–its hard to imagine being much closer to one and living to tell about it.
Both calderas erupted often as we were there, tossing up large globules of bright orange molten lava. In the explosion sequence below, if you look not particularly carefully, you might be amazed at how close to us the molten lava is landing. We certainly were.
It's incredible to be standing on the edge of a caldera of molten lava that every minute or so explodes and shoots lava hundreds of feet over your head.
As night fell, the erupting volcano became an incredible fireworks display. We thought seeing the lava flows close-up on the Big Island in Hawaii was impressive, but this completely topped it.
Click the travel log icon on the left to see these locations and more on a map, with the complete log of our trip through Vanuatu.

On the map page, clicking on a camera or text icon will display a picture and/or log entry for that location, and clicking on the smaller icons along the route will display latitude, longitude and other navigation data for that location. And a live map of our current route and most recent log entries always is available at http://www.mvdirona.com/maps/LocationCurrent.html.