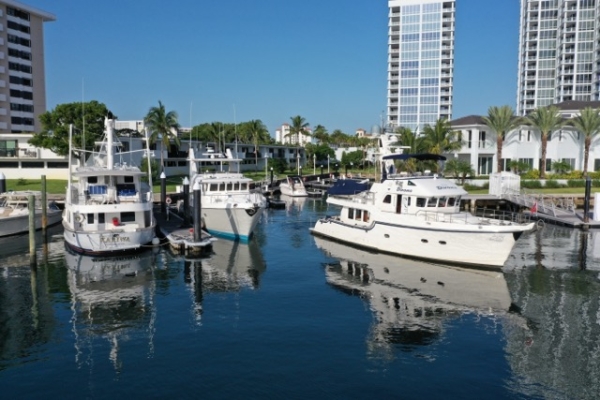 Our plans are always fairly fluid, but the past couple of years have seen even more changes than normal. In 2020, we made three major itinerary adjustments: skipping the Mediterranean and instead heading to Scotland; crossing the North Sea to Norway while en-route to cruising the Scottish Orkney and Shetland island groups; and choosing to winter in Norway rather than returning to Scotland. This year we've made even bigger adjustments, starting with returning to North America instead of remaining in Europe and heading to Sweden; deciding to make a road trip across the country; concluding on the road that we should get an apartment in Seattle; and the most recent and biggest plan change is to take an extended break from cruising.
We returned to Dirona and Charleston in early August in what was initially going to be one of several trips back to the boat, likely every two to four months. But James' work is sufficiently busy and the east coast sufficiently distant to make that approach seem impractical. The next plan was to put Dirona in dry storage for a year or, more likely, two. Over the past few weeks, however, even this plan seemed wasteful and we just hated the thought of leaving the boat to decay for a couple of years before we next used it.
We reluctantly come around to concluding the best choice for us is to sell Dirona. It's almost hard to say, but that is our current plan. In early September, James Knight's Yacht Tech delivered Dirona to their West Palm Beach offices (pictured nearby above). It was very strange to see the boat underway without us for the first time since we took delivery in early 2010.
Below are highlights from Aug 1st through Sept 11, 2021. Click any image for a larger view, or click the position to view the location on a map. And a live map of our current route and most recent log entries always is available at mvdirona.com/maps.
8/1/2021
HVAC Plugged

We're back on

Dirona

in Charleston for the first time since departing on our road trip in early June. When we originally left the boat, we were planning to return near the end of July, but ended up

changing plans

and decided to get an apartment in Seattle.

To combat the high humidity here, we left the HVAC running while we away and returned to find the strainer severely plugged. The salon system could barely run and the pilot house kept shutting off with a high-pressure warning, but fortunately the master and guest units still worked for us to sleep comfortably down below after arriving past midnight last night.
Exhaust Cladding

James installing the new exhaust cladding the

Ballard Insulation

made for us. The new cladding looks and works great.
8/2/2021
Fuel

A fun meal on the patio at gastropub Fuel in Charleston. The restaurant is built inside an old gas station, hence the name, with all sorts of memorabilia on display.
8/3/2021
Our

nav computer

has been exhibiting hardware issues recently, and we really depend on it for remote monitoring. We do have a backup computer, but setting up a new system from scratch would consume a day or two, so we instead decided to swap the boot drive into the backup system. Here James is gingerly removing the drive from the original system to install in the backup computer. That seemed to resolve the issues.
8/4/2021
Dehumidifier

Since running the HVAC continuously while we're away appears infeasible due to rapid marine growth, we bought a

dehumidifier

to deal with the high humidity in Charleston. Here we are testing it in the pilot house, but we plan to put it in the guest stateroom shower while we are away and let it drain into the shower pan.
Moving Day

Since we'll be living in an apartment in Seattle, we're moving all our personal property off the boat but will leave anything boat-specific on board for when we make return visits. The movers arrived this morning to pack everything up and transport it to Seattle.
Boxes

We don't have that much to move compared to a normal household, but we did manage to fill a good part of a

box truck

.
8/5/2021
Monza

Monza Pizza Bar in Charleston is full of Ferrari pictures and memorabilia, including this Ferrari engine suspended over one of the tables. When the manager saw us studying the photos, he came over to introduce himself and give us some background on the restaurant. We enjoyed talking with him and had a great meal there as well.
8/6/2021
Storm Windows

We hadn't yet removed the

storm windows

after the run across the Atlantic from Ireland, so we briefly turned the boat around this morning to remove the port-side windows (we can easily reach the starboard-side ones from the walkway).
8/13/2021
Sunset

An unusual sunset over Elliott Bay in overcast conditions, viewed from our apartment patio.
8/17/2021
Unpacking

The moving company arrived this morning with our property from the boat, and we're busy unpacking everything.
8/19/2021
Bicycles

Our bicycles in their new home in our storage unit in our apartment building's garage. This is the first time in their 12-year life that they have ever been stored inside. Most of that time was on the fly-bridge of

Dirona

or the

cockpit of the previous boat

, or occasionally on the dock at a marina. The bikes, Giant FCR-2s, have done remarkably well given the conditions and how heavily we've used them.
9/4/2021
Norwegian Encore

The Norwegian Encore coming onto the dock at Pier 66 early this morning, viewed from our apartment patio. Cruise ship traffic in Seattle isn't up to the same level as before the pandemic, but since late July we are seeing regular ship arrivals and departures from both Pier 66 and Pier 91 slightly to the north.
Pub 70

Enjoying an IPA on the deck at Pub 70 as the cruise ship Norwegian Encore departs behind us.
Bell Harbor Marina

The Everett Yacht Club is visiting our old home port of Bell Harbor Marina in Seattle.
9/5/2021
LG OLED

Our new TV, an 65-inch

LG OLED

, is remarkably thin. We were curious how it compared to our laptop, and it's actually even thinner. It's amazing it can be made strong enough and yet be so thin.
Pocket Beach

Looking across Pocket Beach towards downtown Seattle on a walk back home from Elliott Bay Marina. The beach went through a major renovation in 2007 to restore its natural habitat and encourage native sea life. The project was a success and the beach is particularly interesting to visit at low tide to explore tide pools packed with diverse sea creatures.

We took an Uber to Elliott Bay Marina for lunch at Maggie Bluff's restaurant, and walked back home after. We kept our previous boat at Elliott Bay Marina from 1999-2008, and frequented Maggie Bluffs, but haven't been there for ages. It was great to be outside on their patio overlooking the marina. The marina also is home to Nordhavn Northwest—moored there were a Nordhavn 68, 62 and a 60.
9/8/2021
Remote Access

Yacht Tech

is is bringing

Dirona

south to Florida today, and reported a beeping coming from underneath the salon settee. Here James is logged in remotely to the file server on board

Dirona

. The beeping was warning of a failed disk drive. We run the file server in

RAID 6

configuration, so even with two failed disks, nothing would be lost. Acknowledging the event clears the beeping.
Dirona Underway

James Knight's

Yacht Tech

bringing

Dirona

south from Charleston to their West Palm Beach offices. It is very strange to see the boat underway without us for the first time since we took delivery in

early 2010

.
Sam's Tavern

Enjoying the wonderful warm fall weather at Sam's Tavern in Seattle's South Lake Union District. We're really liking the downtown lifestyle with literally dozens of restaurants within a short walking distance from our Belltown apartment.
9/9/2021
Dirona at Anchor

Dirona

at anchor on the Colleton River near Hilton Head Island, South Carolina en route to West Palm Beach, Florida with

Yacht Tech

. No one else has ever anchored

Dirona

before.
9/10/2021
Calm Seas

Dirona underway off Cape Canaveral, Florida in calm seas, less than a day out from West Palm Beach.
9/11/2021
Parker Bridge

This morning

Dirona

passed through Palm Beach Inlet and left the Atlantic for the intracoastal waterway. In the distance is the Parker Bridge that we first passed under in 2016 en route to

West Palm Beach from St. Lucia

.
Old Port Cove

Dirona

off Old Port Cove in North Palm Beach, Florida, courtesy of Frank Coles of Nordhavn 6204

Kariwa

(pictured at left). Frank and his spouse Leslie were on board

Dirona

with Jay Flaherty of

Yacht Tech

for the delivery to Florida from Charleston.

At center is Rowley Errington's Nordhavn 57 B2. We first met Rowley and his spouse Bernadette at the 2012 Trawlerfest in Anacortes Washington, and in 2014 spent a great few days moored next to them on their previous Nordhavn, 6236 Bee, in Bundaberg, Australia.
Click the travel log icon on the left to see these locations on a map, with the complete log of our cruise.

On the map page, clicking on a camera or text icon will display a picture and/or log entry for that location, and clicking on the smaller icons along the route will display latitude, longitude and other navigation data for that location. And a live map of our current route and most recent log entries always is available at mvdirona.com/maps.