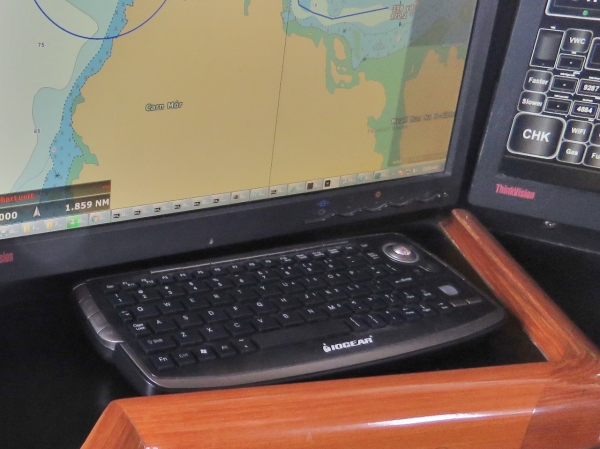 In the past twenty years, we've run a combined 16,400 engine hours and traveled over 120,000 miles on the two boats we've owned. On our first boat we spent a decade extensively exploring the Pacific Northwest and researching the material for our guide, Cruising the Secret Coast: Anchorages on British Columbia's Inside Passage. In our current boat, we traveled west around the world from Seattle, spending time in the South Pacific, New Zealand and Australia, South Africa, the Caribbean, the North American east coast, and Europe.
During those travels, we've used a wide variety of gear. We've covered some of the larger items we rely on already, such as the Maretron monitoring setup and our KVH satellite system. In this new series of posts, we'll describe some of the simpler equipment that we like. We'll start with the keyboard we use at the navigation computer.
When we departed Seattle to cross the Pacific Ocean in our current boat, we used a small wireless keyboard and separate wireless mouse for our navigation computer, pictured below. The mouse sat underneath the leftmost of the two monitors, with the keyboard farther left. This arrangement wasn't ideal. The mouse was clumsy to use in the limited space, and often we preferred to stand a little further away.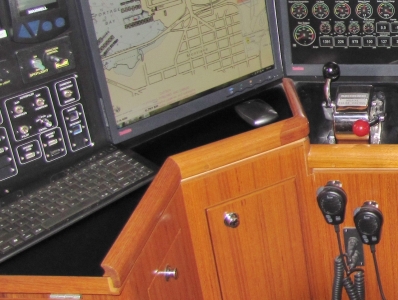 In 2014, while in Australia, we came across a compact all-in-one wireless keyboard at a local electronics store and decided to give it a try. The combined keyboard and mouse was a massive improvement over what we had in place. The entire unit fit neatly in the small area underneath the monitor (pictured at top of post) and the built-in track ball made moving the on-screen mouse much easier. And we also can pick up the keyboard and interact with the nav computer while sitting in the helm chair.
The main negatives to the unit are the compact keyboard layout can be a little counter-intuitive, and they don't last super-well. We find we only get 18-24 months out of each one. But the good news is they are quite inexpensive, and available from a variety of sources, so we just buy them as we need them. After purchasing them initially in Australia, we later found the same unit in the US through Amazon. (The keyboards seem to come and go from stock with different vendors. The Inland unit we bought no longer available, but these ones from Zienstar and Fonicer look the same. Just search for "Wireless Multimedia Keyboard with Trackball").
If you are using a wireless keyboard of any style, we recommend keeping as a backup a wired keyboard and mouse that can be plugged in via USB. If you have a computer issue where recovery requires input before wireless keyboard device drivers are loaded, a wired keyboard is the only solution.