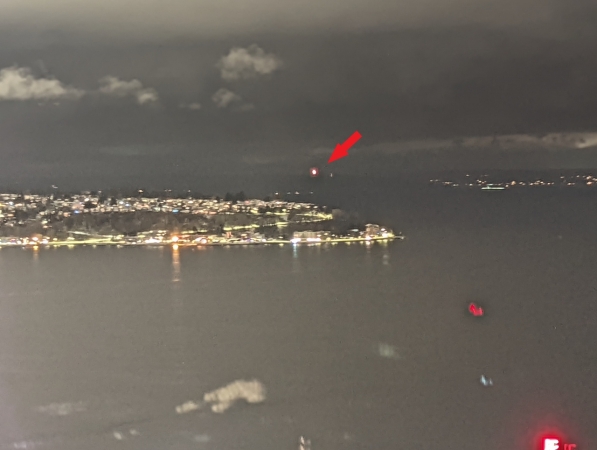 Downtown Seattle is full of apartment buildings overlooking Elliott Bay, with frequent ferry and commercial traffic. If a distress flare were fired in this area, you would expect this to generate a lot of reports. But when one was set off on a recent Tuesday morning, we might have been the only ones to report it.
We happened to glance out the window at 6:40am and saw what looked like a small boat, lit only with an orange light, move southward across Elliott Bay. Orange is an unusual color, and through binoculars we could see it was a parachute distress flare, pictured above under the red arrow. The light moved slowly up and away from us, over Duwamish Head in West Seattle.
With several ferries underway in the area at the time, plus a few commercial boats at anchor, we expected the flare would be reported. But we called it in to the Coast Guard just in case. We also listened by VHF radio to see if anyone else reported it. We heard the Coast Guard contact Vessel Traffic to ask if anyone had reported it, and subsequently Vessel Traffic speaking with the vessels that were in the area, but no-one had seen or reported anything. The Coast Guard also broadcast a PAN-PAN on VHF channel 16, reporting the incident and asking for more information, with no response.
At 6:50, about ten minutes after our report, the Coast Guard called back to try to determine the source and trajectory of the flare. They asked James for the height of our apartment and asked him to sight along his arm at various angles. They concluded the flare likely was set off in the vicinity of Duwamish Head in west Seattle, directly across Elliott Bay from our apartment. At 7:30, a small Coast Guard boat departed the base along the Seattle waterfront and sped across to Duwamish Head to search the area.
James following Coast Guard direction to gauge the source and trajectory of the flare.
Shortly after sunrise at 8:40am, a Coast Guard helicopter searched the area on our side of Elliott Bay. And later at 10:00am a small boat arrived and appeared to be searching as well. As far as we know, nothing was found and the flare likely was a false alarm.
Coast Guard helicopter and small boat searching the Seattle waterfront after daylight.
This is the second time we've seen and reported a flare in the Seattle area. The previous time was from an anchorage in Eagle Harbor, a busy port directly across Puget Sound from Seattle. Houses surrounded the shore and perhaps 200 vessels filled the harbor that night. Yet when a parachute flare lit the sky, the only reports to the Coast Guard were from a ferry and from us. And even with our immediate reports, an emergency crew took 20 minutes to arrive.
Both incidents underline how important self-reliance is for boaters. Emergencies seldom occur so close to such a well-equipped Coast Guard station. And just because people are nearby doesn't mean anyone will notice someone in distress.