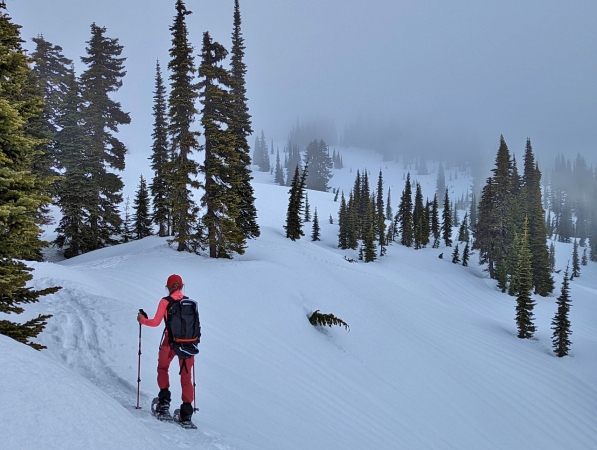 On our second day of snowshoeing at Mr. Rainier, we descended along the Lower Lakes trail from Paradise village along a marked intermediate snowshow trail. From there, we climbed up the south end of Mazama Ridge and followed it north, continuing back to the parking lot by retracing the previous day's route up.
Conditions were notably different from the clear weather the previous day and a good example of how changeable the weather is up on Mt. Rainier. The weather was so overcast and foggy that at times we could barely see a few hundred yards ahead, let alone get a view to the mountain. But we had another great day snowshoeing, and capped it off with a soak in the hot tub at our wonderful cabin at Stone Creek Lodge.
Below are highlights from March 26, 2022. Click any image for a larger view, or click the position to view the location on a map. And a map with our most recent log entries always is available at mvdirona.com/maps.
Trailhead

At the trailhead for a snowshoe hike down to Inspiration Saddle and across Mazama Ridge.
Lower Lakes Trail

Descending along the Lower Lakes trail from Paradise. The trail is considered an intermediate level route for snowshoers, and is marked with orange poles visible on the trail below James.
Ruby Falls

Ruby Falls gushing along the Paradise River. We're crossing the river on Stevens Canyon Road, closed for the winter.
Trail Junction

At a winter trail junction. From here we'll be heading on the unmarked winter trail to Mazama Ridge. We could also have continued to descend on a marked trail to Reflection Lakes.
Mazama Ridge Trail

Heading towards clouds at altitude 5,536 ft (1,688 m) on Mazama Ridge.
Clouds

We can barely see the pair of skiers a short distance ahead of us on Mazama Ridge as the cloud level falls. Even the tracks we're following are getting hard to discern.
4th Crossing

Enjoying a snack and a hot drink with a view to the 4th Crossing trail that we walked up yesterday. We'll descend down it to return to the Paradise parking lot.
Paradise River

We stopped off at Narada Falls on our way back down from Paradise in the truck. This is the Paradise River just above the falls.
Narada Falls

Narada Falls gushing 188 ft (tk m) over a cliff into a pool directly below us. The best view to the falls is where two people are standing in the distance after a short walk through the snow (click image for a larger view).
Rockslide

A very recent rockslide on the Longmire-to-Paradise Road a short distance from Narada Falls. It wasn't there when we came up earlier this morning.
Hot Tub

Enjoying a soak before dinner at the Stone Creek Lodge with our cabin visible behind us.
3/27/2022
Hobo Inn

Passing the Hobo Inn, where guests stay in renovated cabooses, at railroad-themed Elbe, WA on our way home from Mt. Rainier.
| | |
| --- | --- |
| | Click the travel log icon on the left to see these locations on a map. And a map of our most recent log entries always is available at mvdirona.com/maps. |