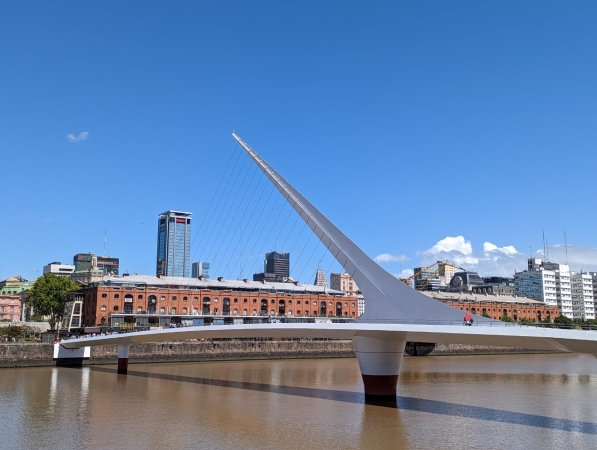 We reached our sixth continent when we landed in Buenos Aires, with the seventh soon to come. After an enjoyable flight across the country from Seattle to Atlanta, we embarked on a 10-hour, 5,080-mile (8,175 km) trip south.
Our Buenos Aires hotel was in Puerto Madero, the old commercial port district that has been beautifully restored with restaurants, bars, apartments and hotels, while keeping many old port artifacts and buildings intact. We arrived early in the morning, with some time for a walk around Puerto Madero before taking in the excitement of the World Cup final between Argentina and France. The city celebrated Argentina's victory well into the night, and joyful fans streamed by as we enjoyed an excellent Argentinian steak dinner overlooking Puerto Madero.
Below are highlights from December 16th through 18th, 2022. Click any image for a larger view, or click the position to view the location on a map. And a map with our most recent log entries always is available at mvdirona.com/maps.
12/16/2022
Packing

Packing for our flight to Buenos Aires tomorrow. Our luggage limit is 50 lb (23 kg) per person of checked baggage and 17 lb (8 kg) of carry-on. This seems like plenty, but we'll be bringing a lot of winter gear, including knee-high waterproof boots, so we need to pack with care and weigh all the bags. We'll be checking the two

LL Bean rolling duffle

bags in the foreground, and will have two smaller carry-on bags.
Elephant Car Wash

The historic Elephant Car Wash neon sign was just installed at the Amazon South Lake Union Campus. The car wash operated nearby for 60 years, but closed in 2020. The larger of its two iconic neon signs was donated to the local Museum of History and Industry and the smaller was given to Amazon. It's great to see the sign back on display in the area again.
12/17/2022
Sky Priority

At least 200 people were in the Delta SkyPriority line at SeaTac airport. We fortunately found a shorter line for those who just need to drop off checked luggage, but it still took us over 40 minutes to get through that. As airline travel has increased in the past year, many airlines have been experiencing an overload of customers with priority status. But the Delta line was by far the worse we've ever seen.
Security Wait Times

The flySEA app shows wait current wait times at the various security check points at the SeaTac airport. Usually the TSA PreCheck lines, for pre-screened passengers, are much faster than the general security lines. But unusually, this morning the General Checkpoint 3 had a 5-10 minute wait while TSA PreCheck Checkpoint 1 was 20-25 minutes. The explosion of air traffic use and the resultant crowds is inverting, or at least equalizing, priority status. Here TSA PreCheck is worse than the regular lines, and Delta SkyPriority was at least as bad as non-priority.
Mt. Rainier

A spectacular sunrise looking south towards Mt. Rainier, with Mt. Adams visible in the distance.
Cloud River

A "cloud river" flowing through the Cascade Mountains east of Mt. Rainier (partly visible at right). In the distance are Mt. Adams and Mt. Hood.
Quarry

Passing over one of many large quarries near the Tennessee-Mississippi border.
Douglasville Quarry

The massive Martin Marietta quarry in Douglasville, Georgia. After various mergers and purchases, the company was once part of the aerospace manufacturer Lockheed Corporation, and is now an independent aggregate and building materials supplier with over 500 properties in North America and a revenue of US$4.7 billion in 2020.
Snapfinger Creek

The Snapfinger Creek Wastewater Treatment Plant southeast of Atlanta currently handled 36 million gallons per day with an expansion underway to handle 54 millions of gallons per day.
Delta Hub

We're flying Delta through Atlanta en route to Buenos Aires. Atlanta is the airline's headquarters and largest hub, with over 1,000 flights daily to 225 destinations around the globe. We passed several dozens Delta planes on the way to our gate.
Flight Paths

The striking Flight Paths by artist Steve Waldeck extends the length of the 450ft (137m) tunnel between concourse A and B and uses bird sounds with visual effects to simulate a walk through a native Georgia rainforest.
Train

Jennifer at her favorite position in the front car, enjoying the train ride between concourses at Atlanta airport.
Delta Flights

These four screens show only a portion of the upcoming Delta flights from Atlanta. Small buttons below the screens support scrolling to view the rest. The buttons aren't very obvious and most people, including ourselves, looked in vain for our flight before learning about the scrolling functionality.
Atlanta to Buenos Aires

An overview of our flight to Buenos Aires shortly after takeoff. We're 6 miles out of Atlanta with 5,072 miles to go.
12/18/2022
Welcome Pickups

This is our first time using

Welcome Pickups

to arrange a ride from the airport, and it worked out really well. A week before our flight, we were given our driver's name and contact information, and he was waiting for us in arrivals even though our flight was 20 minutes early. We're very happy with the service.
Apartments

Narrow mid-height apartment buildings like these ones are common in Buenos Aires.
Coast Guard Memorial

After dropping our bags at our hotel, we went for a walk of the area. This is a memorial to members of the Argentinean Coast Guard who have died in the line of duty. The boat depicted is GC-83 Rio Iguazu, a Coast Guard boat that was destroyed by the British during the Falklands War, killing one crew member.
Laguna de los Coipos

Laguna de los Coipos, one of several lakes in the Costanera Sur Ecological Reserve.
Water

Buying some water from a street vendor. We don't speak Spanish and they didn't speak English, but we managed to get what we wanted, and even pay with US currency.
Street Vendors

Street vendor stalls decorated with the Argentinian flag in anticipation of the World Cup match later today.
Paseo Guardavidas Argentinos

The beautiful tree-lined park Paseo Guardavidas Argentinos was closed today due to the football game, possibly over concerns about damage.
Fuente de las Nereidas

The fountain Las Nereidas, made of white Carrara marble, is one of the most important works of sculptor Argentine Lola Mora. The sculpture depicts the Nereids attending the birth of the goddess Venus and was controversial when unveiled in 1903 because it portrayed nude figures.
Cranes

Two German-built cranes that were installed in Buenos Aires commercial port, Puerto Madero, in the 1970s. The cranes become obsolete in the 1990s, but were kept as part of the renovated neighborhood when port activities shifted elsewhere.
Presidente Sarmiento

The frigate Presidente Sarmiento was built in the late 1800s as a training ship for the Argentine Navy and became a public museum ship in the 1960s.
Empathy

Buenos Aires is full of excellent street art. This is Empathy by traveling artist Mabel Vicentef.
Puente de la Mujer

The graceful Puente de la Mujer ("Women's Bridge"), completed in 2001, is a landmark in Puerto Madero. The rotating foot bridge is so-named because many of the streets in the area have women's names.
Helicopter Landing

We were surprised to see a helicopter landing area marked out in the middle of a street intersection.
Negrazon y Chaveta

A statue of Negrazon y Chaveta along the Buenos Aires Cartoon Walk that pays tribute to popular Argentine cartoon characters.
World Cup Celebration

After a walk around the area, we returned to the hotel to watch Argentina beat France in the World Cup, then followed the celebrating crowds to the Obelisk.
Cabana Las Lilas

We had excellent steaks with a glass of Argentinian Malbec at Cabana Las Lilas overlooking Puerto Madero.
Tomahawk on Flame

The table next to us ordered Tomahawk on Flame, a shared ribeye flamed with cognac. It was quite the show. Even shared between two people, that's 1.4 lbs (654 grams) of steak each.
Puente de la Mujer at Night

The Puente de la Mujer, with the museum ship Presidente Sarmiento beyond, lit up beautifully at night.
Alvear Icon

Enjoying a nightcap next to a steam flame at the bar of our hotel, Alvear Icon.
Evening View

The evening view across Puerto Madero from our room at the Alvear Icon in Buenos Aires.
| | |
| --- | --- |
| | Click the travel log icon on the left to see these locations on a map. And a map of our most recent log entries always is available at mvdirona.com/maps. |