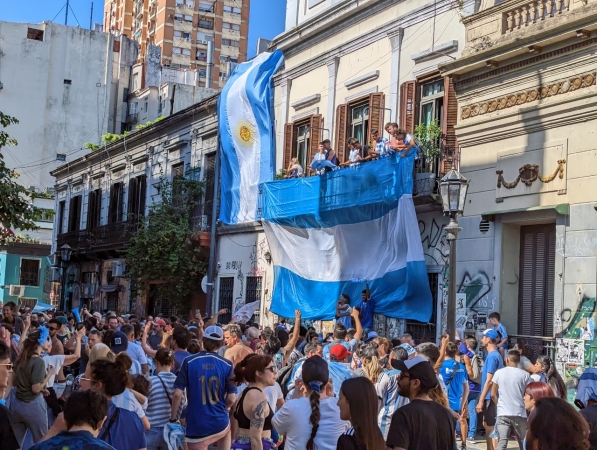 We arrived into Argentina on December 19th, the day that Argentina would take on France to decide the winner of the 2022 FIFA World Cup. Everywhere we went, people were setting up televisions indoors and out in preparation for the game. Our hotel setup two and we watched the game from there.
| | |
| --- | --- |
| | |
| | |
| --- | --- |
| | |
The game was the best we'd ever seen, and watching it locally in Buenos Aires was absolutely electric. The excitement built in the early game, where France was just being crushed. Then we fell from the cliff top into the depths of depression where 2-0 became 2-2 in 97 seconds. The regulation 90 minutes ended with the score locked at 2-2. In an extra half, Argentina again jumped into the lead 3-2 and again was looking strong with only 12 minutes left in the game. With only 4 minutes remaining, France again scored and the score remained tied 3-3 at the end of a second extra half. In an exciting set of penalty kicks, the Argentinian goaltender continued his excellent game and Argentina ended on top. What a game!
| | |
| --- | --- |
| | |
After the game an estimated 2 million people flocked to Centro congregating at the Obelisk to celebrate. It was perhaps the biggest throng of people we've ever seen. Throughout the city, people were cheering, singing and celebrating, cars were driving around with people hanging out the windows draped in flags, and even the local fire department was out with sirens running. The celebrations went into the night and it was an absolutely amazing experience.
APN photo
New York Times photo