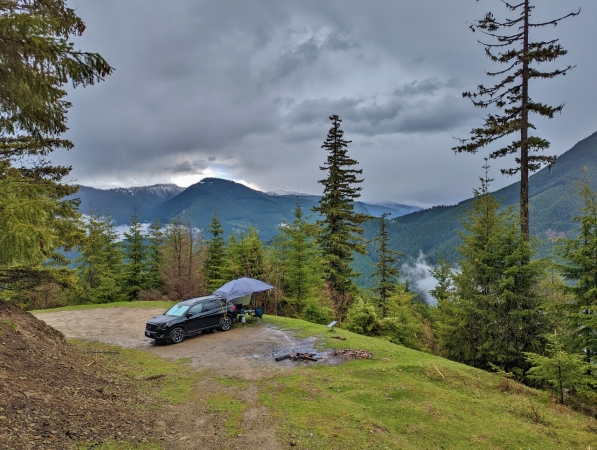 Camping, like snowshoeing, initially held little appeal to us when we moved back to Seattle. We had camped a fair bit when we lived in Toronto in the late 1980s and enjoyed it. But we lost all interest in the activity following a miserable camping trip to Ontario's Bruce Peninsula on a Labour Day weekend. All the decent sites were booked and we ended up pitching our tent in a crowded open field with dozens of other campers. And heavy rain fell the entire weekend. A day early, we stuffed all our drenched gear into the car, drove home, and didn't expect to ever set foot in a campsite again. And two decades of boating in comfortable vessels with plenty of amenities did little to encourage our desire to get out and rough it.
We therefore were a little surprised to find ourselves considering camping again. But a couple of things were different this time around. One aspects of camping we didn't like was being packed into a campground within close sight and earshot of other campers. We really love being out in nature on our own, one of the many reasons boating appealed to us so much. In 2016, our friends Mark Mohler and Christine Guo of Nordhavn 62 Gray Matter showed us a video of their wilderness camping trip in California's Trinity Alps. The amazing scenery, coupled with the isolation, really resonated with us. At the time, we were living on our boat on the US east coast with plans to cross the Atlantic to Europe, and camping just wasn't of interest. But that video stayed in our minds.
Six years later, we were back living in Seattle and starting to explore the area more by land. While researching snowshoeing, we came across the post "Top Tips for Sleeping in your Car on Road Trips". This looked so cozy and appealing and would alleviate a second aspect of camping that had really discouraged us: being cold and wet. By sleeping in the car, we could be warm, dry and comfortable.
That video and the concept of sleeping in the truck became the seeds that started us down the path of wilderness camping. But before any of that could be feasible, we needed to solve the connectivity issue. Many of the places we wanted to go are outside of cellular connectivity and James really needs to be connected for work. Starlink, with its excellent connectivity speeds and a lightweight and portable antenna, completely solved the problem. A couple of other vital pieces of gear were a power source to keep Starlink and the rest of our gear up and running, and an awning to allow us to be outside and dry in the rain. An EcoFlow Delta Max 2000 solved the power source issue, and for the second we bought an awning with sidewalls that secures to the rear of our truck. And, of course, we needed a lot of other gear as well.
We've been finding some amazing secluded campsites in the nearby Cascade Mountains, the gear has worked well, and we have been having a great time. Rain fell every time we were out for the first half-dozen trips and this was not an issue at all. We stayed warm and dry under the awning and at night in our car. It turns out we really enjoy camping, but the setup we had before just didn't work for us.
We've been out camping in the spring and early summer every weekend since we got our gear, except for an excellent six-night trip to Joshua Tree National Park and Palm Springs. And during the week, we continue to enjoy our downtown lifestyle and the Port of Seattle activities, and also are watching with interest the construction of several buildings in the area.
Below are highlights from May 1st through June 20th, 2022. Click any image for a larger view, or click the position to view the location on a map. And a map with our most recent log entries always is available at mvdirona.com/maps.
5/1/2022
Camping Gear

Our Hasika awning in place over the tailgate of our truck with the hatch open. The far end attaches to the car and the closest end is supported on two adjustable-height tent poles. One of the reasons we selected this awning was for the drop-down sides that will provide a large area of shelter from rain and wind.
5/7/2022
Victoria Clipper

The

Victoria Clipper V

departing Seattle on its daily run to Victoria, Canada. Clipper Navigation put vessel into service in 2018, replacing the original

Victoria Clipper I

that the company was founded with in 1986. The new boat can carry 525 passengers compared to 296 for the original, burns less fuel, and has better onboard technology. Originally the

Halunder Jet

, the

Victoria Clipper V

was purchased from Clipper Navigation's parent company FRS who purpose-built the ship in 2003 for the run between Hamburg and the offshore German island

Heligoland

. We fueled

Dirona

at Heligoland several times en route to and from Scandinavia.
Bay View State Park

For our first time camping in 30 years, we reserved a site at Bay View State Park near Anacortes. All our new

camping gear

worked out very well, and we had a great time both at the campsite and walking the beach nearby. We were warm and comfortable sleeping in the truck, and the awning with side wings kept us dry when rain fell several times during our stay.
5/9/2022
Victoria Clipper

The Victoria Clipper V crossing Elliott Bay to refuel before the daily run to Victoria, Canada.
Ovation of the Seas

Our "

pet cruise ship

",

Ovation of the Seas

, finally is back to work in the summer Alaska run. We look forward to seeing the ship make regular appearances as it works the Seattle-to-Alaska route after spending the winter idle in the Seattle area.
American Constellation

The pocket cruise ship American Constellation arriving into Seattle for an Alaska cruise.
Formwork

The crew at the Fourth & Bell construction site installing timber formwork to support the concrete for the building's foundation.
Outhouse

We often see

construction outhouses

lifted several feet above the ground when not in use to prevent them from becoming a public toilet. The crew at the Battery and 3rd construction site seem excessively concerned about that and have lifted their outhouse about ten stories above the ground.
5/11/2022
Window Cleaning

The biannual window cleaning is taking place at our apartment building. Spitfire managed to sleep through the whole thing.
Zoox

A specially-equipped

Zoox

Toyota Highlander driving through downtown Seattle. The Amazon subsidiary makes purpose-built driverless taxis and tests on city streets using Highlanders equipped with sensors that mimic the driverless taxis.
Formwork

The formwork installation at this level has been completed at the far side of the Forth & Bell construction site.
5/12/2022
Driller

A Davey Drill DK725, designed to work in limited access situations, at the Fourth & Bell construction site. The drill has a maximum horsepower of 260HP (194kW), a feed/extract force of 22,700lbs (101kN) and a maximum feed rate of 137f/min (42m/min).
Prefab Wall

A prefab wall, with electrical and plumbing connections already installed, being lowered into place at the Battery & 3rd construction site.
Dirona

Brian Lewis, owner of Nordhavn 46

Egret

, sent us this picture of

Dirona

at his home port of Brunswick marina in Georgia. The last time those two boats were in the same marina was five years ago when we

stopped in Brunswick

on our way south along the US East coast.
5/14/2022
Beckler River

Our first wilderness campsite was exactly what we were hoping for: secluded, with an interesting view and an opportunity for walking or hiking. After an initial test run of our camping gear at

Bay View State Park

, we went to look for a wilderness campsite at the Beckler River, near

Stevens Pass

in Mt. Baker-Snoqualmie National Forest, on the advice of the Skykomish District ranger.
5/16/2022
Convoy

A small convoy of pleasure craft heading north across Elliott Bay from Bell Harbor Marina.
Reinforcing

The concrete has been poured at the southwest corner of the Fourth & Bell construction site, and reinforcing supports have been drilled deep into the ground surrounding the foundation and bolted onto the face.
Drilling

Drilling to install reinforcing supports at the north side of the Fourth & Bell construction site.
5/17/2022
Hurtigruten

"That sure looks like a

Hurtigruten

" we both thought as a black-hulled ship with red trim and white top-sides arrived into Elliott Bay. We frequently saw the coastal express ferries plying the coastline while cruising Norway, and even traveled on one ourselves, but weren't expecting to see a Hurtigruten here in Seattle. It was an actual Hurtigruten through, the

Roald Amundsen

, part of the company's fleet of global expedition vessels.

The 459 ft (140 m) is designed to reach less-visited locations that are inaccessible to larger cruise ships such as the 950 ft (290 m) Carnival Splendor visible in the background. When launched in 2019, the Roald Amundsen was the world's first hybrid cruise ship, capable of traveling electrically for 45 to 60 minutes.
Healy

The USCG ice breaker Healy departing Elliott Bay. Launched in 1999, the 420 ft (128 m) ship is the largest in the coast guard fleet and their most technologically advanced icebreaker.
5/19/2022
Tent

We generally plan to sleep in the truck, but purchased a

small tent

to give us a little more flexibility. We've seen a few very nice wilderness campsites that were a short walk from the reach of a vehicle, so we might choose to use one and setup camp away from the truck. Here we are testing the assembly of the tent in the garage of our apartment building.
5/20/2022
Ovation of the Seas

Our "

pet cruise ship

",

Ovation of the Seas

, arriving at Pier 91 after completing it's first Alaska cruise of the 2022 season. We're loving have the cruise ships back in town.
5/21/2022
Huckleberry Creek

One of the aspects of wilderness camping that we really like is the opportunity to get out into the mountains and enjoy wonderful views. Finding the right campsite can take a bit of time, but we enjoy exploring and so far having been finding one excellent site after another, all with great views.
5/23/2022
Kaleetan

A tugboat pushing the Washington State Ferry Kaleetan across Elliott Bay.
5/24/2022
I-5 South Closed

The I-5 southbound lanes on the Ship Canal bridge were closed this morning after an accident while rescue worked searched for the missing driver of one of the vehicles. Divers recovered the driver's body four hours later.
5/25/2022
Golden Bear

The Cal Maritime training ship Golden Bear moored at Pier 66. The 261-ft (80 m) vessel is large, but barely visible behind the buildings, unlike the big cruise ships that dominate the skyline when moored there.
5/26/2022
Joshua Tree National Park Day 1

Joshua Tree National Park, near Palm Springs in southern California, is known for its surreal rock formations and the twisted, spiky trees that are the park's namesake. Straddling the Mojave and Colorado deserts, the 795,156-acre (1,242 sq mi; 3,217 sq km) park has a unique ecosystem that supports a wide variety of plant and animal life. Visitors can experience the park through several scenic drives, many walking, hiking and backpacking trails, several hundred camp sites, and thousands of rock-climbing routes.
5/28/2022
Joshua Tree National Park Day 2

Joshua Tree National Park straddles the boundary of the higher-altitude Mojave Desert and the lower-altitude Colorado Desert. We'd spent the previous day in the Mojave Desert portion and on our second day drove south into the Colorado Desert to a less-visited area of the park at Cottonwood. The plant life there is quite different, with scrub brush replacing the Joshua Trees and cactus we saw so much of the day before.
5/29/2022
Joshua Tree National Park Day 3

Eureka Peak, at elevation 5,521 ft (1,683 m), is the fourth highest in Joshua Tree National Park and the highest that is road accessible. From the end of the road, a short walk leads to the summit with sweeping views in all directions.

On our third and final day in Joshua Tree National Park, we drove up to Eureka Peak and had a picnic lunch with a view to Palm Springs and the San Jacinto Mountains. The drive up gave us another view to park's diverse ecosystems—several mule deer were along the road, and the Joshua Trees were much larger than we'd seen elsewhere.
5/30/2022
Palm Springs

The desert resort city of Palm Springs, California is known for its mid-century modern architecture and extensive cultural and recreational opportunities. The city has much public art, and an excellent museum focusing on natural science, contemporary art and performing art.

For recreation, Joshua Tree National Park is within an hour's drive. And the city is nestled beneath the San Jacinto Mountains, where the many hiking routes include the famous Cactus to Clouds trial.
6/1/2022
Removing Dirt

The excavator at bottom right is loading dirt into a nearly-full truck at the Fourth and Bell construction site. An empty truck is parked behind at bottom left, ready to move forward when the first truck is full. The dirt supply is coming from the excavator on the left. The operator is removing the dirt all around the vehicle, leaving it perched on a small hill.
Furniture

We're still completing the furnishing of our apartment and just recently found an entry rug and bench we like.
6/3/2022
Regatta

The luxury pocket cruise ship Regatta arriving into Pier 66.
6/4/2022
Keechelus Ridge

Keechelus Ridge rises 5,000 feet (1,525 m) above I-90 east of Snoqualmie Pass, separating Keechelus Lake directly west of the freeway from Kachless Lake to the east. National Forest roads crisscross the ridge, many with great views westward to Keechelus Lake, the Yakima River headwaters and the Cascade Mountain Range. And several good wilderness campsites are in the area.

Read more …
Digging Deeper

A view to the Fourth and Bell construction site from street level as we walk out for dinner. The excavators continue to dig deeper, transferring the soil from the foreground to the background, where it is lifted into waiting trucks. We find it quite interesting to see how the three excavators work together to stage and remove the soil.
6/6/2022
RX-7

An early Mazda RX-7 parked along Vine St. James owned a black 1980 RX-7 that we both really enjoyed and drove across Canada three times in.
Tight

The driver of this car parked on Vine St. is going to have a really difficult time leaving.
6/7/2022
6/8/2022
6/9/2022
Dirt Hill

The excavators have staged a huge pile of dirt for removal as they continue to dig lower at the Fourth and Bell construction site. At right, scaffold stairs have been installed to reach the bottom.
6/10/2022
Amabilis Mountain

Amabilis Mountain, south of Keechelus Ridge, is a popular snowshoeing and cross-country skiing destination that is less-visited for summer hiking due to the number of better trails nearby. The winter recreation season was well over when we visited in mid-June, but snow still covered the road near the summit, resulting in few visitors to the area. We didn't see another vehicle over two nights at camp there. On our first two-night wilderness camping trip, we explored the area south of Keechelus Ridge where we'd stayed the previous weekend.
6/12/2022
Tinkham Campground

Even though we'd just returned from a two-night camping trip, we decided to head out for another night, this time to the Tinkham Campground in Mt Baker-Snoqualmie National Forest. We were eager to test our our new awning, and just couldn't wait for the following weekend. It was a rainy Sunday night and we expected the Tinkham Campground would be lightly occupied and an easy place to stop, about an hour from home.
6/14/2022
Deeper

The excavators at the Fourth and Bell construction site have removed much of the

dirt hill

we saw a week ago, and continue to dig deeper.
Vodafone SIM

Our Spanish Vodafone SIM card just arrived for our upcoming trip to Switzerland. This traveler's SIM works throughout Europe and even Turkey and the US.
Alec Peterson

Alec Peterson (seated) invited some folks out for a tour of Elliott Bay on his Selene 49. We had a great time and joked that maybe we should buy a boat :-).
USS Gabrielle Giffords

The littoral combat ship USS Gabrielle Giffords moored at Harbor Island in Elliott Bay, viewed on a harbor tour. The littoral ships have been plagued with issues ranging from cost overruns, high operating costs, insufficient firepower and manpower to complete required missions, an excessive beam that hindered their ability to maneuver in narrow channels, and, most recently, hull cracks. Future purchases have been cut and the Navy is considering decommissioning some that are only three years old.
Leschi

The Seattle fireboat Leschi testing its pumps with the skyline in the background, viewed on a harbor tour of Elliott Bay.
6/16/2022
Car Wash

Taking our Honda Passport through its first automated car wash. Washing it in our building's

car wash

is more convenient, but we had some errands to run today near this car wash.
6/18/2022
Global Entry

At the US Customs and Border Protection office in the SeaTac airport for in-person interviews to renew our Global Entry membership. For air travel, Global Entry gives us expedited entry into the US and streamlined TSA PreCheck security screening.
Slippery Creek

Slippery Creek is a tributary of the White River, that flows from the northeast flank of Mt Rainier and eventually through the Muckleshoot Reservation and later joins the Puyallup River to flow into the Puget Sound near Tacoma. Heading south from Seattle, we followed Slippery Creek upstream, first through the Muckleshoot Reservation and past their White River Amphitheatre, then along Highway 410 in view of the swift-flowing White River, and finally beside the creek itself, as we ascended into Mt. Baker-Snoqualmie National Forest along Slippery Creek Road.
6/19/2022
Instant Hot Tank

Our maintenance list remains pretty small now that we're living in a condo, so a

maintenance log

no longer is required :-). But we do have the occasional job, such as replacing our

instant hot water

tank that started to leak recently.
| | |
| --- | --- |
| | Click the travel log icon on the left to see these locations on a map. And a map of our most recent log entries always is available at mvdirona.com/maps. |