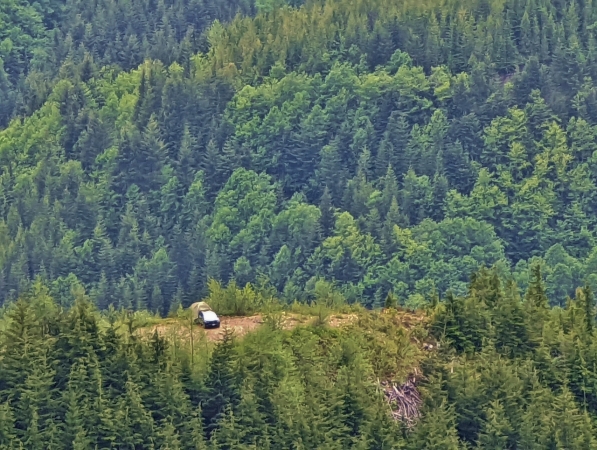 Slippery Creek is a tributary of the White River, that flows from the northeast flank of Mt Rainier and eventually through the Muckleshoot Reservation and later joins the Puyallup River to flow into the Puget Sound near Tacoma. Heading south from Seattle, we followed Slippery Creek upstream, first through the Muckleshoot Reservation and past their White River Amphitheatre, then along Highway 410 in view of the swift-flowing White River, and finally beside the creek itself, as we ascended into Mt. Baker-Snoqualmie National Forest along Slippery Creek Road.
The road continues to ascend high above the creek valley, where we found a wonderful campsite at altitude 3,400ft (1,036m) with near 360° views and several walking options. The only negative was the site was on a bit of a slope, but we're well-armed for that with Tri-Lynx levelers and a camp table that has four independently adjustable leg heights. We capped off the weekend with a great lunch on our way home at the Historic Mint Restaurant and Ale House in Enumclaw.
Below are highlights from June 18th and 19th, 2022. Click any image for a larger view, or click the position to view the location on a map. And a map with our most recent log entries always is available at mvdirona.com/maps.
6/18/2022
Fireworks

Fireworks for sale in the Muckleshoot Reservation for the upcoming 4th of July holiday. The use and sale of fireworks is illegal in bordering King County, but not on Indian Reservations. Since the arrival of Europeans in the area in the 1800s, Native American history has generally not been a happy one. But the Muckleshoot Tribe has gone through a remarkable transformation.

From the brink of extinction, with only only one acre of Tribally-owned land in the 1970s housing a community hall that had just burned down, the Tribe now owns nearly 4,000 acres, with an additional 105,000 acres of working forest. They own and operate the Muckleshoot Casino, Emerald Downs horse-racing track, and the 25,000-seat White River Amphitheater. Much of their success follows from a conservative financial policy of reinvesting any profits back into Tribal services.
Slippery Creek Road

Heading up Slippery Creek Road off Highway 410 in search of campsites in Mt. Baker-Snoqualmie National Forest.
Campsite

We found a fabulous campsite on a switchback along Slippery Creek Road at altitude 3,400ft (1,036m) with a sweeping westward across the Slippery Creek valley.
Level

The Slippery Creek campsite is excellent in all regards except for the grade. Here we are using

Tri-Lynx levelers

to level the truck.
Camp Table

The car wasn't the only thing that needed leveling. One of the reasons we bought an

REI Camp Table

was for it's four independently adjustable leg heights. We're using that feature here in the sloping Slippery Creek campsite.
Tire Strap

Our new

Redcamp awning

has built in straps for attaching to the car wheels.
Road Closed

The Forest Service closes roads that are no longer in use to reduce maintenance costs, but the 4×4 community often finds a way around. This one is blocked with a dirt berm and concrete pilings, but we could still see tire tracks through.
Snow

Walking along the blocked road, we encountered patches of snow at altitude 3,952 ft (1,205 m).
View

A wonderful campsite at the end, so it's a real shame the Forest Service closed the road. Our current campsite is visible slightly left of center, above the two light green square patches in the hillside (click image for a larger view).
Campsite From Above

A close-up view to our cliffside campsite on Slippery Creek Road from the end of the closed road.
Walking Back

It's not clear why the Forest Service closed this road. The roadway is wide and in good condition with no obvious risk of rockslide or other potential blockages.
Other Campsite

Later in the evening, we walked down Slippery Creek Road to check out another campsite below us that was occupied when we drove up.
Shooting

The occupants of the site below us were just there for the day for target practice. Shooting is allowed on most National Forest land and is very popular. We often hear gunshots in the distance, or in this case, nearby, when we are out camping in the National Forests. Unfortunately, some shooters leave shell casings and used targets.
Rock on Road

We squeezed past this big rock on Slippery Creek Road on the way up to our campsite.
Sonos Roam

Our Sonos Roam speaker perched on the rear of our SUV. Sonos Roam is a pint-sized and lightweight outdoor portable smart speaker with impressive sound quality. We recently added one to our travel kit and are loving being able to play our music wherever we go. The speaker is ruggedly built of shock-absorbent materials, is drop-resistant, and has an IP67 dust and water resistance rating.
Clouds

Rain falling in the evening after a day of dry weather. We're warm and dry under our awning, so the rain doesn't bother us.
Bear Grass

Bear Grass (Xerophyllum tenax) blooming near our campsite along Slippery Creek Road.
6/19/2022
Breaking Camp

Packing up the

Tri-Lynx Levelers

as the final step in breaking camp at Slippery Creek Road. It was our first time using the levelers and they worked quite well. Driving the truck onto the stack was fast and easy, as was getting back down.
Road Blocked

After breaking camp, we continued up Slippery Creek Road to explore the area. Just beyond where we

walked yesterday

was another spur road closed with a berm and concrete pilings. Too bad, as it appeared from the satellite imagery to have a campsite with a view at the end.
Outside National Forest

We stopped exploring any further down Slippery Creek Road when we exited Mt Baker-Snoqualmie National Forest into land where wilderness camping isn't permitted.
Slide Area

Passing through a slide-prone area on a narrow lane with a steep drop-off to one side. We try to avoid lingering in places like these to limit our exposure to slide risk.
Logging Legacy Memorial

Memorial in the city of Enumclaw to loggers injured or killed on the job, an industry that brought growth and prosperity to the region. According to the inscription, an astonishing 8,000 died and 65,000 were injured over the past century while logging in Washington State.
Cole St.

Looking down appealing restaurant-lined Cole St. in Enumclaw, temporarily blocked off for pedestrian traffic only.
The Historic Mint

We had a great lunch at the Historic Mint Restaurant and Ale House on Cole St. in Enumclaw. Established in 1906, the restaurant sources locally as much as possible. This customer appreciation sign on the wall lists the many local business that The Mint does business with and their distance from the restaurant. Many are only a few miles away, and some only a few hundred feet (click image for a larger view).
| | |
| --- | --- |
| | Click the travel log icon on the left to see these locations on a map. And a map of our most recent log entries always is available at mvdirona.com/maps. |