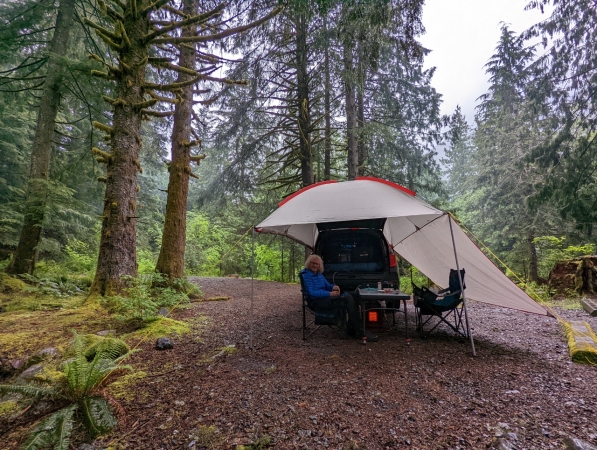 Even though we'd just returned from a two-night camping trip, we decided to head out for another night, this time to the Tinkham Campground in Mt Baker-Snoqualmie National Forest. We were eager to test our our new awning, and just couldn't wait for the following weekend. It was a rainy Sunday night and we expected the site would be lightly occupied and an easy place to stop, about an hour from home.
An awning with sidewalls is a critical piece of gear for us to enjoy camping in the rainy Pacific Northwest. We really liked the Hasika awning we were using, but it was not sufficiently durably built and the wind tore the ties off while we were camping at Amabilis Mountain. We'd researched other options and ordered a Redcamp awning that arrived the day we returned from that trip. It appears more durably built, with reinforcing material and extra stitching at the stress points. It also includes built-in straps that attach the car end of the awning to the wheels.
Below are highlights from June 12th and 13th, 2022. Click any image for a larger view, or click the position to view the location on a map. And a map with our most recent log entries always is available at mvdirona.com/maps.
6/12/2022
Tinkham Road

Heading down Tinkham Road towards Mt Baker-Snoqualmie National Forest's Tinkham Campground, about an hour from home.
Campsite

As we guessed, Tinkham Campground was less than a quarter full, and we found a lovely private site in the forest.
Awning Test

The new

Redcamp awning

is a little shorter than the previous Hasika awning, but is wider with longer sidewalls, giving us overall better rain protection. We're quite happy with it.

Rain is falling steadily right now now and we're staying warm and dry under the awning. Visible by James' feet is the warm glow of our Mr. Heater Buddy 4,000-9,000-BTU propane heater.
Forest

A view to the beautiful forest around our campsite. It's quite a lovely spot, and very different from the places we normally camp.
6/13/2022
Out of Propane

Our propane was low after the weekend's trip, and the extra night pushed us over the edge and we ran out. So shortly after

testing

that the electric kettle worked with the Ecoflow, we ended up needing it this morning to make coffee. Here we're drawing 837 watts and have 2:08 of power left at this consumption.
Charging

We run a

waterproof power strip

out from the Ecoflow to underneath our camp table for convenient access to power there. It's just visible on the ground between the propane tank at left and the heater. Right now we are charging both our Fitbit watches with it and have another cable running to a laptop.
Rock Creek

Rock Creek flowing over Tinkham Road as we depart. It seems unlikely this is by design, so a drainage pipe under the road must be plugged.
Case IH 6150

A brand new Case IH 6150 combines harvester, worth about $450,000 USD, heading down I-90 on a flatbed truck.
Deere

We still love seeing a

Deere

in the wild. We passed this John Deere front-end loader while heading home from Tinkham Campground on a very rainy morning.
| | |
| --- | --- |
| | Click the travel log icon on the left to see these locations on a map. And a map of our most recent log entries always is available at mvdirona.com/maps. |