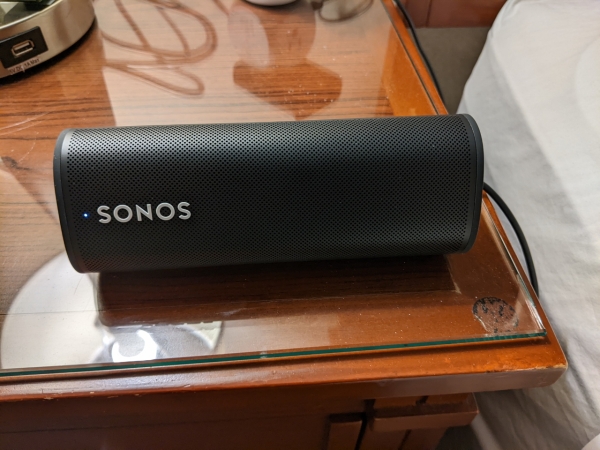 Sonos Roam is a pint-sized and lightweight outdoor portable smart speaker with impressive sound quality. We recently added one to our travel kit and are loving being able to play our music wherever we go. The speaker is ruggedly built of shock-absorbent materials, is drop-resistant, and has an IP67 dust and water resistance rating. We can take it camping, use it outside, and carry in our luggage without risk of damage. And the Roam is so small and lightweight that it makes the cut even when we're traveling with minimal gear, such as carry-on luggage only.
The small and lightweight Roam perched on our truck (left) and as part of our carry-on luggage kit on a recent trip to Switzerland.
The Roam is easy to setup through an intuitive app, and has excellent connectivity features. Trusted networks are stored and the speaker will automatically connect to whatever one is available. This is very convenient as we often use different networks when traveling, depending upon the location. We might be running of our Starlink satellite dish, or using a travel router or a cell phone hotspot. After enabling whatever network we have available, we can just power on the speaker and it automatically connects and is ready to play. The speaker also can connect using Bluetooth, but we haven't used that feature.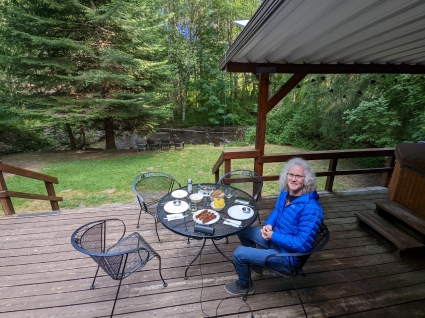 The Sonos Roam automatically connects to an available known network. Here at Mt. a Rainier cabin we are playing through our Starlink satellite dish (just visible on the roof above James).
The speaker also has a 10-hour battery life. We typically plug it in when in use, but the battery support means we can just carry it somewhere to play where no power source is available or convenient. We also enjoy having Alexa control through the Roam, not just for playing music, but for other features that we use a lot, such as setting a timer for brewing tea.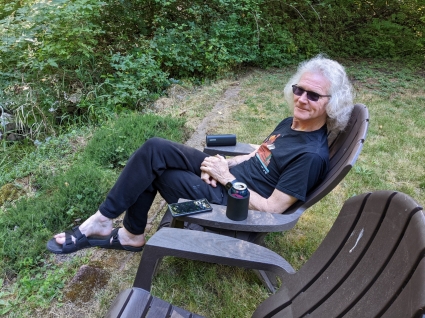 The Roam battery support means we can play where no power source is available or convenient, such as perched on the arm of our chair riverside at a Mt. Rainier cabin.
Most important of all, the sound quality is astoundingly good for such a small package, with a powerful bass. The speaker automatically adapts the sound for the listening environment and produces an excellent result.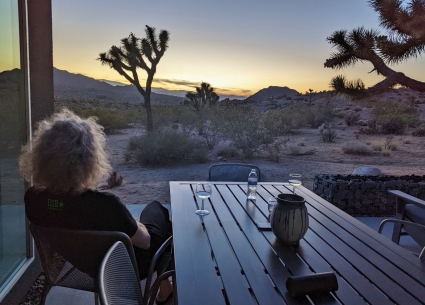 Enjoying music with the sunset at Joshua Tree.