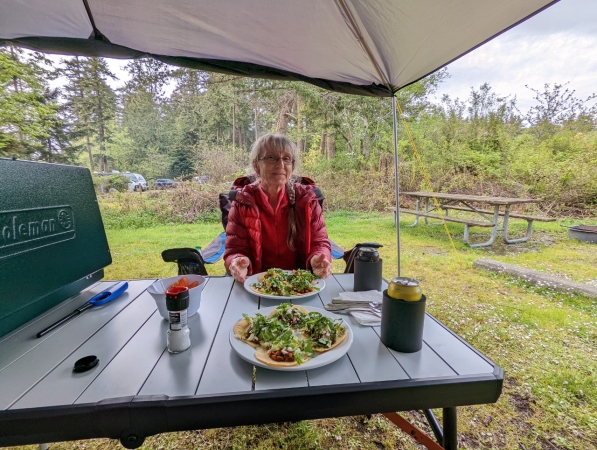 For our first time camping in 30 years, we reserved a site at Bay View State Park near Anacortes. All our new camping gear worked out very well, and we had a great time both at the campsite and walking the beach nearby. We were warm and comfortable sleeping in the truck, and the awning with side wings kept us dry when rain fell several times during our stay.
Following an enjoyable weekend of camping, we had a good lunch at Anacortes Brewery's Rockfish Grill as we slowly meandered home, enjoying the route along the way.
Below are highlights from May 7th and 8th, 2022. Click any image for a larger view, or click the position to view the location on a map. And a map with our most recent log entries always is available at mvdirona.com/maps.
5/7/2022
Campsite

Our spot at Bay View State Park is relatively secluded from other campsites, although a bit boggy.
| | |
| --- | --- |
| | Inflating Luno |
Bed Ready

Our bed in the truck inflated and all ready to go for later. It looks comfy and cosy.
Under the Awning

View to our bed in the truck from our camp table under our awning.
Lunch

Enjoying our first camp lunch with our new gear. So far everything is working out super-well.
89%

After about five hours, we're down to 89% charge on our Ecoflow Delta Max 2000, and we're currently drawing 64 watts. We started the car to test the charging from the 12-volt system and are charging at 104 watts. At this input, it will take 4 hours to fully recharge the battery. The lesson here is the capacity of the 12-volt charging system is inadequate to practically charge the battery, so we'll look for other solutions.
Stump

The plaque on this stump tells how Joe Hamel, a member of the Washington State Parks and Recreation Commission from 1959-1971, was instrumental in securing additional land for By View State Park and developing the beach.
Joe Hamel Beach

Walking at low tide along Joe Hamel Beach off Padilla Bay. Directly to our south, not visible in the photo, is the narrow waterway leading to LaConner.
Camp Host

Washington State Park camp hosts receive free use of a designated RV site as compensation for greeting visitors, answering questions and explaining rules, assisting park staff, and performing maintenance. This host has a pretty nice semi-trailer truck to pull their fifth-wheel.
Starlink

We have good cellular connectivity here at Bay View State Park, so only have the Starlink out to test it with the Ecoflow as a power source. Both work great.
Tacos

Beef tacos for our first camp dinner with our new gear at Bay View State Park.
Washing Up

Doing the dishes at camp. One of the nice features of the GSI Outdoors Pinnacle

camping cooking set

is the storage sack, bottom right, doubles as a wash basin.
5/8/2022
| | |
| --- | --- |
| | Morning View |
Breakfast

Making coffee to have with fresh pineapple as part of our breakfast. The coffee filter holder is a silicone

Kuissential SlickDrip

that collapses like the kettle. It worked well with the electrical

travel kettle

we got for our road trip across the country.
40%

After 20 hours, the Ecoflow is down to 40% charge and will be fully discharged in 6 hours at the current 58-watt draw rate.
Office

James getting some work done at our campsite "office". We run an extension cord from the Ecoflow to the camp table where we can easily power all our devices.
LL Bean Duffle Bag

We continue to make great use of our

LL Bean rolling duffle

bags. We keep one full of camping gear in our apartment storage room beside our parking spot, and use another to transport anything we need from the apartment. We stage from the bags to setup camp, then put them forward, one in each seat, when done. As with traveling across the country, we use packing cubes to keep things organized and not have to be constantly sifting through loose gear.
Blankets

To keep everything in the car looking neat and tidy, we cover the gear in the back en route with two Utopia

black fleece blankets

, then move them forward to cover the bags in the front seat. The blankets are soft and durable and look great.
Sea Trader

After breaking camp, we drove into Anacortes for lunch. We've always loved the view down Q Ave to the Dakota Creek shipyard when a big ship such as Sea Trader is in the boat yard being serviced.
Anacortes Brewery

The large number of beers made over the years by Anacortes Brewery.
Rockfish Grill

Following an enjoyable weekend camping at Bay View State Park, we had a good lunch at Anacortes Brewery's Rockfish Grill as we slowly meandered home, enjoying the route along the way.
| | |
| --- | --- |
| | Click the travel log icon on the left to see these locations on a map. And a map of our most recent log entries always is available at mvdirona.com/maps. |