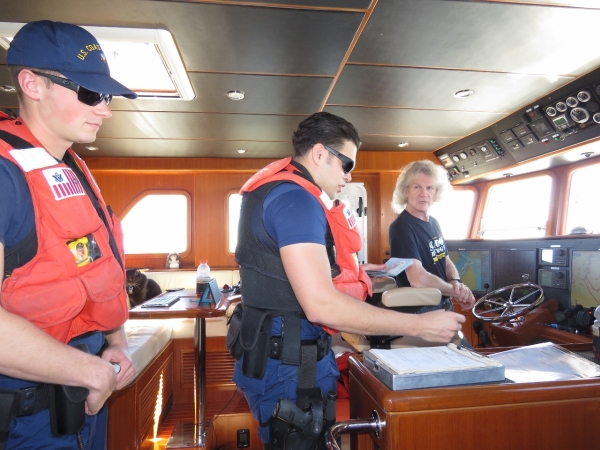 We got another chance to see a Metal Shark boat in action during a routine Coast Guard inspection on the way to Brunswick, Georgia. We were trying to reach Brunswick Landing Marina to fuel before they closed for the day, so would have preferred not to have been boarded, but the Coast Guard officers were polite, competent and efficient, and completed their inspection in less than 20 minutes. We made it to Brunswick Landing Marina in time to take on a load of diesel at their usual excellent pricing, then spent a week relaxing week there. We attended the marina's nightly get-togethers and enjoyed some good meals in town.
Trip highlights from January 25th through 30th, 2017 in Brunswick, Georgia follow. Click any image for a larger view, or click the position to view the location on a map. And a live map of our current route and most recent log entries always is available at http://mvdirona.com/maps
1/25/2017
Calibogue Sound

We got underway at 4am this morning to make the 88-nm run to Brunswick and arrive in time to fuel before 5pm. We have to cross a couple of shallower areas (less than 15ft at zero tide) in the darkness, so it's good to be near high tide. Unfortunately the tide still is incoming and we're fighting a 2-knot negative current as we exit Caliboque Sound. At 2,300 RPM we should be making 9 knots and we're only hitting 7.
Jessica Marie

Fishing vessel Jessica Marie lit up at at 5:30am as we clear the shallows and approach Tybee Roads. With a 6.5ft tide, we didn't see anything less than 19ft.
Tybee Roads

Tybee Roads, the entrance to Savannah, is among the busiest port entries we've ever encountered. Radio traffic has been constant since our 4am departure as ships negotiate passing arrangements in the narrow channel. Four vessels are in the immediate vicinity as we arrived at 5:30am and the

CPA bar

(Closest Point of Approach bar) of a fifth is visible at the bottom of the screen shot (all five are circled in red). The

Ever Laden

is a large container ship that we could see running the channel as we neared and that fifth vessel is another large ship that we passed partway through the channel.
Olivia

The passenger vessel Olivia passing in front of the rising sun.
Calm

We've got wonderfully calm conditions forecast for the entire 88nm run to Brunswick.
Traffic

We entered on the south side of the channel to give the fishing vessel Lady Susie II room, then switched over to the north side to pass the dredger Stuyvesant.
Lady Susie II

The fishing vessel Ladie Susie II with poles out in the entrance to St. Simons Sound.
Stuyvesant

The dredger Stuyvesant working the south side of the entrance to St. Simons Sound. Shallows are close by on either side of the entry, so they must need to dredge all the time to keep the way navigable.
F J Torras Causeway

The F J Torras Causeway (Back River) Bridge visible from a distance. We'll be passing under it to reach Brunswick Landing Marina.
Metal Shark

The Brunswick Coast Guard in a great-looking

Metal Shark

Response Boat — Small. Unfortunately, they're coming for us, so we're going to get a much closer look.
Inspection

Two Brunswick Coast Guard officers came aboard for a safety inspection. They were polite, competent and efficient and were on and off in less than 20 minutes. Spitfire, however, was not impressed.

We did slow down, but didn't have to even stop the boat and continued underway during the inspection. In the video of the boarding at https://youtu.be/sIqPMCM-9Y8 you can the coxswain expertly maneuvering the two moving boats close together to allow the officers to board through our side gate without touching Dirona. (The aft camera is setup to mimic a rear-view mirror, so the Coast Guard boat appears to be on our port side, but actually is to starboard.)
Getting Closer

The Brunswick Landing Marina is not far beyond the F J Torras Causeway Bridge. We're almost there.
Coast Guard

Another Brunswick Coast Guard boat, this one a buoy tender.
Brunswick Landing

Our first view to Brunswick Landing Marina.
Fueling

Taking on 1,430 gallons of diesel at Brunswick Landing in our first fueling of the year. It seems amazing that we haven't fueled since four mouths ago at Southwest Harbor in Maine,
Tipsy McSways

Tipsy McSways was packed when we arrived for dinner, but we were lucky and a corner window table just opened up. The restaurant has adopted a cat that sat on the table outside our window much of the evening.
1/27/2017
Arte Pizza

An excellent wood-fired pizza lunch at Arte Pizza in downtown Brunswick.
Chinatsu

We're not the only Nordhavn at Brunswick Landing Marina. This is Nordhavn 55 Chinatsu.
Egret

The third Nordhavn at Brunswick Landing Marina is the famous Nordhavn 46

Egret

. Scott and Mary Flanders circumnavigated in this boat and documented their experiences in widely-read

Voyage of Egret

. We just missed meeting the new owners by a week.
Courtesy Bike

The Brunswick Landing Marina has several free services, including a number of courtesy bicycles.
Brunswick Yacht Club

Moorage at the marina includes membership in the Brunswick Yacht Club. There's a get-together every night where the marina offers free beer, and three times a week they hold a more formal version with beer and wine that's well-attended and a great time.
1/29/2017
Basil Thai and Sushi

An excellent meal and evening at Basil Thai and Sushi after a walk around town.
1/30/2017
Click the travel log icon on the left to see these locations on a map, with the complete log of our cruise.

On the map page, clicking on a camera or text icon will display a picture and/or log entry for that location, and clicking on the smaller icons along the route will display latitude, longitude and other navigation data for that location. And a live map of our current route and most recent log entries always is available at http://mvdirona.com/maps.