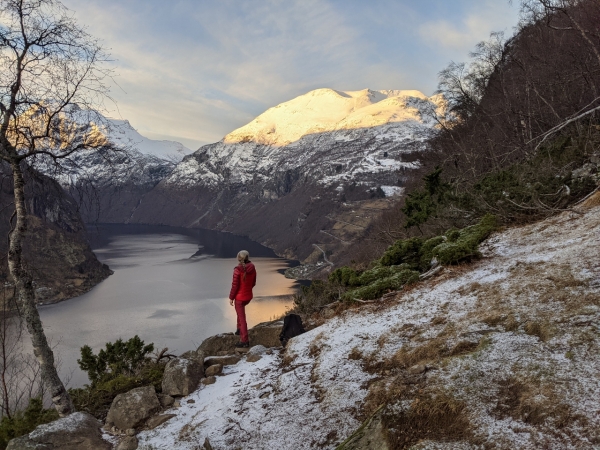 We spent the darkest and most northerly part of our Norwegian winter cruise, from early December to early January, in the the More Og Romsdal region directly north of the headland Stad. This area encompasses several major centers, including Alesund, Kristiansund, Andalsnes and Molde, plus spectacular scenic destinations such as UNESCO World Heritage site Geriangerfjord, pictured above, and the 1,700 coastal islands in the Heroy district.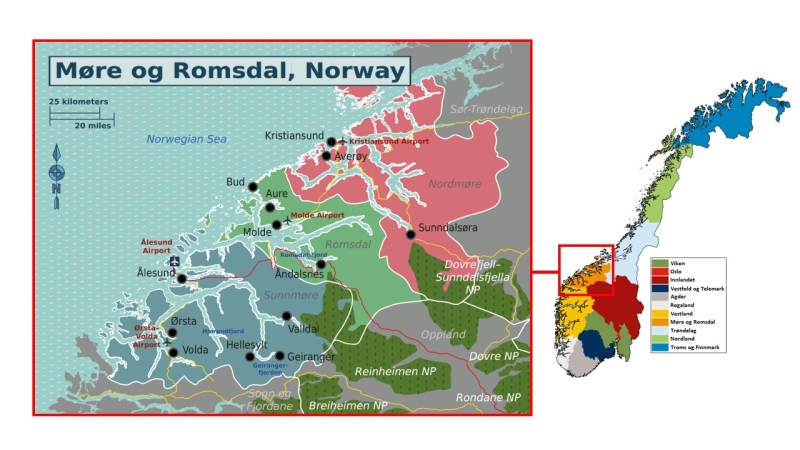 The days got shorter and colder as we proceeded further north, and in early December we had the excitement of breaking ice for a mile or so on the way out of an anchorage. The winter climate didn't keep us from enjoying the outdoors though. We made many long trips in the tender and several memorable hikes, including a New Year's Day hike at the head of Geirangerfjord, pictured above. The cold-weather gear we'd purchased in Bergen and Forde worked out extremely well.
In this stage of our detailed exploration of the Norwegian coast, we cruised north along the coast from the Sognefjord to the dangerous headland Stad, where Norway plans to build a ship tunnel through the peninsula. After rounding Stad, we then explored More Og Romsdal over five weeks, including spending Christmas in Kristiansund and New Year's Eve anchored at the head of Geirangerfjord. We also made a brief trip to Trondheim, the most northerly stop on this current cruise of Norway. Over the full period we made 48 stops and traveled 1,145 miles, but covering only 200 miles point-to-point.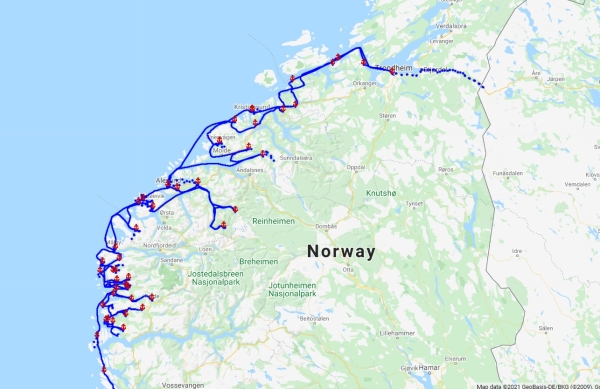 Below are highlights from November 12th, 2020 through January 9th, 2021. Click any image for a larger view, or click the position to view the location on a map. And a live map of our current route and most recent log entries always is available at mvdirona.com/maps.
Buefjorden

Buefjorden is the next major fjord system north of Sognefjord. The fjord extends about 9 nautical miles from the North Sea into mainland Norway, splitting into three branches, from south to north: Afjorden, Skifjorden, and Vilnesfjorden. We visited all three in our continued detailed exploration of the Norwegian coast.
Fordefjorden

The town of Forde lies at the head of 19-nm long Fordefjorden, the next major fjord system north of Buefjorden. Forde is the commercial, industrial, and government center for the region, with good shopping opportunities for us to buy a little more winter gear.

Read more …
Floro

The coastal town of Floro, roughly midway between Sognefjord and the headland Stad, was founded in 1860. Today Floro is the administrative center for the area and supports diverse industries with branches of several national and international companies, including Westcon, EWOS and CHC.
Hovden

The Kvanhovden lighthouse on the exposed west coast of Hovden opened in 1895. Much of the old path there has survived, hugging the rugged shore as it winds around the rocks, with the standard Norwegian lighthouse metal pipe guardrails still in place. Today the lighthouse is automated and the original path now is part of the North Sea Trail, an EU-funded, international collaboration to create a network of hiking trails along the North Sea. The views from the lighthouse are spectacular, and you can even spend the night in the old keeper's home.

Read more …
Gulen

After visiting Hovden, we spent two nights in Gulen, a small fjord just north of Floro with three branches: Sorgulen, Midtgulen and Nordgulen (south, middle and north respectively). We toured the area extensively by tender, enjoying the spectacular scenery, and we had the excitement of breaking ice for a mile or so on the way out.

Read more …
Froya

The days continued to get shorter as we traveled further north in our Norwegian winter cruise—the sunset pictured above was taken at 3:15pm. We weren't sure how we'd do with the super-short days of the Norwegian winter, but so far we haven't minded. We run the boat in the morning during the darkness and then hike or tour in the tender when we have daylight.

Read more …
Syltejforden

Norway's headland Stad is so notorious for dangerous conditions that an escort service is provided for small boats and funds have been approved to build the world's first full-scale ship tunnel through the base of the peninsula. We rounded Stad in calm conditions as we continued north from Tennebo on our winter Norwegian cruise.

Read more …
Flavaer Islands

The lighthouse in Norway's Flavaer Islands was built in 1870 to guide mariners into Heroyfjorden. The islands themselves lie on the edge of Heroyfjorden and are somewhat exposed, but make a great anchorage in calm conditions.

Read more …
Heroy

The Heroy municipality's name derives from an old Norse term meaning "archipelago of islands". The 1,700 islands and islets that make up Heroy are an absolute joy to explore, both in the tender and on foot along the archipelago's many view hikes. Norway seems to have an endless number of exceptional boating locales, each one rivaling the ultra-popular destinations of our home cruising grounds, such as Desolation Sound on Canada's west coast.

Read more …
Alesund

If you enjoy holiday lights, Norway is a wonderful place to be in the winter. Most Norwegian towns have a lit holiday display in the hills above the community, and their houses are ablaze with holiday lights. And with the shorter days of winter, the lights are on longer. We've spent many a happy hour in the cockpit off a beautifully lit town below a hill-top light display.

Read more …
Atlanterhavsvegen

Atlanterhavsvegen (Atlantic Ocean Road) is one of Norway's 18 National Tourist Routes that the construction industry in 2005 named "Norwegian Construction of the Century". The road runs 5 miles (8 km) along the outer edge of the Atlantic Ocean across an archipelago of islands and seven bridges. Popular for filming auto commercials, the route has also been voted the world's best road trip and best place to test drive a car.

Read more …
North Towards Trondheim

From Atlanterhavsvegen, we traveled 117 miles north towards Trondheim in five short runs. Conditions were surprisingly calm each day, and we enjoyed beautiful light reflections during our morning runs in the dark and evening happy hour in the cockpit, and also some spectacular sunsets.

Read more …
Trondheim

Dirona spent five weeks in Trondheim in 2018 as part our making of a trip back to the US, and we really enjoyed Norway's third-largest city with its university-town vibe. We were on our way south during our previous visit, and this would be our turn-around point on our second Norwegian cruise. Although we didn't spend long in Trondheim on our return visit, it was great to be back. We would have loved to stop into some of the great restaurants and bars we'd visited last time, but our next restaurant visit won't be for quite some time still.

Read more …
Kristiansund

After heading south from Trondheim, we made two brief stops before spending Christmas Eve and Day in Kristiansund. We walked through town on Christmas Eve, including a pass through the Mellemvaerftet shipbuilding museum, and woke up on Christmas Day to a beautiful snowfall. That morning we made an extensive tour of the area by tender, then walked through Kringsja Park in the afternoon. Kringsja is full of lakes, beautifully-constructed raised walking paths and ocean views, and with the day's snowfall was a wonderful place for a Christmas Day walk.

Read more …
Romsdalsfjorden

At 46 nautical miles long, Romsdalsfjorden is the ninth-longest fjord in Norway. The fjord forks into three main branches at the island of Veoya, once the main medieval trading center between Trondheim and Bergen where the 12th-century Medieval Church of St. Peter still stands. The three main branches stretch past the towns of Molde along Moldefjorden, Andalsnes at the head of Isfjorden, and Eresfjord at the head of Langfjorden. All are popular tourist destinations for their spectacular natural beauty.

Read more …
Geirangerfjord

Geirangerfjord, a branch of Storfjorden, is one of the better known and popular fjords in Norway and is part of the West Norwegian Fjords UNESCO World Heritage Site. Full-sized cruise ships regularly travel the waterway, as do the Hurtigruten coastal ferries, local ferries and countless other commercial vessels. A lesser-known branch of of Storfjorden is Tafjorden, where in 1934 a 2.6 million cubic yard (2 million cubic meter) section of a mountain broke off and dropped over 2,300 ft (700m) into the fjord, producing a 200-ft (60m) tsunami that raced up the fjord and overtook three villages, killing 40 people.

Read more …
Haddalsvika

After exploring Storfjorden, we made one more stop in the Ulsteinvik area as we proceeded south. This time we anchored to the southeast in Haddalsvika, surrounded by dramatic winter scenery, and completed our tender tour of the area on another cold but clear day.

Read more …
South Around Stad

When we returned back south of the notorious headland Stad in early January from Haddalsvika, conditions were so calm that we continued along the exposed outer coast rather than taking the more protected channel past Maloy. It was our first time passing the Krakenes Lighthouse, pictured above, on the western coast of Vagsoy, where several wind records have been recorded.

Read more …
Helleviksundet and Resesundet

Winter storms arrived frequently in early January as we continued south from the headland Stad. We travelled in calmer weather and stopped at Helleviksundet and Resesundet, pictured above, as the systems passed through. In calmer conditions we made a tender trip through the complex islets around Resesundet, and in the stormier weather completed some boat projects, including performing the 7th valve adjustment on our generator and addressing a corroded pickup pipe in our blackwater tank.

Read more …
Click the travel log icon on the left to see these locations on a map, with the complete log of our cruise.

On the map page, clicking on a camera or text icon will display a picture and/or log entry for that location, and clicking on the smaller icons along the route will display latitude, longitude and other navigation data for that location. And a live map of our current route and most recent log entries always is available at mvdirona.com/maps.