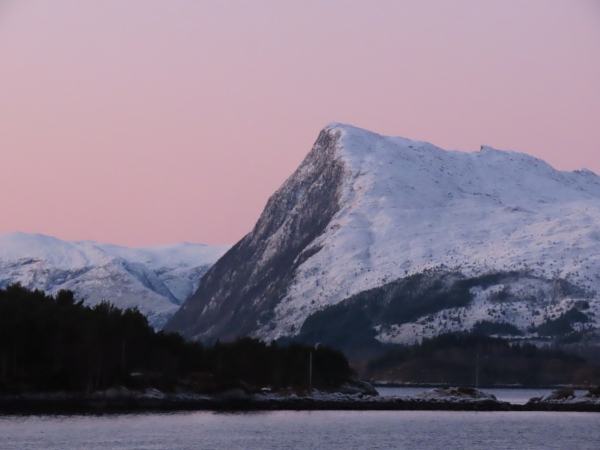 After exploring Storfjorden, we made one more stop in the Ulsteinvik area as we proceeded south. This time we anchored to the southeast in Haddalsvika, surrounded by dramatic winter scenery, and completed our tender tour of the area on another cold but clear day.
Below are highlights from Jan 4th, 2021. Click any image for a larger view, or click the position to view the location on a map. And a live map of our current route and most recent log entries always is available at mvdirona.com/maps.
Ferries

Passing three ferry routes at the intersection with Storfjorden of Hjorundfjorden behind us to our south, Sulafjorden coming up to starboard and Vartdalsfjorden to port. One route crosses Hjorundfjorden, another crossed Storfjorden and the third crossed Sulafjorden. Visible are the blue triangular AIS targest of ferries either at their terminals or underway.
Laupsnipa

The sheer south side of 1,843-ft (562m) Laupsnipa, viewed looking southwest.
Haddalsvika Anchorage

Our anchorage in Haddalsvika in 110 ft (34m) on 300 ft (91 m) of rode.
Rjahornet

1,968-ft (600 m) Rjahornet, viewed from the anchorage at Haddalsvika.
Anchorage Views

Views from our anchorage in Haddalsvika (clockwise from top left: forward, aft, starboard and port).
Dirona

Dirona anchored at Haddalsvika with 2,145-ft (654m) Gardnestua in the background. The majority of the mountains we see have hiking trails to them—you could spend a lifetime hiking here and not cover them all.
Fish Farm

A new floating fish farm service building under construction at a yard in Haddal.
Sundgotstraumen

With a combination of current, shallows and ice, we barely made it through the channel Sundgotstraumen. But made it we did.
Storevagen

Looking into Storevagen partway along the channel from Garsholholen.
Hazard

This stick, that problably once held a mark, is a real hazard extending just above the water.
Boiler

What looks like an old steam boiler on a solitary rock near the island of Saudeholmen.
Paraglider

Paraglider floating above us. It's cold down here, so it must be much colder up there.
Click the travel log icon on the left to see these locations on a map, with the complete log of our cruise.

On the map page, clicking on a camera or text icon will display a picture and/or log entry for that location, and clicking on the smaller icons along the route will display latitude, longitude and other navigation data for that location. And a live map of our current route and most recent log entries always is available at mvdirona.com/maps.