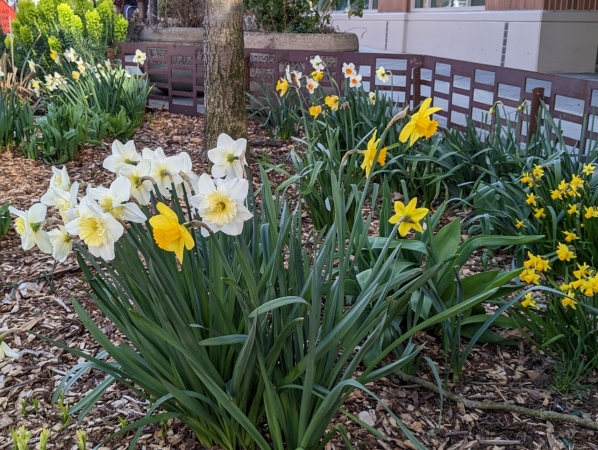 Spring arrived in Seattle in March, with daffodils in bloom, and weather warm enough to eat outside. But winter was definitely still in force in the Cascade Mountains, where we made a couple of snowshoe trips and enjoyed the snowy scenery.
James made several business trips this month, starting off in Denver, then to the east coast mid-month, and to Santa Barbara near the end of the month to attend the MARS conference. We tacked a weekend trip onto the last one, and spent a great couple of days exploring the Santa Barbara downtown and waterfront area and basking in the warm weather.
Locally, we attended our first pub crawl organized by our apartment complex and the first Winemakers Dinner at one of our favorite restaurants, Butcher's Table. Both events were a lot of fun and we're looking forward to attending more. We also took in the fabulous Cirque du Soleil show Corteo, and started exploring some of Seattle's seemingly endless number of cocktail bars, each with their own unique setting and drink menu.
Below are highlights from March 2nd through 30th, 2023. Click any image for a larger view, or click the position to view the location on a map. And a map with our most recent log entries always is available at mvdirona.com/maps.
3/2/2023
Denver

Snow-dusted buildings outside James' hotel room in Denver during a short business trip.
DEN3

The mascot of the Amazon DEN3 fulfillment center in Denver is a dinosaur. They have a massive and quite impressive dinosaur mural inside the building and this fine specimen greeting at the entrance.
Iridium GO! Exec

We just received an Iridium GO! Exec for use when we are outside the range of available forms of connectivity. The Iridium GO! Exec uses the new Iridium Certus 100 technology, with pole-to-pole operation at data speeds up to 22 Kbps upload and 88 Kpbs download. This is not very fast, but is more than ten times faster than the original 2.4 Kbps Iridium GO! and should allow us to at least send and receive email using standard email apps.

Our initial motivation in purchasing the newly-released product is connectivity for our cruise to the geographic North Pole this summer aboard Le Commandant Charcot. Much of our trip will be north of 70° latitude, beyond the reach of the ship's satellite system, and being disconnected for over a week doesn't work well with James' job. The GO! Exec also would open up some land-based trips out of cellular range where our Starlink satellite system is either too big to transport or doesn't yet have coverage.
3/3/2023
Daniel's Broiler

The impressive list of awards the wine list at Daniel's Broiler steakhouse in downtown Seattle. The restaurant recently reo-opened after being closed during the pandemic. During this period, we often stopped in at their bar for some tasty appetizers, and it's great to see the full restaurant operating again.
Studio 410

After dinner at Daniel's broiler, we stopped by Studio 410 for cocktails. It was our first time in, and we really enjoyed the drinks, the ambiance, and the friendly staff.
3/4/2023
Annette Lake Sno-Park

In early March we made a snowshoe trip to the new Annette Lake Sno-Park just east of Snoqualmie Pass. We loved being out in the beautiful winter scenery with deep fresh powder everywhere, and had a great time. We first walked a portion of the Palouse to Cascades State Park Trail, a historic rail trail, and later followed the Asahel Curtis Nature Trail. We particularly enjoyed the several footbridges en route that gave views to the snow-covered creeks below and provided a great setting for photographs.
Cirque du Soleil Corteo

The Cirque du Soleil show Corteo came to Climate Pledge Arena this year, and we somehow managed to snag last-minute front-row seats. The show is about a clown, Mauro, who imagines his own funeral procession and is told in typical Cirque du Soleil fashion through skilled acrobats dressed in fantastic costumes. We had an excellent time and really enoyed the show.
3/6/2023
Chetzemoka

The WA state ferry Chetzemoka under tow in Elliott Bay. The ferry runs on the route between Vashon Island and Point Defiance near

Point Ruston

in Tacoma.
Another Floor

Another floor being readied for a concrete pour at the 4th and Bell construction site.
Shinya Shokudo

Shinya Shokudo

specializes in Yakitori (a Japanese style of skewered chicken) and other grilled meats and vegetables. Since we first stopped a month ago, the restaurant has become one of our favorites.
3/7/2023
Winemaker's Dinner

At the Butcher's Table Winemaker's Dinner in their Gold Dust private event space. With is us Trey Busch, winemaker and co-owner of Sleight of Hand cellars in Walla Walla. We had a fabulous evening over a delicious meal and really enjoyed tasting and learning more about the Sleight of Hand wines. The winery make several excellent reds, particularly Merlot, but also a wonderful Chardonnay that is aged in stainless steel and doesn't have the dominant oaked flavor common with wines of this varietal.
3/8/2023
2208 4th Ave

Prepearing the site for another new Seattle apartment building. This one at 2208 4th Eve will be 29 stories with 212 units.
3/9/2023
Morning Sun

The morning sun lighting up the The Modern apartment building at 3rd and Lenora.
IPA Tasting Flight

Enjoying an IPA tasting flight at the Yard House in downtown Seattle.
3/10/2023
Four Tugs

An unusual sight of four tugs helping the MSC Clorinda onto the docks at the Port of Seattle. We typically see only two or three tugs in assist.
Lush

We've started exploring some of Seattle's seemingly endless number of cocktail bars, each with their own unique setting and drink menu. Here we are having a delicious Bubble Grunge and James's Giant Peach at Lush on 3rd Ave in Belltown.
Siamese Connection

Temporary fire truck Siamese connection for use during construction of the building at 4th & Bell.
3/11/2023
Insignia Pub Crawl

Our apartment complex, Insignia, has a regular pub crawl that we attended for the first time tonight. We had a great time getting to know some of the people in our building that we'd not yet met or had only chatted with briefly in passing.
Elf

We got a kick out of this rear-wiper cover featuring Will Ferrell's character from the movie Elf.
3/12/2023
Hyak Lake Snowshoe

The snowshoe route to Hyak Lake leads just east of the Summit Central ski runs at the Summit at Snoqualmie. We set off on St. Patrick's Day among the ski and snowboarding crowd, with frequent glimpses to the ski runs as we progressed. We mostly were following Hyak Creek, almost completely covered over with snow, save for a few vantages way below the snow level. The winter scenery was wonderful, and we had a great snowshoe trip, followed by lunch at the nearby Commonwealth pub.
3/13/2023
cloud haiku

The sculpture cloud haiku by American artist Squeak Meisel at the intersection of Westlake, 7th and Virginia avenues. The whimsical artwork consists of several bronze pillows, some stacked upon each other and the rest strewn seemingly at random.
Le Caviste

Enjoying a charcuterie plate and some excellent wine at Le Caviste French wine bar on 7th ave.
Scorched Earth

The bartender at Deep Dive, a speakeasy underneath the Amazon Spheres, preparing their signature "Scorched Earth" cocktail for Jennifer.
3/14/2023
Dusk

Two ferries passing in Elliott Bay at dusk on a calm evening.
3/15/2023
Lucky SLU

St. Patrick's Day decoration at the Amazon South Lake Union (SLU) campus. The balloon sculpture shows a pot of gold at the end of a rainbow.
Woman with Blue Heron

The mural

Woman with Blue Heron

by Canadian mural artist Ola Volo on the side of the 9th & Thomas building. The mural is not painted on, but rather is an 8 1/2-story banner created and installed by manufacturing company

Rainer Industries

. They printed the banner in sections on their grand format printer, then sewed and RF welded the pieces together into a single unit for installation.
Rob Roy

A late 1970s Phase Linear 5100 Series Two FM tuner on display among other music memorabilia at Rob Roy cocktail bar in Belltown. We quite liked the atmosphere here, and their cocktails.
3/16/2023
Orcas

A rare Orca sighting in Elliott Bay. Orcas generally aren't this far south in the Puget Sound, and this is the first time we've seen any from our apartment.
3/17/2023
Theodore Roosevelt

The nuclear-powered aircraft carrier USS

Theodore Roosevelt

underway from

Bremerton

. The ship is undergoing sea trails after a 20-month refit to accommodate the F-35 multirole combat aircraft.
Chinese Magnolia

It's spring in Seattle, and these Chinese Magnolia at Westlake and Denny are in full bloom.
Spitfire

Spitfire dozing in the sun. He spends a lot more time sleeping than he used to, but at 5 months shy of 20 years old is doing remarkably well.
3/18/2023
Hill Top Ale House

Lunch outside at the Hill Top Ale House in Queen Anne on a warm and sunny Saturday afternoon.
REI

At the flagship REI store in downtown Seattle. REI sells outdoor equipment, and we bought a lot of

camping gear

from them last year. Today we are looking for rain pants.
Paving

A new section of pavement going in at Pike St and 4th Ave in downtown Seattle.
3/19/2023
Little Belt Mountains

View to the snow-coated Little Belt Mountains in Montana from James' business flight to the east coast.
Wanaque Reservoir

The Wanaque Reservoir in New Jersey was created in 1928 with the construction of the Raymond Dam in 1928 along the Wanaque River. The reservoir provided a safe drinking water source to many communities that were previously without.
Manhattan

View across the Hackensack River in New Jersey, foreground, to the Hudson River and Manhattan. Taken as James' flight is about to land at Newark airport.
Hyatt Regency

The light-filled and airy atrium at the Hyatt Regency Princeton where James is staying on business.
3/20/2023
EWR4

James at the Amazon EWR4 fulfillment center in Robbinsonville, New Jersey. Amazon fulfillment and data centers are named after the nearest airport, in this case EWR for Newark Liberty International Airport. The EWR4 team is proud of the daily volume they ship to customers, and "Beast of the East" is their logo.
ABE8

An employee adding a hand to Amazon ABE8's fifth work anniversary tree. ABE8 is an inbound cross-dock in Florence, NJ near the Lehigh Valley International Airport (ABE) in Pennsylvania. An inbound cross-dock takes deliveries from Amazon sellers and vendors and distributes them to fulfillment centers for shipment to customers.
PHL7

Banners at the entrance to the Amazon PHL7 fulfillment center in Middletown, Delaware near the Philadelphia International Airport (PHL).
Lemonade Selfie Museum

Proof there's no lower bound on the material required for a museum: the Lemonade Selfie Museum in Baltimore has 20 different interactive themed rooms and spaces for self-created photoshoots.
3/21/2023
DCA1

The entrance to the Amazon DCA1 fulfillment center in Sparrows Point, Maryland near Reagan International Airport (DCA) in Arlington, Virginia.
From Bookshelf to Beyond

A historical timeline of the company at the Amazon BWI2 fulfillment center near the Baltimore/Washington International Thurgood Marshall Airport.
Cascade Mountains

View to the Cascade Mountains on James' return flight back to Seattle from the east coast.
Excavators

Excavators at work digging below ground level at the 2208 4th Ave construction site. The crew has braced the north corners with steel pipe to prevent collapse.
Daffodils

Daffodils in bloom along Bell Street. Spring has most definitely arrived in Seattle.
3/22/2023
Smoke

Smoke billowing from an MSC container ship as it departs the Port of Seattle.
Momiji

With the temperature hitting 60°F (15° C) today, it's warm enough to have dinner outside under a patio heater at Momiji Japanese restaurant in South Lake Union.
3/24/2023
Zoox

A specially-equipped Zoox Toyota Highlander. The Amazon subsidiary makes purpose-built driverless taxis and tests on city streets using Highlanders equipped with sensors that approximate the sensor positioniong that will be used in their production purpose-built vehicle. We often see them driving in our neighborhood, and they're also testing in San Franciso and Las Vegas.
Santa Barbara

We very much enjoyed last year's trip to beautiful

Santa Barbara

, but didn't spend much time downtown. We returned this year on a weekend trip before James attended a conference nearby, and this time stayed closer to the center of town. Our room at the boutique Palihouse Hotel was wonderful, and within walking distance of the city's many excellent restaurants. We had a fabulous weekend, taking every opportunity to be outside in the warm weather, including a visit to Stearn's Wharf, the oldest working wharf in the state of California. We still don't feel we've seen all the city has to offer, and likely will return again.
3/26/2023
MARS Conference 2023

The annual

MARS conference

, hosted by Amazon founder Jeff Bezos, is a cross-domain event aimed at sharing ideas across the rapidly growing fields of Machine Learning, Automation, Robotics, and Space. Hands-on learning and emerging technology demonstrations form the majority of the invitation-only event, with opportunities for attendees to meet and learn from each other.
3/29/2023
Sunset

Fabulous orange sunset over the snow-covered Olympic Mountains.
3/30/2023
N5125

This helicopter flew by our building a few times today with a big camera mounted under the nose. We initially assumed it was military, but closer inspection of the photograph showed its tail number as owned by a trust company.
Carrello

James had a late meeting in the Seattle neighbourhood of Capitol Hill, so we met for dinner nearby at Carrello, a new restaurant for us. Their roast chicken was exceptional, and we had a wonderful evening.
| | |
| --- | --- |
| | Click the travel log icon on the left to see these locations on a map. And a map of our most recent log entries always is available at mvdirona.com/maps. |