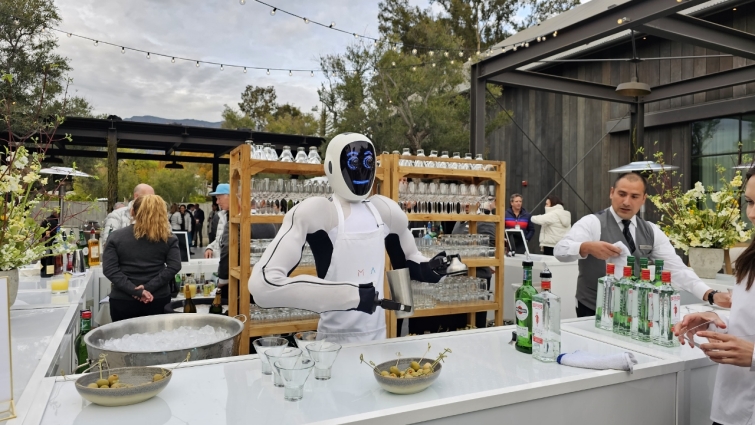 The annual MARS conference, hosted by Amazon founder Jeff Bezos, is a cross-domain event aimed at sharing ideas across the rapidly growing fields of Machine Learning, Automation, Robotics, and Space. Hands-on learning and emerging technology demonstrations form the majority of the invitation-only event, with opportunities for attendees to meet and learn from each other.
After our weekend in Santa Barbara, Jennifer flew home while James drove to the nearby Ojai Valley Inn for the conference. The event was as equally interesting and engaging as the previous year, with highlights including a unique 2-ton 6-legged hexapod transport vehicle, a machine-learning-driven automated electro-chemical synthesis system with applications in drug discovery or other domains, a bartending robot, and multiple machines, robots, and systems designed to operate in space.
Below are highlights from MArch 26th through 28th, 2023. Click any image for a larger view, or click the position to view the location on a map. And a map with our most recent log entries always is available at mvdirona.com/maps.
3/26/2023
3/27/2023
Space Robots

Yuto Nakanishi arriving riding in on top of a Gitai Inc Space Robot for his "Robots to Build a Moonbase" presentation at the 2023

MARS conference

.
Twelve

Etosha Cave demonstrated at

MARS

the Twelve electro-chemical reactor that transforms CO2, water, and renewable energy to make thousands of chemical compounds that today are made from petrochemicals.
Electro-chemical Synthesis

Lee Cronin demonstrated an automated electro-chemical synthesis machine with applications in drug discovery or other domains where new compounds need to be proposed, synthesized, and tested efficiently.
Pipedream Labs

Pipedream labs has built a tunnel-based logistics system that essentially moves materials around in tunnels with automated elevators at each end. Here at

MARS

the team stands beside a demonstration system with the autonomous transport truck that rides inside the tunnel moving goods in the central tote.
Lunar Mining

A vehicle designed to be able to take large samples of lunar regolith, on display at

MARS

. Capturing a sample requires significant torque to be applied at the rotating capture wheel but, when operating in a low gravity environment, the vehicle would simply flip over. The designers mitigate this problem by having one digger on each end of the vehicle where the torque of each counteracts the other only needing gravity to counteract the small differences in load on the two rotating diggers.
Chemputer

The Chemputer produced by Lee Cronin's research team at the university of Glasgow. The idea is a machine learning system can investigate possible new compounds and then send candidates to the Chemputer to be synthesized for testing.
Inch-worm

A demonstration of the Gitai inch-worm. The inch-worm is a essentially robotic arm with sockets on each end allowing it move from socket to socket along the sides of a demonstration space vehicle. Once in place at the work site, one end of inch-worm will be attached to the space vehicle and the other end will have an appropriate work implement.
Moon Vehicle

Demonstration of a Gitai produced transport vehicle designed for use on the moon.
Micromagic Systems

Matt Denton of Micromagic Systems has designed, developed, and built a unique 6 legged transport vehicle. This 2-ton hexapod is powered by a 40 hp diesel engine and a custom designed control system supporting joystick operation. Here's a video of the hexapod in action:

https://youtu.be/DC7DhZQeVsE

.
Electric Tractor

The Monarch company is producing an innovative electric agricultural tractor, on display at MARS 2023.
3/28/2023
Koniku

Oshiorenoya Agabi, founder of biotech company Koniku, on stage at

MARS

. Koniku builds small form-factor smell cyborgs designed to diagnose disease and maintain health and wellness, and plans to have their equipment in 10 million homes within the next decade.
C-Ray

Pietro Filardo demonstrated C-Ray, which can generate power when placed in a water flow or can move in water under battery power.
Transverse Range

View to the Transverse Range from the Ojai Valley Inn outside Santa Barbara.
Squirrel

A thirsty squirrel having a drink from the edge of a fountain at the Ojai Valley Inn.
| | |
| --- | --- |
| | Click the travel log icon on the left to see these locations on a map. And a map of our most recent log entries always is available at mvdirona.com/maps. |