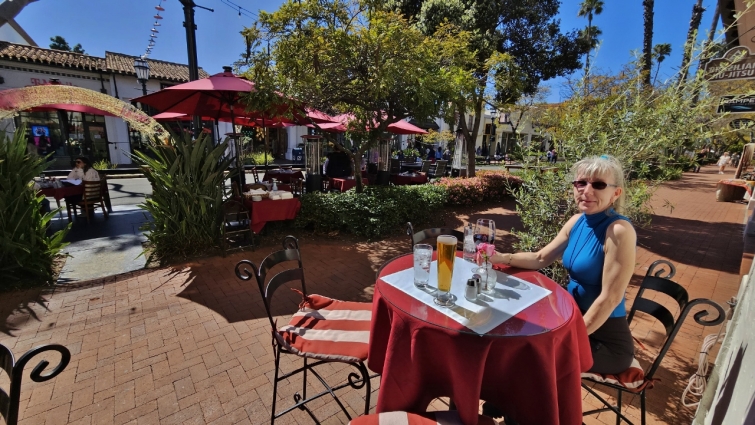 We very much enjoyed last year's trip to beautiful Santa Barbara, but didn't spend much time downtown. We returned this year on a weekend trip before James attended a conference nearby, and this time stayed closer to the center of town. Our room at the boutique Palihouse Hotel was wonderful, and within walking distance of the city's many excellent restaurants. We had a fabulous weekend, taking every opportunity to be outside in the warm weather, including a visit to Stearn's Wharf, the oldest working wharf in the state of California. We still don't feel we've seen all the city has to offer, and likely will return again.
Below are highlights from March 24th through 26th, 2023. Click any image for a larger view, or click the position to view the location on a map. And a map with our most recent log entries always is available at mvdirona.com/maps.
3/24/2023
Sacramento River

View to the Sacramento River from our flight to Santa Barbara. The river rises in northern California and drains into San Francisco Bay, carrying 35% of the state's developed water supply. The California Gold Rush began with the discovery of gold along a tributary of the Sacramento River, leading to a huge increase in the population of California.
Oil Rigs

Five oil rigs in Santa Barbara Channel, viewed as our flight descends for landing. Oil and gas has been extracted in the channel for over a century, with nineteen oil rigs currently active.
Palihouse

The retro kitchenette and north patio in our room at the Palihouse Hotel in Santa Barbara.
Happy Hour

Enjoying Happy Hour by the courtyard fountain at the Palihouse Hotel in Santa Barbara.
Restaurant

We had a wonderful meal streetside at OPPI'Z Bistro on State Street in Santa Barbara. While we were there, a hummingbird buzzed our table then settled in to drink from the flowers beside us.
Live Music

The appealing live music at OPPI'Z Bistro attracted many passersby who stopped to listen. The musician is playing a

Yamaha SLG200N

Silent Guitar.
Bird of Paradise

Beautiful bird of Paradise flowers growing along State Street in Santa Barbara. We've never lived anywhere warm enough to grow them and it is always a treat to see these striking plants.
Pickle Room

Cocktails at the Pickle Room in Santa Barbara on our way back to our hotel. The historic bar began life as Jimmy's Oriental Gardens Chinese restaurant in 1947 and is full of memorabilia from that period. Today it is a popular local's hangout, where everyone seemed to know each other and seats are rarely vacant for more than seconds.
3/25/2023
Breakfast

Breakfast on the main patio of our room at the Palihouse Hotel in Santa Barbara. The morning temperature is a little cool at around 45°F (7.2° C), but the sun warms us up and we love being outside.
Palihouse

Looking back to our hotel, the Palihouse in Santa Barbara, as we head out for the afternoon. The 24-room boutique hotel opened in 2021 in a building that once housed the Santa Barbara School of the Arts from its 1920 inception. We really enjoyed the neighborhood feel to the establishment, and had a great stay.
Stearns Wharf

At Stearns Wharf, the most visited landmark in Santa Barbara. When completed in 1872, the 2,300-ft (701 m) pier was the longest deep-water wharf between San Pedro and San Francisco and currently is the oldest working wharf in the state of California.
West Beach

The view south from Stearns Wharf across West Beach to the Santa Ynez Mountains beyond Santa Barbara.
Longboard's Grill

We had delicious tacos for lunch at Longboard's Grill on Stearns Wharf with a wonderful view north to Santa Barbara Harbor.
Compass

Colorful compass painted on the head of Stearns Wharf, with fishers working from either side.
Azure Seas

The Azure Seas heading out for a cruise along the Santa Barbara coast. We saw several boats out doing tours in the beautiful sunny Saturday weather.
Land Shark

A Santa Barbara Land Shark amphibious tour vehicle. Rather than using repurposed World War II "

Ducks

" with their poor safety record, this company is using

Hydra Terras

built in the past twenty years specifically for the tourist industry.
State Street

A large section of Santa Barbara's State Street has been converted into a pedestrian mall that is full of restaurants and stores. It's a wonderful place to stroll on a sunny afternoon.
Chase Restaurant

Stopping for a refreshment at Chase Restaurant with a great view to the happenings on State Street.
Fire Lily

Colorful Fire Lily (Clivia miniata) growing on Garden Street near our hotel. We love the varied and colorful plant life in Santa Barbara.
Zaytoon

The line-up outside highly-rated Zaytoon Lebanese restaurant near our hotel caught our attention last night, so we decided to check it out tonight. The restaurant checks people in right at the sidewalk, producing what is likely a constant lineup outside that is pretty effective advertising based on our experience. Walking by, you'd otherwise never know the restaurant was there as they have no sign or other advertising.
Outdoor Only

One of Zaytoon's appeals to us is that it's an entirely outdoor restaurant with no indoor seating. We really enjoyed the ambiance, and the food was delicious.
Courtyard

Enjoying a nightcap in the tranquil courtyard of the Palihouse Hotel in Santa Barbara.
3/26/2023
Retro Phone

Our room at the Palihouse in Santa Barbara was full of retro appliances and equipment, like this phone.
Marshall Speaker

A small Marshall bluetooth speaker, built in the style of their iconic rock guitar amplifiers, fits the retro theme of our room at the Palihouse in Santa Barbara.
El Presidio

Passing El Presidio in Santa Barbara on our way to lunch. The restored building is part of a 1782 Spanish fortress.
La Playa Azul

A delicious lunch on the terrace at La Play Azul. We're really enjoying the Santa Barbara weather and ambience.
| | |
| --- | --- |
| | Click the travel log icon on the left to see these locations on a map. And a map of our most recent log entries always is available at mvdirona.com/maps. |