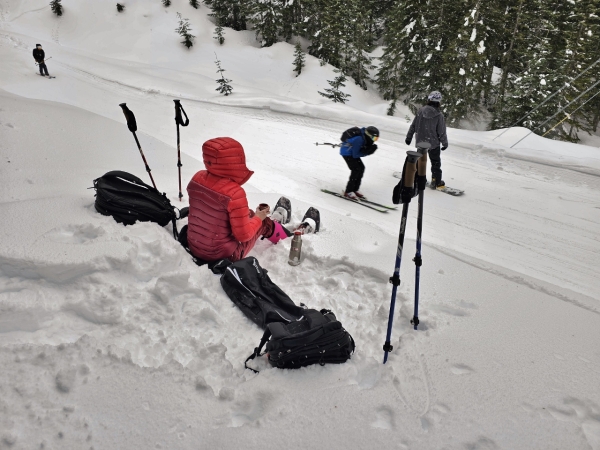 The snowshoe route to Hyak Lake leads just east of the Summit Central ski runs at the Summit at Snoqualmie. We set off on St. Patrick's Day among the ski and snowboarding crowd, with frequent glimpses to the ski runs as we progressed. We mostly were following Hyak Creek, almost completely covered over with snow, save for a few vantages way below the snow level. The winter scenery was wonderful, and we had a great snowshoe trip, followed by lunch at the nearby Commonwealth pub.
Below are highlights from March 12th, 2023. Click any image for a larger view, or click the position to view the location on a map. And a map with our most recent log entries always is available at mvdirona.com/maps.
Eagle Harbor

Fog spilling out of Eagle Harbor on Bainbridge Island, with the Olympic Mountains beyond.
St. Patrick's Day Dash

Participants in Seattle's annual St. Patrick's Day Dash passing the entrance to our apartment building garage as we head out snowshoeing.
Snoqualmie Mountain

Snow-covered Snoqualmie Mountain, left, as we crest Snoqualmie Pass for a snowshoeing trip.
Parking

Approaching the Summit Central at the Summit at Snoqualmie ski area. Just past 10am, a long line of cars is parked on either side of highway 906. We continued to the far south end of this area to snowshoe, where parking was still available in the lot.
Hyak Creek Trail

Starting up the Hyak Creek trail to Hyak Lake from behind the Silver Fir Lodge.
Trail

As we progressed, the trail split into multiple branches. Here we're following a lightly travelled one along the north side of Hyak Creek.
Outback

Partway along the snowshoe trail, we popped out alongside the Outback run at Summit Central at the Summit at Snoqualmie. This medium-difficulty run was quite busy today.
Breaking a Trail

Breaking a trail through the woods as we head uphill from the Outback run towards Hyak Lake.
Hyak Lake

Snow-covered Hyak Lake. We were expecting to see a lot more people on this hike since it's so close to the Summit at Snoqualmie, but was saw perhaps a half-dozen the entire time.
East Crossover

Enjoying some hot tea and a snack while we watch skiers and snowboarders head down the East Crossover that connects Summit Central to Summit East.
Lower Crossover

Looking up snow-covered Hyak Creek from the Lower Crossover near the trailhead.
The Commonwealth

The Commonwealth is a popular stop for us on the way back from the Snoqualmie Pass area, and we particularly like the mountain views from the bar seating along the window. We've not been to the Commonwealth since last fall when we were out camping—it was great to be back.
Snow

A light snow had been falling most of the morning, but it got heavier as we were leaving the Commonwealth.
Frozen Waterfalls

Frozen waterfalls along I-90 as we head back home from our snowshoeing trip.
| | |
| --- | --- |
| | Click the travel log icon on the left to see these locations on a map. And a map of our most recent log entries always is available at mvdirona.com/maps. |