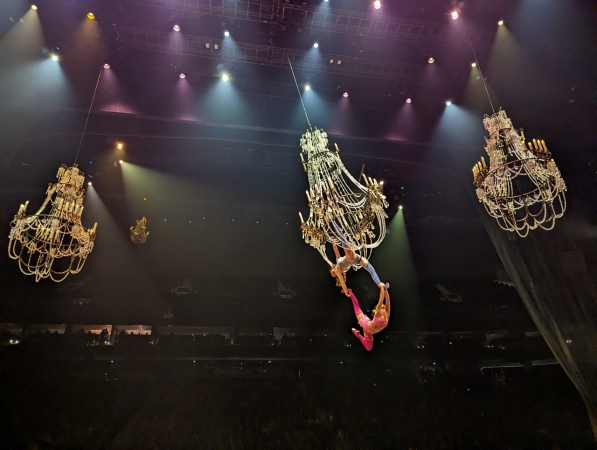 The Cirque du Soleil show Corteo came to Climate Pledge Arena this year, and we somehow managed to snag last-minute front-row seats. The show is about a clown, Mauro, who imagines his own funeral procession and is told in typical Cirque du Soleil fashion through skilled acrobats dressed in fantastic costumes. We had an excellent time and really enoyed the show.
Below are highlights from March 4th, 2023. Click any image for a larger view, or click the position to view the location on a map. And a map with our most recent log entries always is available at mvdirona.com/maps.
Wild Ginger

Dinner at one of our favorite Seattle restaurants, Wild Ginger in South Lake Union, before heading to Climage Pledge Arena for the Cirque du Soleil show Corteo.
Corteo

A two-sided stage for the Cirque du Soleil show Corteo has temporarily replaced the Kraken's ice hockey rink at Climate Pledge arena.
Seated

In our front-row seats, ready for the show.
Curtain Rising

The curtain rising on both sides of the stage as the show starts. You can see right through to the audience on the other side.
Chandeliers

The show Corteo is about a clown, Mauro, who imagines his own funeral procession. In this scene, women representing the clown's past lovers perform aerial acrobatics on three giant chandeliers that spin above his bed.
Cyr Wheel

An acrobats spinning around the stage on a Cyr Wheel.
Helium Dance

In the Helium Dance, a diminutive Clowness floats above the crowd, slowly descending, and reascending again with a gentle push from an audience member.
Teeterboard

Acrobats on a teeterboard, a plank similar to a playground seesaw.
Jugglers

Jugglers working seven clubs between them. We had a fabulous time at the show and really enjoyed the variety and creativity of each act.
| | |
| --- | --- |
| | The bartender at tiki bar Navy Strengh preparing their signature Jet Pilot cocktail. We stopped in for a delicious drink on our way home from the Cirque du Soleil show Corteo at Climate Pledge Arena. |
| | |
| --- | --- |
| | Click the travel log icon on the left to see these locations on a map. And a map of our most recent log entries always is available at mvdirona.com/maps. |