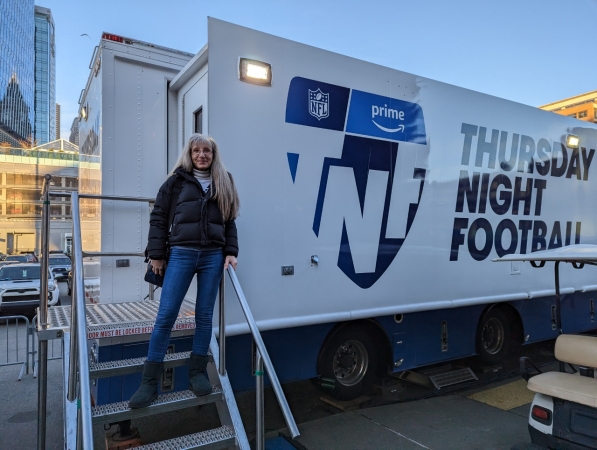 We had a busy two weeks before our Antarctic cruise, where James was away on business for three days and we attended a Seattle Kraken hockey game and two Seattle Seahawks football games.
The second football game, two days before we departed for Argentina, was even more exciting than normal. Amazon Prime Video has exclusive rights to broadcast Thursday Night Football and we got a chance to see behind the scenes at the production trucks and go on the field to watch the players warm up. James had a chance to be on-field a few weeks earlier, but this was the first time for Jennifer and we had a fabulous time.
Below are highlights from December 2nd through 16th, 2022. Click any image for a larger view, or click the position to view the location on a map. And a map with our most recent log entries always is available at mvdirona.com/maps.
12/2/2022
Souvenir

A cast bronze sign reading "That was something we used to do" is one of four sculptures that make up Sheila Klein's artwork Souvenir. The sculptures have been installed in Bell Street Park, on Bell Street between 1st and 5th avenues since 2014. We walk that area all the time and are surprised we've haven't noticed any of them until now.
4th & Bell

Construction at the 4th & Bell site has reached street level. These metal girders will soon be covered in wood in preparation for another cement pour.
12/3/2022
36 F

While we were away, winter arrived in Seattle and its a chilly 36°F (2.2°C) this morning.
Morning Calm

A ferry arriving into Seattle on a beautifully calm and clear morning.
4th and Bell

Looking down to the 4th and Bell construction site, almost ready for the next cement pour.
Snow

With the cold temperatures, snow is still on many of the rooftops around our apartment buildling.
Winterfest Village

One of two trains running the tracks in the late 19th-century model train and village at the Seattle Center Armory Food & Event Hall. The attention to detail is quite impressive, and the village is huge.
Mayer Clock

Seattle was once known as the "city of clocks" because of its abundance of street clocks, many made by well-known local jeweler Joseph Mayer. By 1935, Mayer had made over 100 street clocks, with at least 40 standing in Seattle. This historic clock hanging in the Seattle Armory is one of Mayer's creations.
Monorail Man

The fabulous

Monorail Man

statue at the monorail station in Seattle Center was created by the Seattle Monorail Services Maintenance Team using discarded from the Monorail trains and supporting systems.
TeKu Tavern

Teku Tavern near our apartment supports up to 50 taps on their custom-built draft system. We've passed by literally dozens of times, but haven't yet stopped in because they don't serve food and we don't often go out for just a drink. But we did today, and really enjoyed the beer and the environment.
Kraken vs Panthers

The puck in play as the Florida Panthers take on the Seattle Kraken at Climate Pledge Arena. The Kraken lost 1-5, ending their 5-game winning streak, but we still had a great time at the game.
12/5/2022
Spitfire

Spitfire walking the dining room window ledge. At 19 years old, he sleeps more than he used to, but he still likes to explore.
Holiday Lights

Holiday lights strung over a staircase down between 6th and 7th Avenue at the Amazon South Lake Union campus.
12/6/2022
Marion Street

Looking west along Marion Street across the brick steps between 1st and 2nd avenues to the modern F5 Tower in the distance. The 44-story F5 Tower, completed in 2017, is the 6th tallest in the city.
UPS Store

Picking up our mail from the UPS store at 815 1st Avenue for a final time. We started using this store for our mailing address when we first

moved aboard

way back in 2009. Over the years, they've smoothly handled our mail plus thousands of parcels that we've picked up on

return trips

to the US while out cruising on

Dirona

. They also prepared and shipped several pallets of boat parts and spares, including a

2.6-cubic-meter

pallet sent to Australia. The store has provided an excellent and invaluable service, but will be closing at the end of this year so we've switched all our mail over to our apartment.
Prime Air

A Prime Air plane at the Sea-Tac airport, viewed from the runway on board James' flight to Houston.
Trinidad Lake

Looking southwest across Trinidad Lake, a dammed reservoir in the state park of the same name, near the Colorado border with New Mexico.
San Jacinto River

View to the winding San Jacinto River as James' flight descends into Houston.
12/7/2022
Cement Pour

Two trucks on hand for the next cement pour at the 4th & Bell construction site, viewed from our apartment window.
Flight Path

The flight path at the Sea-Tac airport occasionally has planes heading directly east towards our apartment building and getting surprisingly close before they turn south to land.
Pixel Watch

The last time we were on Stornoway, Scotland, we both got Fitbit Sense watches and loved them. Jennifer's failed last week, where the Fitbit functionality kept working but the display failed, so she had to spend the past week essentially without having time available on her watch. In replacing it, we decided to try a Pixel Watch instead, since Google now owns Fitbit. The new watch is working out super-well so far, although just being able have the time on Jennifer's wrist feels like a big step up after going for a week without it :-).
Alex Haley

The US Coast Guard Cutter Alex Haley under tow towards the Seattle Coast Guard base in Elliott Bay. Based in Kodiak, Alaska, the Alex Haley was launched in 1971 as a US Navy rescue and salvage ship and recommissioned for the Coast Guard in 1999.
12/8/2022
Just Walk Out

A Hudson "

Just Walk Out

" store at the Nashville airport, where James is returning home from. Once a customer is recognized on entry (via credit card, palm print or app), the Amazon technology allows them to simply select the items and just walk out of the store without having to stand in line for a cashier. The technology is wonderfully convenient, but it feels very unusual to just leave the store this way after decades of explicit purchases.
12/9/2022
40 Years

Celebrating the 40th anniversary of our first date at one of our favorite Seattle restaurants, The Butcher's Table. We met in 1982 in first-year Computer Science class at the University of Victoria, Canada and our first date was after a math exam later that year.
Tonbi Fountain

Lights inside and beneath an Amazon campus overhead walkway reflecting onto the wet pavement below.
Cement Pour

An evening cement pour at the 6th and Bell construction site just north of our apartment building.
12/10/2022
Le Caviste

Another great evening at

Le Caviste

wine bar in Seattle. They have an excellent wine selection, delicious charcuterie boards, and a wonderful atmosphere.
Deep Dive

Deep Dive is a speakeasy underneath the

Seattle Spheres

that we've not yet visited. The ultra-popular venue usually requires reservations days in advance, but we stopped by this evening on a whim and got a table right away. We're not big cocktail drinkers, but really enjoyed the ones we had there.
12/11/2022
Band

A large band playing just inside the entrance to Lumen Field prior to the Seahawks game against the Carolina Panthers.
Geno Smith

Seattle quarterback Geno Smith warming up on the field before the game. James just got a new Pixel 7 Pro phone, and the reach of the 120mm telephoto camera is quite impressive. It's hard to believe the pictures possible from a smartphone camera these days.
Coach Carroll

Coach Pete Carroll, circled in red at left, on the field during warming up, hugging second-year linebacker Jon Rhattigan. Carroll continued walking through the team, shaking hands and chatting with various players. He interacts much more closely with the players than most coaches we see. This is standard Pete Carroll pre-game practice.
Blocked Pass

Seahawks nose tackle Al Woods reaches to block a pass from Panthers quarterback Sam Darnold. Woods left the game with a heel injury in the first half, contributing to Seattle's 30-24 loss, and it's not clear if he will play in this Thursday's game against San Francisco.
12/13/2022
Sikuliao

The arctic research vessel

Sikuliao

arriving into Pier 66 in Seattle. The 2012 vessel, owned by the National Science Foundation and operated by the University of Alaska Fairbanks, is one of the most advanced university vessels in the world is rated

polar class

5 and can break ice up to 2.5-ft (0.8m m) thick. This is the same polar class as the

National Geographic Endurance

that we'll be

taking to Antarctica

on December 20th.
12/14/2022
Cinque Terre

An oyster and a salad to start a delicious meal at Cinque Terre Italian restaurant in downtown Seattle.
Vactor 2100i

This

Vactor 2100i

sewer cleaner caught our attention as it passed by our window during dinner at Cinque Terre. It's one of the most modern and specialized storm-cleaning systems we've seen. We were surprised to see it operated by Seattle City Lights, and suspect that under certain storm conditions the storm sewers can backup into the underground utility service tunnels.
Holiday Lights

Holiday lights over the bicycle path along 7th Avenue with Julie Speidel's sculpture Petros partly visible at left.
12/15/2022
Genie

The long arm of a Genie extended out for a window repair to a 6th Avenue Seattel building.
Blue Thunder

The Seattle Seahawks drumline, Blue Thunder, outside Lumen field before the Thursday Night Football game against the San Franciso 49ers.
Thursday Night Football

Amazon Prime Video has exclusive rights to broadcast Thursday Night Football and we got a chance to see behind the scenes at the production trucks. This is one of the 16 trucks the fully remote production team brings to each event. They have more trucks than any other sports broadcasting event and Lumen Field doesn't have capacity for them all in one place. So a few are parked just north of the stadium where we are now, and the rest are clustered in and around a media area underneath the stadium.
Satellite Dish

One of two backup satellite dishes the Amazon Prime Video Thursday Night Football production team brings to every game.
Joe "JP" Palmer

Joe "JP" Palmer, Prime Video senior manager of live production technical operations, taking us through the production trucks. JP knows the systems in incredible detail.
Sound Board

The sound board for Amazon PrimeThursday Night Football. They have an incredible number of mikes spread throughout the stadium.
Production Truck

The Amazon Prime Thursday Night Football main production truck is the largest of any remote facility used in sports.
Tunnel Entrance

This is the tunnel entrance that will be rolled out onto the field for the Seahawks to run through during the team introductions just before the game.
On the Field

On the field prior to the game. James had a chance to be on-field a few weeks back, but this is the first time for Jennifer. It was super-exciting.
Sideline Comm Center

Landlines and radios at the visitor team Sideline Communications Center.ff
SF Fans

The stands were so full with opposing team fans that you could easily believe we were in San Francisco. We've experienced the same thing in the past when playing against the Raiders. The 'Raider Nation' fans also travel in huge numbers and are particularly known for their fervor, demonstrated through complex and often intimidating outfits.
Our Seats

Looking up to our seats just under the LUMEN sign.
TNF Tonight

The TNF Tonight pre-game show being broadcast on-field.
Danny Gray

San Francisco wide receiver Danny Gray concentrating on the ball above him as he practices catching punts in the end zone.
Tyler Lockett

Seahawks wide receiver Tyler Lockett on the field before the game.
Uprights

Looking south through the north uprights to the far end of the field.
Ray-Ray McCloud III

San Francisco wide receiver Ray-Ray McCloud III caught this ball one-handed with ease.
Andy Jassy

Amazon CEO Andy Jassy with Seahawks mascot Blitz and others on the sideline before the Niners-Hawks game.
Richard Sherman

Former Seattle Seahawks corner back Richard Sherman, right, and Ryan Fitzpatrick, two of the four TNF Tonight hosts doing the pre-game show.
Cameras

Two of the more than 50 cameras that the Amazon Prime Thursday Night Football production team brings to the game.
Big Boys

The big linemen out practicing in the end zone. They look large on TV, but are positively enormous close up and in-person.
Parabolic Mic

One of the hundreds of microphones spread throughout the Seahawks facility for Thursday Night Football.
GENO

It's near-freezing in Seattle, but these fans don't care. Geno Smith is the Seattle Seahawks starting quarterback.
Empty Stadium

The Seahawks lost to San Francisco, but we had such a great time with friends at the game that we ended up staying well past the end. We've never seen the stadium so empty.
Gum Wall

Passing the

Gum Wall

at Pike Place Market on our way to a late dinner after the Thursday Night Football game. We'd somehow never encountered this famous Seattle landmark before. People began sticking gum to the wall outside the box office for the Market Theater in the 1990s. In 2015 the wall was cleaned off, removing 2,350 pounds (1,065 kg) of gum, because the sugar was degrading the brick. It re-appeared almost immediately, and currently is 50 feet (15 m) long and up to 20 feet (6.1 m) high in places.
| | |
| --- | --- |
| | Click the travel log icon on the left to see these locations on a map. And a map of our most recent log entries always is available at mvdirona.com/maps. |