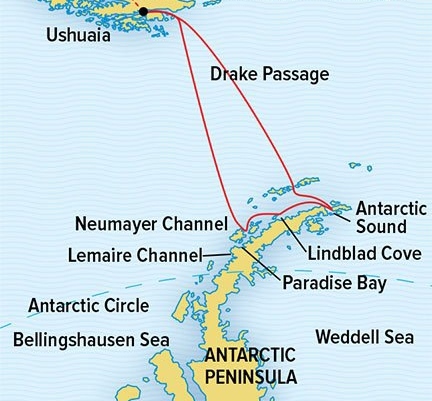 The infamous 500-mile (800 km) Drake Passage between south America and Antarctica is considered one of the most dangerous crossings in the world. Waves and currents that meet no resistance from land masses elsewhere are amplified here, the narrowest passage around the Antarctic continent, producing seas that can regularly reach 40 ft (12m) in height.
The majority of Antarctic cruises cross this passage over two days, often in the notoriously rough conditions known as the "Drake Shake". The crossing can be very uncomfortable for cruise ship passengers, but in the large strong ice-capable ships that frequent this route, it's largely believed to be safe. The ship we are taking in a couple of weeks, the National Geographic Endurance, is owned and operated by Lindblad Expeditions, who responds to the question of "Is it safe to cross the Drake Passage?" with "The ships are resilient and designed for heavy seas, they will be just fine. The unsteady humans … on the inside of the reinforced steel hull are another matter." Across the Antarctic expedition fleet, several elderly passengers have suffered hip fractures or other injuries after a Drake Shake-induced fall.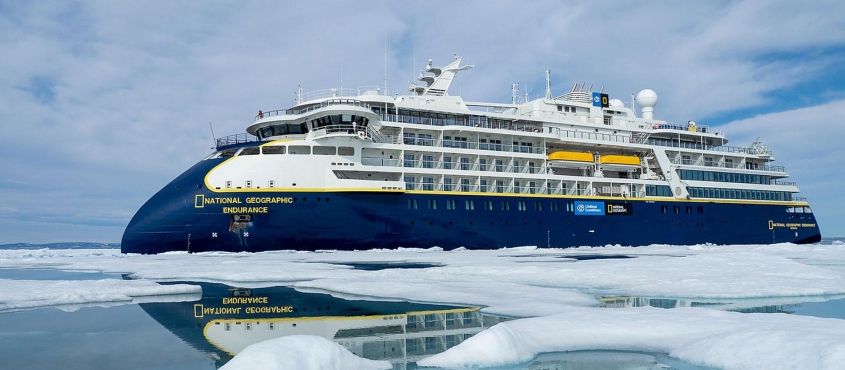 This Christmas we will travel to Antarctica aboard the Nat Geo Endurance.
We know risks are inherent on this trip and, given that we were seriously considered visiting in our 52-ft (16 m) non-ice-capable recreational trawler Dirona, we can say with confidence that the 408-ft (124 m) Nat Geo Endurance is definitely safer in big seas. The Polar Class 5 vessel is capable of year-round operation in medium first-year ice, which may include old ice inclusions. Only one other cruise ship in the world has a higher rating, the Polar Class 2 Le Commandant Charcot (that we'll be taking to the North Pole next summer).
The Endurance also is equipped with active stabilizers, limiting roll in heavy seas, and has an X-BOW design to reduce slamming as the ship pitches in the seas. And operator Lindblad Expeditions has extensive polar experience. In 1966, they led the first tourist expedition to Antarctica and in 1969 their purpose-built Lindblad Explorer was the first passenger ship to transit the Northwest Passage.
But accidents do happen, and anyone making the trip needs to go in with their eyes open, particularly as more companies enter the lucrative expedition cruise market. Because we're getting ready for a cruise to Antarctica over Christmas, we are paying more attention these days. Since this year's Antarctic expedition season got underway in November, there have been three fatalities in the space of two weeks.
On November 29th, the Viking Polaris was crossing the Drake Passage en route to Ushuaia, Argentina when a rogue wave hit the side of the vessel. The wave broke the glass in several cabins, pieces of which struck and killed a 62-year-old woman. Four other passengers also were injured in the incident.
Embed from Getty Images
One passenger was killed and four were injured on November 29th when a rogue wave in the Drake Passage hit the Viking Polaris and broke several cabins windows.
The Viking Polaris was launched only two months earlier in Amsterdam and is rated Polar Class 6 (capable of summer/autumn operation in medium first-year ice, which may include old ice inclusions). The ship is the second of Viking Cruises' new expedition vessels, after the Viking Octanis was launched earlier this year.
Predominately a river boat cruising company, Viking Cruises formed an ocean cruise division in 2013 and an expedition division in 2018. The company currently operates a fleet of 76 river and 6 ocean cruising boats and has had a number of incidents in recent years. In September of 2016, two crew members were killed when the Viking Freya collided with a bridge in Germany. In 2019, the Viking Idun collided with an oil tanker, resulting in minor injuries, and the Viking Tir struck and damaged a lock in the Rhine–Main–Danube Canal with no injuries.
In a highly-publicized incident, also in 2019, the Viking Sky issued a Mayday off the the coast of Norway in 49-ft (15-m) seas when the engines failed because the lubricating oil pumps stopped pumping due to excessive boat motion and insufficient oil level. 479 of the 915 passengers were airlifted off overnight before the engines were restarted the next morning. Video from the incident shows ceiling panels falling onto passengers and furniture sliding from side to side as the ship rolled heavily. Sixteen people were taken to hospital, three with serious injuries.
And later that year, the Viking Sigyn collided with a small tour boat near Budapest, Hungary, sinking the boat and killing 28 of the 35 people on board. Viking operates a fairly large fleet, and large fleets will see incidents, but this seems like an unusually large number.
Two weeks before the rogue wave hit the Viking Polaris in the Drake Passage, on November 15th of this year, Quark Expeditions also suffered a fatal accident. A breaking wave overturned a zodiac near Elephant Island at the southern edge of the body of water and two of the eight on board died.
The zodiac was on an excursion from the World Explorer, chartered by Quark Expeditions. The first ship built by new expedition cruise company Mystic Cruises, the 2019-launched World Explorer is rated Ice Class 1B, below the lowest Polar Class rating of 7 (equivalent to Ice Class 1A), and capable only of breaking first year Baltic ice up to 2 feet (0.6m) thick, with no rating for Polar ice.
Quark Expeditions is a polar expedition specialist with over three decades of experience, founded in 1985 by a former Lindblad Explorer expedition leader. Back in 2013 they suffered a similar accident in Svalbard, Norway when one of several zodiacs on a shore excursion overturned in heavy surf. One passenger died and two had to be airlifted by helicopter to Longyearben for treatment.
Embed from Getty Images
On a November 15th excursion from World Explorer, chartered by Quark Expeditions, two passengers were killed when their zodiac overturned at the edge of the Drake Passage.
Of course, highway driving has risks as well and just about all of us still do that. We're comfortable with the Antarctic trip we have planned, partly because the Endurance is a strong boat, partly because Lindblad Expeditions is a good operator, and partly because we accept that some experiences are only possible if some risk is accepted. We try to be careful about the operator and ship we choose, but there is no way to eliminate all risk. We know that, and are looking forward to embarking for the Antarctic on board the Endurance later this month.