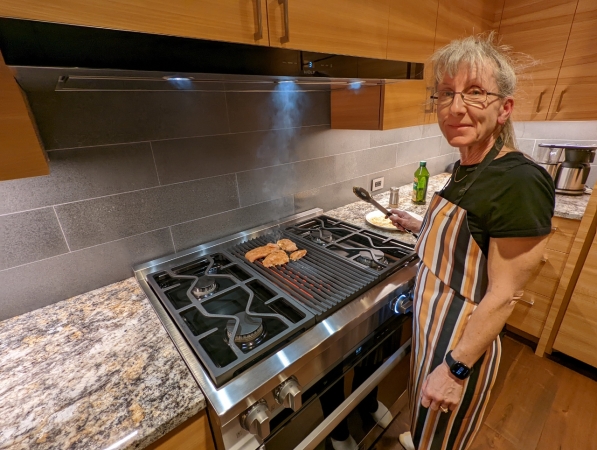 As fall ended in Seattle, we continued to take advantage of our downtown home, attending sporting events and enjoying restaurant meals. And the purchase of a patio heater allowed us to also keep spending time outside on our balconies, despite the weather. We also had our first traditional Thanksgiving dinner since leaving the US in 2016, and attended the Pacific Marine Expo, an event we like, but rarely are in town for.
The start of winter, however, brought some major changes in our lives. In the space of two days, we purchased the apartment we were living in and sold Dirona. We also adjusted our lifestyle a bit as Omnicron cases surged, and decided to reduce our indoor venue time until we'd received booster shots.
In spending more time at home, we experimented with indoor grilling. Our apartment has a very nice Miele range with a built-in gas grill. When we tried it on first moving into the apartment, we learned we have an excellent smoke alarm that not only would certainly wake us up, but likely would alert the fire department a few blocks away as well :). But over a series of tests, we learned to grill even the smokiest meals, and actually produced one of the best-tasting steaks we've ever made.
And we got a little taste of Norway in Seattle with an unusual winter storm dumped several inches of snow Boxing Day morning that lasted for nearly a week. We spent hours walking around in the hushed city as the snow fell, and a few days later took a ferry trip to Bremerton to take in the winter scenery.
Below are highlights from October 31 through December 31st, 2021. Click any image for a larger view, or click the position to view the location on a map. And a live map of our current route and most recent log entries always is available at mvdirona.com/maps.
10/31/2021
Jaguars Fans

Fans of the Jacksonville Jaguars NFL team sporting jaguar-print suites at Lumen stadium to cheer their team on against the Seahawks. We won, but the Jaguars have a record of 1 win and 6 losses, so it wasn't a major accomplishment. But we did enjoy the game.
11/1/2021
USCGC Alert

The USCG cutter Alert, under tow in Lake Union with the tugs Wasp and West Point.
Walking

We've seen a lot of different food delivery methods, including cars, bicycles, mopeds and motorcycles, but we've yet to have someone deliver a meal walking. It didn't seem like a great idea, as our pizza arrived pretty cold.
11/2/2021
Ovation of the Seas

The

Ovation of the Seas

departed yesterday from the anchorage at Yukon Harbor, visible from our apartment in Seattle. When we saw it running south off the west coast of Washington State, we assumed that was the last we'd see of the ship this season. But it later turned around and appears to be heading back to Seattle. A day later, its

again doing loops

in the Juan de Fuca Strait.

At only 9.5 knots, they're running far more economically than their usual cruising speed, but that's still a very expensive boat to have underway, likely consuming around 10MW right now, depending upon hotel loads. It will be interesting to see where it ends up going.
Fire Station 2

Seattle Fire Station 2, viewed as we walked home from dinner. Built in 1918, this is Seattle's oldest fire station and one of 34 in the city. We can see the building from our apartment, and often see them racing out on an emergency with sirens blaring.

The truck engines are kept warm and ready to start, with the exhaust captured through the big hose visible in front of the rear wheel. The hose detaches automatically as the truck drives away. Also visible is a bag of emergency gear on the floor, and the fire pole in the background. But no Dalmation.
11/4/2021
Fines

The fast ferry Fines underway from Seattle to Kingston, barely visible as 30-knot gusts from behind blow it's wake over the vessel.
11/5/2021
Spitfire

Spitfire fast asleep in his bed in the corner of the dining room. He spends much of the day there, occasionally sitting up to have a look outside, eat some food, or play for a bit.
11/6/2021
Ovation of the Seas

The cruise ship Ovation of the Seas departed Seattle nearly a week ago and has been doing loops in the Juan de Fuca Strait ever since. It'll be interesting to see how long they do these loops—the fuel bill to move around 168,666 gross tons is massive—and where they end up going next.
Kinani H

The tug Kinani H arriving into Seattle from Alaska. Two barges are difficult to control at rest, so the tug has been doing loops in Elliott Bay while waiting for assistance.
Kinani H Track

The track of the tug Kinani H shows it did many loops off Kingston to our north before arriving in Elliott Bay and doing more. Likely both sets of loops were just waiting for their appointment time in Seattle for smaller assist tugs to pick up the barges in tow.
Tugboat Assist

Two small harbor tugs arriving to take the double-barge load from the Kinani H.
USS Nimitz

The USS Nimitz departing its home base in nearby Bremerton. The 1,092 feet (332.8 m) supercarrier is one of the largest warships in the world. Launched in 1972, it also is the oldest serving aircraft carrier. Ships of this class have a roughly 50-year lifespan, and the Nimitz is scheduled for decommissioning in Bremerton by 2025.
11/9/2021
Windy

The winds are howling outside, buffeting the apartment windows, and Elliot Bay is frothy with whitecaps as a storm bringing 38-knot winds moves in. Compared to Vancouver Island (circled in red to our north), Seattle is relatively protected by the Olympic Mountains on the Olympic Peninsula to our west. Triangle Island, off the northwest tip of Vancouver Island, can expect sustained winds of 38 knots, with gusts to 56, as the system passes through.

Ovation of the Seas

, our "pet" cruise ship, has wisely left the exposed Juan de Fuca Strait and has been at anchor in

Port Angeles

since last night.
Hail

Today's storm system brought a major hail storm and very low visibility. The hail combined with the high winds was really loud.
11/11/2021
Mit Huhn

We're still working through some of the deep stores from

Dirona

. This is a can of Purina Gourmet Gold cat food purchased in Amsterdam, "mit huhn" (with chicken), that Spitfire loves. We had several weeks of a backup food on board, for use when he's not inclined to eat his

special diet

.

He's been doing really well on the new food though, so we've hardly used any of the Gourmet Gold. He's been a bit finicky the past couple of days, so we had to break out the "good stuff" to get him over the hump and back eating again. These phases can pass quickly, but without finding a way to get him back eating again, he'll just continue downhill.
11/12/2021
Ovation of the Seas

Some people have a pet squirrel that randomly returns. We have a pet cruise ship,

Ovation of the Seas

. Since the vessel's planned winter cruises in Australia and New Zealand were cancelled, we've been watching the ship make trips back and forth between Seattle and Port Angeles, and twice spending several days

looping out in the Juan de Fuca Strait

.

Today the ship returned from anchor at Port Angeles and docked for the first time below us at Pier 66 (its normal berth during the cruise season is Pier 91). It departed Pier 66 12 hours later and returned to the anchorage at Port Angeles. The fuel bill to move around 168,666 gross tons is massive, so we're a little surprised it would make the trip here for such a short stop.
Local 360

Enjoying a balcony seat overlooking the main dining area at Local 360 restaurant. The menu focuses on locally-sourced products from within a 360-mile radius, hence the name. We had an excellent evening—the food, service and ambience were all excellent. And it's only a five-minute walk from our apartment, so we'll definitely be back.
11/13/2021
Port of Seattle

The Port of Seattle, barely visible in a low cloud.
Kraken

Seattle Kraken captain Mark Giordano (number 5 at bottom right) with the puck as the Kraken take on the Minnesota Wild in a Saturday-night game at Climate Pledge Arena. We lost again, but had an excellent time. Or at least we did, we're not sure about the Kraken :).
11/14/2021
Windy

We've got more winds coming over the next couple of days. Right now we're seeing gusts to 33 knots, and we'll see up to 39 knots tomorrow.
Breakfast

Breakfast outside on our second balcony with some help from our new

outdoor heater

. The winds are howling from the south and its pouring rain, but this north-facing balcony is tucked into the building and we're just inside the rain line, so we're warm, dry and comfortable. It was fun to sit outside during the big storm.
Wide Angle

After lunch at Buffalo Wild Wings, we returned home to watch the rest of the Seahawks game at home. Another impressive aspect of the camera on the new Pixel 6 Pro is its 16mm wide-angle capability.
11/15/2021
Garbage Disposal

We don't get much of an "opportunity" these days to do any equipment troubleshooting or repair, but we did this morning. Here James is un-jamming our garbage disposal. Our unit on the boat occasionally jammed, and this usually was caused by something

wedged in the teeth

. Removing the offending item cleared the jam. The apartment unit was jammed solid, and we couldn't find anything stuck in the teeth.

We were thinking we would have to replace it, and in researching that discovered it has an available "jam-buster" tool that inserts into the bottom to turn the unit and clear a jam. A 1/4-inch Allen key also can be used, and James was able to clear the jam this way. And as a bonus, the unit is quieter than since we moved in, so perhaps it always was a bit jammed.

The device is the same brand, Insinkerator, as the one on Dirona. In looking at the manual, that unit also has a jam-buster insertion point in the base. So we learned something in the apartment that applies to the boat.
11/16/2021
Spitfire

Spitfire, dozing in the den, just about blew a gasket when the window cleaner suddenly dropped into view. Spitfire, dozing in the den, just about blew a gasket when the window cleaner suddenly dropped into view. He sped out of the room and here is cautiously checking out the situation before returning.
Window Cleaner

Window cleaners have been working on our building for the past couple of weeks. It's amazing to seem them hanging in the air on the outside of the building, 40 stories up, and secured only with two ropes.
Sunset

Sunset over the Olympic Penninsula, with the Yukon Harbor overflow anchorage in the foreground. The west coast ports are still very backed-up, and four container ships are anchored at Yukon Harbor awaiting a berth at the Port of Seattle. Prior to the pandemic, we'd never see ships at anchor here.
11/17/2021
Olympic Mountains

A tug and tow heading north with the snow-dusted Olympic Mountains aglow in the morning sun.
Kraken

Player introductions for the first game ever between the Seattle Kraken and the Chicago Blackhawks. With a brand new expansion team, every game seems to have a lot of firsts.
11/18/2021
Enetai

The fast ferry Enetai went into service in March of this year, making the run from Southworth, on Kitsap penninsula, to Seattle in 26 minutes. The ferry was out in Elliott Bay doing sea trails this morning between its two normal rush-hour service periods.
11/19/2021
8th Ave

Looking southeast along 8th Avenue on our way out to dinner. The number of high-rises in downtown Seattle has grown significantly since we last lived here in 2012.
Dirona Unloaded

The contents from Dirona almost filling the floor in the Yacht Tech Palm Beach warehouse. We had an amazing amount of gear packed into that boat.
11/20/2021
Pacific Marine Expo

Looking down to the floor a few minutes before the opening for the final day of

Pacific Marine Expo

in the Lumen Field event center. Previously called "Fish Expo", it is the largest commercial marine and fishing trade show on the West Coast. We always enjoy attending when we can, but rarely have been in town this time of year.
Tim Sandeman

Tim Sandeman, Vice President of Sales at

Cascade Engine Center

in Seattle, standing with a John Deere 6068 marine engine. Cascade supplied

Dirona

's

ultra-reliable

John Deere 6068AFM75. It was Gregg Light, Tim's predecessor, who sold our original engine. But Tim and the rest of the Cascade team have taken excellent care of us since.
Scania V8

The legendary Scania V8 diesel. This engine rules the most difficult trucking roads in Europe and is available in a range of hp starting at 530 up to an incredible 730. This is the marinized version of that engine, on display at the Cascade Engine Center booth at Pacific Marine Expo.
Suzuki 300

Here we are with a Suziki 300hp outboard engine at the Cascade Engine Center booth. It looks like a big engine in the water, and it's absolutely massive when you're standing beside it.
Geislinger

Jennifer lifting a Gesilco composite prop shaft at the Geislinger Pacific Marine Expo booth. Jennifer is pretty strong, but she wouldn't be picking up a steel shaft of this size.
Kit Purdy

At Pacific Marine Expo with Kit Purdy, Global Vice President of Sales at Northern Lights, who make the generator and the auxiliary wing engine in Dirona. Northern Lights and their propulsion engines, Lugger, have long been favorites of the Alaska fishing fleet and many Alaskan off-grid applications. We can see why—they make a great engine, and the service has been extraordinary.
Smith Tower

The beautiful bronze doors at the entrance to the iconic Smith Tower, viewed as we walked home from

Pacific Marine Expo

. When completed in 1914, the 462-foot building was the tallest in the country west of Ohio, and remained the tallest west of the Rockies for nearly fifty years. Despite the brass plaques indicating 42 stories, the building opened with at most 36 floors. That number increased to 38 floors when a two-story

penthouse apartment

later was built into the top.
Seattle Spheres

Two of the three Seattle Spheres, viewed from 6th and Lenora, looking especially striking lit up at night. The spheres are an Amazon building designed as an alternative space where employees can immerse themselves in nature in the heart of urban downtown Seattle. Employees can visit any time, and the structure is open to the public for tours on weekends.
11/21/2021
Waesche

The 418-ft (127 m) Coast Guard cutter Waesche arriving into Seattle. Commissioned in 2010 and home-ported in Alameda, California, the ship has a top speed of 28 knots and a 12,000-mile range.
Porsche Taycan S

The massive breaks on a Porsche Taycan Turbo S parked opposite our building. The all-electric performance car weighs in at a whopping 5,081 lbs (2,305 kg) due to the heavy batteries that power it, and requires race-quality breaks to provide good stopping characteristics.
Prismatica

Several of the 25 6-ft (2m) prisms that make up

Prismatica

, one of four interactive light displays installed temporarily in the South Lake Union district. The panels are coated with a

dichroic film

that changes colors depending on angle and lighting, with a projector inside to light up the columns at night. The prisms also contain chimes that sound as the structures are hand-rotated.
Seattle Spheres

On a tour of the

Seattle Spheres

with project manager Justin Schroeder, at left. The Spheres contain over 400 different species of cloud forest plants from around the world, all incredibly lush and healthy. Justin, who was involved with the project from the beginning, did a wonderful job of explaining both the history of the building and details on some of the more interesting and unusual plants inside.
Canyon Living Wall

One of the special features inside the Seattle Spheres is the 50-ft, four-story living wall, filled with over 250,000 plants.
Hamiltons

In front of the 50-ft living wall at the Seattle Spheres with Neil Hamilton, James' uncle, and his wife Jackie, of Victoria, Canada. We've not seen them for years and really enjoyed catching up.
11/23/2021
Monorail

The

Seattle Monorail

opened in 1962 as part of the Seattle World's Fair, the same event the iconic

Space Needle

was built for. The 0.9-mile (1.4 km) monorail route runs between Westlake Center mall and the Seattle Center, the site of the fair and the home of the Seattle Kraken at Climate Pledge Arena.

The monorail route passes directly below our apartment along 5th Ave, and today we noticed that one of the trains made a prolonged, unscheduled stop. Eventually it was able to back up, and then continue on its way.
11/24/2021
Turkey

A fresh turkey from Whole Foods, ready for our Thanksgiving dinner in a couple of days. Since we've been in Europe for the past five years, where it's difficult to source a turkey this time of year, we haven't had a traditional Thanksgiving dinner since 2016.
Hand Mixer

A new hand mixer, ready to make our Thanksgiving dinner mashed potatoes. Our "from-scratch" household is filling in nicely, but we're still finding the odd gap in our kitchen equipment.
Waesche

The 418-ft (127 m) Coast Guard cutter

Waesche

departing Seattle three days after

arriving

.
Winterfest

The trees in Seattle Center are lit up in changing colors as part of the Winterfest events. We can see them from our apartment, but they look even better up close.
Kraken Logo

The Seattle Kraken logo formed from stacked hockey pucks. When the players come out for practice, they knock the stack onto the ice for use during the practice session.
11/25/2021
Turkey Dinner

Making gravy for our turkey dinner—our

new roasting pan

worked out well. We had a delicious meal and really enjoyed being back in the US for Thanksgiving.
11/26/2021
MGen Henry Knox

The US Army tug MGen Henry Knox underway in Elliott Bay. The tug is one of six in its class, built in the 1990s mainly to assist in docking transports. Thirteen initially were planned, but only six were completed.
Ship Faced

Nordhavn 60 Ship Faced departing Bell Harbor marina (love the name!). The vessel is one of the few Nordhavns we've seen with a brightly-painted hull, and even less common, the stack is painted to match. The 60 is an extended version of the 55. We've always liked the interior layout of the 55 and the 60 is even better with a bigger cockpit, in the same way that the 52 is an extended version of the 47.
Leftovers

A portion of our Thanksgiving dinner leftovers. We'll be eating turkey for a while :).
11/27/2021
Evening calm

A Washington State ferry crossing Elliott Bay on a slightly overcast but wonderfully calm morning, with the bright red 'E' of the

Edgewater Hotel

visible in the foreground. The iconic hotel was built on a pier over the water for the 1962 World's Fair and has hosted renowned artists including the Beatles (who were famously photographed

fishing from their hotel window

), Led Zeppelin, the Rolling Stones, David Bowie, The Who, Pearl Jam and the Foo Fighters.
Lifeboat

Lifeboat approaching the ferry terminals in downtown Seattle from our '

pet cruise ship

', the

Ovation of the Seas

, that appears to have moved into the area permanently. The cruise ship recently returned and is anchored across Elliott Bay at Yukon Harbor.
11/28/2021
Insignia South

Looking up from 5th and Battery to our apartment, topmost on the corner, in the south tower of the Insignia condominium complex. We're liking living here so much that we're looking into either extending the lease or purchasing it.
11/29/2021
Dusk

Dusk at 5:15pm, looking across Belltown to Elliott Bay from our apartment. The days are getting shorter and shorter with the sun rising at 7:35 and setting at 4:21. The shortest day of the year will be on Dec. 21st when the sun rises at 7:55am and sets at 4:20pm for a total of 8:25 of daylight.

That's not much, but nearly double the 4:30 we had Dec 21st last year in Trondheim, Norway when the sun rose at 10:01am and set at 2:31pm.
11/30/2021
Black Hawk

A Sikorsky UH-60 Black Hawk helicopter from 2-158th Assault Helicopter Battalion, based at nearby Joint Base Lewis-McChord. The logo on the side (click image for larger view) identifies the chopper as belonging to Bravo "Bigfoot" Company. The four-blade, twin-engine, medium-lift Black Hawk replaced the Bell UH-1 Iroquois as the Army's tactical transport helicopter in 1979.
12/1/2021
Sunset

Pink and orange sunset over Elliott Bay.
12/2/2021
Misty Morning

The view on a misty Seattle morning looking north along Aurora Ave (left) and Dexter Ave N, with Lake Union at right.
Elevator Repair

One of the elevators in our building has been out of service for over a week. In a four-elevator forty-floor building, having one elevator down slows service noticeably. Today they were servicing it on our floor. It looks like a big one judging by the pile of wire below the worker.
Guest Bedroom

We ordered our guest bedroom set from

Room and Board

. Here they are assembling it. We placed the order several weeks ago, but everything is backed up. Fortunately the furniture was made in the US and didn't have to come from overseas, as the delay would likely have been much longer.
Cinque Terre

Happy Hour at Cinque Terre Italian restaurant. They have an unusually wide variety of wines available, visible on the wall.
Seattle Spheres

The three Seattle Spheres at night, viewed looking west from 7th and Lenora.
Day 1 Dog Park

Dog ownership is high in the area, and the Amazon Day 1 Dog Park is always busy. "Day 1" is the name of the adjacent office building and refers to the

start-up mentality

Jeff Bezos believes is crucial for any company's continued success.
12/3/2021
Seattle Kraken

The Seattle Kraken warming up before beating the Edmonton Oilers 4-3.
12/4/2021
12/5/2021
Players Introductions

Player introductions before the Seahawks game take on division rivals the San Francisco 49ers.
Ambulance

Injuries aren't rare in the NFL, but an ambulance on the field is. San Francisco running back Trenton Cannon was taken directly to the hospital after the game-opening kickoff. That's a dangerous port of the game, and the hits can be quite hard. Fortunately he is recovering well and was released the next day.
Fans

The Seahawks beat the 49ers in a closely-contested game that came down to the last few seconds. It was an exciting finish, with most fans staying to the end. Here you can see a questionable design choice in Lumen Field. The upper and lower decks have wide, safe passageways flowing towards the exit at right. But the exit has only a fraction of the capacity of either flows heading into it.
Seattle Star

The Seattle Star with the Westlake Center holiday tree. The 161-ft (49 m) star has been a Seattle holiday fixture since 1961 and was originally called the Bon Marche holiday star after the department store that created it and whose building it was mounted on. When Macy's bought the building in 2004, it became the Macy's Star. And after Macy's closed earlier this year, the star was rebuilt with a $250,000 donation from Amazon, the current occupant, and a matching donation from the building's owner, Starwood Capital Group.
12/6/2021
North Dakota

Snow-covered fields in North Dakota. James is flying to Boston and then Cincinnati for a week of site visits.
12/7/2021
Amazon Robotics

Generations of robots at Amazon Robotics, previously Kiva Systems, in Boston, MA. If you've recently had an Amazon delivery, it will have been touched by one of these robots multiple times.
12/9/2021
Amazon Air Hub

Looking down an incredibly long hallway in the Amazon Air Hub at the Cincinnati/Northern Kentucky airport. The 800,000 sq-ft building was opened in August of this year to support the Amazon's burgeoning air transport network.
Sorting

Robots sorting packages in the Amazon Air Hub at the Cincinnati/Northern Kentucky airport. The entire facility spans 600 acres and phase 1 is over 800,000 sq ft.
Prime Air

James on the ground with a Prime Air 767.
Pushback Tractor

Riding in the pushback tractor about to push a Prime Air 767 out onto the taxiway.
12/10/2021
Spitfire

James has been visiting Amazon facilities this week, and Spitfire has been missing him tremendously. He frequently stands on James' desk and howls for him. James will be home tonight little feller.
Te Mana

New Zealand Navy frigate Te Mana entering Elliott Bay, a long way from home. The ship was launched in 1997 and went through a major refit in 2014/2015.
12/11/2021
Snowmobiles

Two snowmobiles on a trailer outside our building. It's getting to be snow season in the Cascade mountains and further inland to our east. We haven't look closely at recent generation snowmobiles, but these have become really high-tech beasts.
Polaris Khaos

You can tell it's winter in Seattle when you see your second set of snowmobiles in a day. These are Polaris Khaos.
12/13/2021
Ovation of the Seas

Our "

pet cruise ship

"

Ovation of the Seas

returning to Seattle from Port Angeles to moor at Pier 66. Earlier in the month the ship was looping off San Francisco before returning to the Pacific Northwest. Presumably US Customs, Jones Act and/or Washington State tax laws prevent the vessel from simply wintering here in Elliott Bay. A $1B investment, not producing any revenue at, must be a little hard on Royal Caribbean.
12/14/2021
COVID-19 Test

Since James was traveling last week, he's doing a COVID test before attending any in-person meetings. Still good!
12/15/2021
New Table

Our new deck table just arrived. We've really happy with it, and hope it does well with the weather.
Running Cable

Installing a bundle of 864 optical fiber cable for Verizon communications at 6th and Blanchard. You can just barely make out a person wearing a yellow vest across the road and down the hill where the cable is going (click image for larger view). And we thought we had long wire runs in Dirona.
Home Purchase

Today we closed on our apartment, and now are owners instead of renters.
Notarizing Documents

At the UPS store having documents for the sale of Dirona notarized. If all goes according to schedule, the boat sale will finalize in two days.
12/16/2021
Ovation of the Seas

Our "

pet cruise ship

"

Ovation of the Seas

departed Seattle three days ago and spent that time looping in the Juan de Fuca Strait before returning back to Seattle.
Spitfire

Spitfire is happy to have James back and spends as much time as he can getting attention. Apparently between James and the laptop is a pretty good spot.
Olympic Mountains

The Olympic Mountains are thick with snow as we get further into December.
Crowley Chief

The capable tractor tug Crowley Chief was built in 1999 by Nichols Brothers Boatbuilders on nearby Whidbey Island. The vessel was designed specifically for ship assist and escort duties.
Ovation of the Seas

Our "

pet cruise ship

"

Ovation of the Seas

departing Pier 66 again, after arriving only this morning.
Happy Hour

Enjoying what Norwegians call the "cozy season", in the red glow of our patio heater. The temperature is 39°F (4°C), but we're bundled up and quite comfortable.
12/17/2021
Jens Maersk

The Jens Maersk departing Seattle en route to Mexico with an unusually light load.
Butcher's Table

Celebrating an eventful week with a Friday dinner at one of our favorite Seattle restaurants, Butcher's Table. On Wednesday, we closed on the purchase of our apartment and today the sale of Dirona was finalized. We admittedly feel a little sad to sell Dirona, our home for the past twelve years, but we're having a great time living in Seattle, we're loving the apartment, and keeping the boat while not using it for several years just didn't make sense. Unused boats go downhill quickly. We expect to return to adventuring in 12-24 months.
12/24/2021
Happy Holidays!

We wish you all a happy holiday season and best wishes for the new year. And if you do have a cat under your tree, may he not be eating your ornaments. :)
Roe

We received a gift box this afternoon that included a tin of fish roe. There must have been some residual scent on the box, left by those who packed it, and Spitfire was sure it was his present.
Holiday Decorations

Holiday decorations at the Howard S Wright Memorial Fountain, named after the Seattle the owner of the construction company that built the Space Needle visible in the background.
Kraken

Alternate Kraken goalie Chris Driedger snags a puck during practice. The Kraken lost 5-3 in a closely-contested match with the Edmonton Oilers. We were up 2-0 in the first period, then tied in the second. But lost after two unanswered goals in the third.
Kenmore Air

Kenmore Air float plane, sporting Seattle Kraken colors, flying unusually close to our condo complex north tower en route to landing on Lake Union.
Booster Due

We both received text notifications that we're due for COVID-19 booster shots, since it's been 180 days since our

second Pfizer shot

. We already have appointments for this Tuesday. Scheduling appointments for our first two shots required barely a day's notice and these required two week's.
Staying Home

Watching Sunday afternoon NFL at home. Normally we have Sunday lunch and watch an NFL game at Buffalo Wild Wings, but with the Omnicron virus raging we decided to reduce our indoor venue time until we've received booster shots.
Flurries

The temperature is above freezing, but we're seeing snow flurries this afternoon.
Submarine

A submarine heading south through Elliott Bay. The ship stood off Blakely Island for a good hour or so, then likely continued on to the naval base in Bremerton.
US Warship

For safety reasons, the

submarine

we saw in Elliott Bay was broadcasting AIS. US forces used to only rarely broadcast AIS, but several serious accidents with commercial ships have changed that policy. Interestingly, the AIS information the vessel is broadcasting is very generic, only listing it as a US warship and not even identify it as a submarine.
Assembling Table

We liked the

new table

for our main deck so much we got another for our second deck. Here James is assembling it with Spitfire supervising.
Pollen

Spitfire showed up with orange pollen all over his ears from nosing into the fresh lilies on our coffee table.
Booster

Getting our COVID-19 booster shot at our third different Walgreens vaccination location. The first was in

Charleston, SC

within two hours of landing after crossing the Atlantic, and the second in

Flagstaff, AZ

on our road trip across the US.
Zeeks Pizza

A selection of

growlers

at Zeeks Pizza, our favourite local pizza restaurant, where we stopped off after our

vaccination appointment

to take a pizza home. We noticed the growlers while waiting and asked the bar tender about them, who set up all three sizes for us to take a picture. We opted to take home a 64oz (1.9L)

Head Full of Dynamite IPA

(HFOD) from nearby Fremont Brewery, a beer we often have over a pizza at Zekes. HFOD is not actually one beer, it's an ongoing series of IPAs, each different from others.
Ovation of the Seas

Our "

pet cruise ship

",

Ovation of the Seas

, that has been in the Seattle area for the past few months, has been offshore just south of the Mexican/US border for the past few days. Likely it must be out of US waters for Jones Act or US Customs reasons.
Grill Test 1

Our apartment has a very nice Miele range with a built-in gas grill. The grill is particularly exciting because it would allow us to quickly do gas grilling anytime without going outside in the weather. We tried it when we first got into the apartment, and learned we have an excellent smoke alarm that not only would certainly wake us up, but likely would alert the fire department a few blocks away as well :).

It was a bit of a disappointment, because it's a beautiful gas grill that can deliver incredible heat very quickly, but it really didn't seem to work very well. Part of the problem is the overhead ventilation hood doesn't completely cover the entire grill area. So one solution is to only use the back two-thirds of the grill. But before trying that, we took apart the ventilation hood to see which fan motor was installed. This hood supports both a 300 CFM (509 CMH) and a 600 CFM (1,019 CMH) air mover. We found we already had the biggest supported motor installed, so we decided to see what we could cook on the grill if we only used the back two-thirds.

Here we are grilling chicken lightly coated with olive oil and dredged in blackened seasoning chicken. Quite a bit of smoke is rising from the grill, and the ventilation hood is capturing it all. The grill worked remarkably well, with no visible smoke escaping and no smoke alarm, and is really nice to cook on. And grilling only on the back two-thirds isn't much of an inconvenience, since that would be the size of our previous barbecue on the boat.
Parade of Ships

A holiday parade of decorated boats setting out towards the

Montlake Cu

t from Lake Union.
Grill Test 2

Moroccan-Spiced Chicken Brochettes

cooking in the

second test

of our range grill. This also worked well, with no visible smoke escape, and no smoke alarm. We've also found it reasonably easy to clean the grill by briefly soaking it in a sink of water and making a quick pass with a pot-scrubber brush. That sounds lengthy, but the total time investment to do that is only a couple of minutes. It's really not much different than cleaning a barbecue after grilling.
Crowley

The capable Crowley ship-assist tugs (from left to right) Guide, Chief and Guard docked at the Port of Seattle. All three use Voith-Schneider Cycloidal propulsion, with Guard having 5,000 HP and Guide and Chief having 4,800 HP.
12/25/2021
Grill Test 3

We've been having such good

success with the grill

that we're actively seeking out the smokiest dish to probe the limits and see where the smoke alarm gets set off. Here we went with bratwurst sausages that emit clouds of smoke when barbecued. The test went surprisingly well. As long as we're cooking in the back two-thirds of the grill, even heavily smoking dishes seem to cook fine. The ventilation hood gets all the smoke, and we've not yet had a repeat of the apartment smoke alarms going off.
Dirona in Amsterdam

Blog read Greg Moore saw this ad in the window of a residential building in Jersey City, New Jersey and sent us a photo. That's

Dirona

moored at

City Marina IJDok

in Amsterdam, and you can even see James in the pilot house.

The advertisement was for a US property management firm, so we were guessing we must have been outside of their window sometime while we were on the US east coast. It took us a while to figure out that the picture was actually taken in Amsterdam, and is just a stock photo not directly related to the property management firm.
Snow

Snow flurries as we have our Christmas morning breakfast on the deck. This is just the beginning—a big snow storm is forecast for tomorrow morning.
Christmas Dinner

Christmas dinner overlooking Elliott Bay. We decided to try something new this year and roast a turkey breast rather than an entire turkey. This worked out exceptionally well—the breast was incredibly moist, the best we've ever had.
12/26/2021
Norway in Seattle

We got a little bit Norway in Seattle this holiday season as an unusual winter storm dumped several inches of snow Boxing Day morning.
Powder

High winds formed unusual snow drifts from the light and powdery snow.
Seahawks in Snow

The Seattle Seahawks played at home today … in the snow. This is a scene you might expect in Green Bay, Wisconsin, but rarely in Seattle.
Grill Test 4

Making

Grilled Chicken Breasts with Lemon and Thyme

as we

continue to probe

the limits of our range grill and see where the smoke alarm gets set off. This dish calls for marinating the chicken in a spicy olive oil mixture that produces a ton of smoke when cooking. But again, the ventilation hood captured it all, and the apartment smoke alarms were not triggered. The more we use this grill, the more we're loving having a grill just ready to go in the kitchen.
12/27/2021
Breakfast

With our deck covered in snow, we opted to have breakfast in the den for a view to snow-covered Queen Anne and Lake Union. With the combination of the snow and the holiday season, the streets are pretty quiet this Monday morning at 7:30.
Queen Anne Hill

We've watched a few driver gingerly guide their vehicle down this steep, snow-covered road on Queen Anne Hill. Conditions look pretty hazardous.
Brrrrr

It's really cold this morning at 17° F (-8.3° C). The snow won't be going away anytime soon at this temperature.
Olympic Mountains

The Olympic Mountains thick with snow after the recent winter weather system (click image for a larger view).
CG Escort

Ever since 9/11, a pair of Coast Guard vessels frequently and randomly escort Washington State ferries to and from Seattle.
12/28/2021
Dazed Bird

A small bird hit our window this morning and, dazed, was unable to fly away. We put a box out to give it a little shelter from the cold. It huddled at the outside corner of the deck and after ten minutes or so was able to fly away on its own.
Police

The

Seattle police

never seem to do anything in small numbers. Here four trucks are on the scene for what looks like a single person being questioned.
12/29/2021
On the Bow

The Washington State Ferry fleet is the largest in the United States with 21 vessels that annually carry over 23 million passengers. The ferry system also is the second largest in the world for vehicles, transporting an annual average of 10.3 million as part of the state highway network. Ten routes operate out of 20 terminals across eight counties, ranging from Tacoma in the south and the San Juan Islands in the north, plus one international run between Anacortes and Sidney, Canada on Vancouver Island.

From our apartment in Seattle, we can see the large Washington State ferries arriving into and departing Coleman Dock in downtown Seattle, and also the regional passenger-only ferries that serve Bremerton and Kingston. And after months of watching them come and go, we finally took a ride on one.
12/31/2021
New Year's Toast

Toasting the sunset on New Year's Eve.
| | |
| --- | --- |
| | Grilling Test 5 |
1/1/2022
Happy New Year!

Watching augmented New Year's fireworks set off from the Space Needle on the television.
Fireworks

Units on the other side of the north tower in our condominium complex have a clear view to the New Year's fireworks set off from the Space Needle, but we can still see some of them from our apartment. Next year we might walk out to see the display.
Spectator Boats

Spectator boats on Lake Union to view the New Year's fireworks display set off from the Space Needle.
Monorail Terminal

The Seattle Center monorail terminal from an unusual perspective. When the Seattle Kraken is playing, it's particularly busy.
Click the travel log icon on the left to see these locations on a map, with the complete log of our cruise.

On the map page, clicking on a camera or text icon will display a picture and/or log entry for that location, and clicking on the smaller icons along the route will display latitude, longitude and other navigation data for that location. And a live map of our current route and most recent log entries always is available at mvdirona.com/maps.