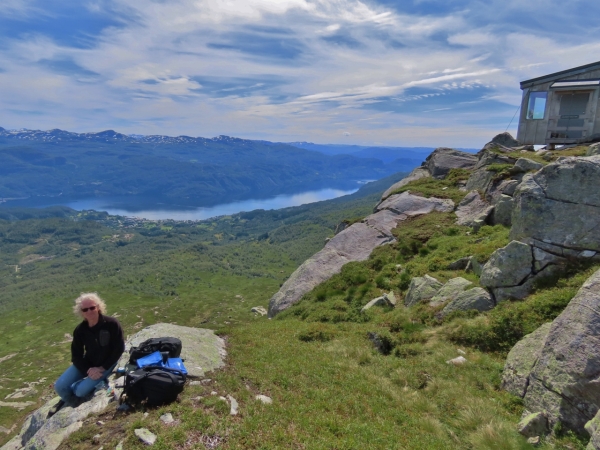 Ryfylkefjordane, the Ryfylke fjords, lie between Stavanger and Haugesund in the southern portion of the spectacular region known as Fjord Norway, where long and narrow waterways wind deep into soaring, snow-capped mountain ranges. We'd only passed through Ryfylkefjordane on our previous Norwegian visit in 2018. On that first trip, our goal was to travel the entire Norwegian west coast as far north as Tromso, well above the Arctic Circle, visiting the highlights along the way.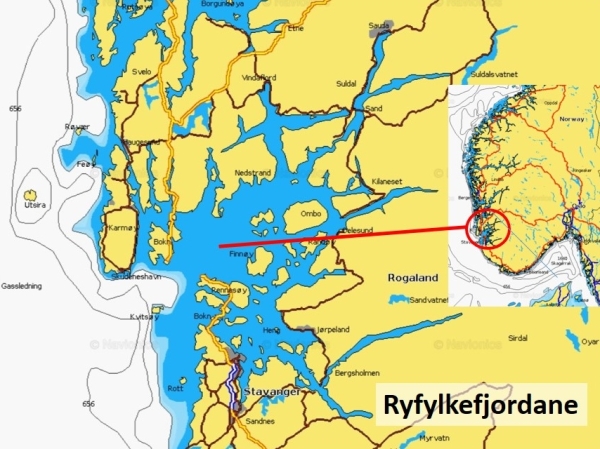 On our return trip we would still work north up the west coast from Stavanger, but this time at a much slower pace. The plan was to leisurely visit every waterway along the way, either in Dirona or by tender, the same way we'd explored Fiordland in New Zealand.
We spent the first three weeks of our 2020 Norwegian cruise in Ryfylkefjordane. We didn't cover much latitude, ending up at Haugesund only 30 miles north of Stavanger, but we traveled a total of 206 miles in Dirona and made 14 different stops. We had a fabulous time, walking several exceptional view hikes, touring for miles in the tender, taking in the dramatic scenery, and stopping at many exceptional anchorages.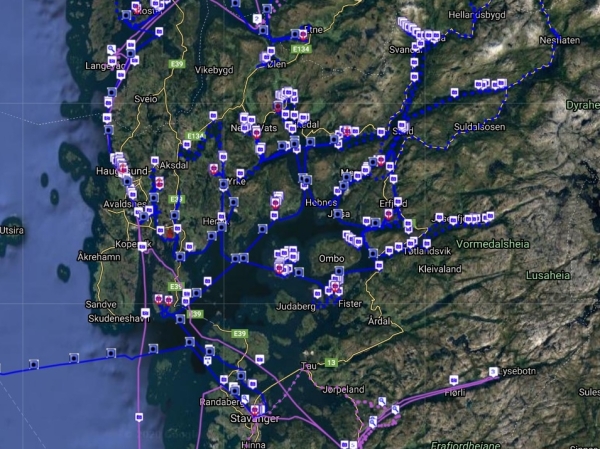 Below are highlights from July 18th through August 7th, 2020 in Ryfylkefjordane, Norway. Click any image for a larger view, or click the position to view the location on a map. And a live map of our current route and most recent log entries always is available at mvdirona.com/maps.
Himakana

Himakana is known as "Little

Trolltunga

" due to its similarities with the famous Norwegian rock formation that juts out horizontally 3,600 ft (1,100 m) above sea level. The hike to Himakana is much more accessible at only about 2 hours roundtrip though, compared to 10-12 hours for Trolltunga.
Ilsvag

Our "move the boat every day" plan faltered when we reached beautiful Ilsvag at the head of Sandeidfjorden. We ended up spending three days in this scenic, sheltered anchorage and made our second Norwegian hike of 2020, to the summit of 1830 ft (557 m) Oktarenuten. From there we could see down into our anchorage below, south through Sandeidfjorden and north across land to Hardangerfjorden.
Nedre Vats

Nedre Vats in Vatsjforden has a couple of great attractions for us: an excellent view hike up 1742ft (531m) Granuten and the AF Environmental Base decommissioning and recycling facility. The massive semi-submersible crane vessel

Sleipnir

that we passed en route to Stavanger had removed the 8,929-ton (8,100-metric ton)

Jotun-B

platform jacket from the North Sea two weeks earlier and transported it here, setting a record for the largest single lift removal of a steel jacket.
Vindafjorden

After exploring its two branches,

Sandeidfjorden

and

Yrkjefjorden

, we completed our five-day tour of cross-shaped Vindafjorden in a beautiful anchorage at Kvaloy. On a warm and sunny day, we toured to the head by tender, then spent a lazy evening enjoying the surroundings from the cockpit.
Saudafjorden

Saudafjorden extends 10.5 miles (17km) from the towns of Sand and Sauda through several-thousand-foot mountains with many waterfalls. At the head, the popular Saga Trail extends from Sauda to 3,054ft (931m) Hovlandsnuten. Stone steps newly laid by Nepalese Sherpas lead to the summit, with panoramic views to Saudafjorden and the surrounding mountains.
Hylsfjorden

The village of Sand lies in a beautiful setting where the Saudafjorden and the Hylsfjorden meet to form the Sandsfjorden. We completed our exploration of the area with a walk through Sand, where we crossed the Suldalslagen River over the award-winning bridge Hosebrua and viewed the waterall Sandsfossen from above. After, we toured to the end of spectacular Hylsfjorden, full of waterfalls and almost completely undeveloped. A notable exception is the 160-megawatt Hylen Hydroelectric Power Station at the head, with its turbulent tailrace.
Hattavagen

A small weather system was passing through, with gusts to 45 knots, as we were underway for Erjforden. We found a beautiful and peaceful anchorage at Hattavagen, and ended up spending three nights anchored in the sheltered basin. While there, we explored the area by tender, hiked up 510m Bandasen, and completed a few boat projects during some rainy weather.
Josenfjorden

After two days of wind, heavy rain and overcast skies in

Erfjord

, we were rewarded on our third morning with clear and calm weather for a tender tour of spectacular Josenfjorden. What the 17-mile (27km) fjord lacks in length it makes up for in dramatic scenery, with 2,300 ft (700m) cliffs full of waterfalls.
Randasen

The hike up 1,230ft (375m) Randasen was one of the easiest we've done so far on our return trip to Norway. The tender ride to shore was only a few hundred yards, the trailhead was an easy half-hour walk away and the roundtrip hike from there was only three hours. But the view was as good as any of the other hikes we've done.
Sjernaroyrunden

Six of the islets in the Sjernaroyane group are interconnected with bridges, with a marked cycle path between them, Sjernaroyrunden, that makes for a wonderful day trip. It was great to be out on the bikes again, our first ride for since

Den Helder, NL

in October of last year.
Skjoldastraumen

The Skjoldastraumen is a shallow waterway with swift currents, suitable only for small craft. To allow larger boats to reach the Skjoldafjorden beyond, a lock was built between 1904-1908. For many decades steam ships regularly passed through the locks, carrying people and goods between Skjoldafjorden and the larger centers of Stavanger and Haugesund. Today mostly pleasure craft use the locks, currently the only operating saltwater lock in Norway.
Forresfjorden

After a day of heavy winds and rain following our visit to

Skjoldafjorden

, we had wonderfully calm conditions to explore Forresfjorden. During our tender tour, we finally got close enough for a good picture after several eagle sightings in Norway from a distance.
Haugesund

In early August, we returned to a very different Haugesund than the one we'd

visited in late September

of 2018. The previously tranquil town was absolutely packed with boats, many rafted several deep, and high-speed, muffler-free

cigarette boats

roamed the waterway.
Click the travel log icon on the left to see these locations on a map, with the complete log of our cruise.

On the map page, clicking on a camera or text icon will display a picture and/or log entry for that location, and clicking on the smaller icons along the route will display latitude, longitude and other navigation data for that location. And a live map of our current route and most recent log entries always is available at mvdirona.com/maps.