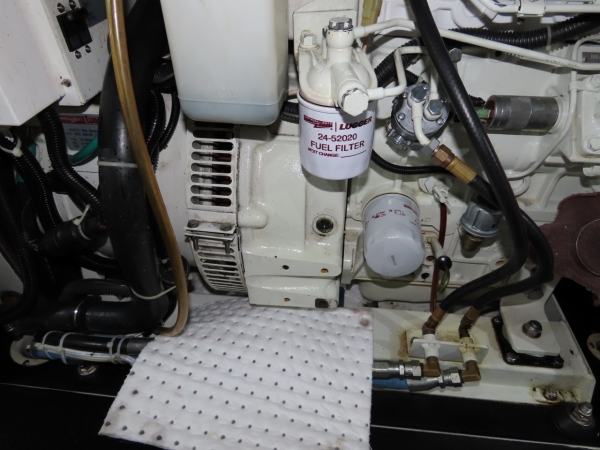 An engine seldom "just gets better"—close to never—but our generator was leaking vast amounts of oil from the rear main oil seal prior to the cylinder head replacement. If the generator sound attenuation shield front cover was removed during operation, it would spray the engine room floor and the neighboring wing engine, creating a real mess. With the cover on the mess was more localized, but still a mess, spraying down anything in the vicinity of the generator cooling fan.
Above is a picture of the engine 179 hours since the cylinder head change, and 29 hours since it stopped leaking entirely.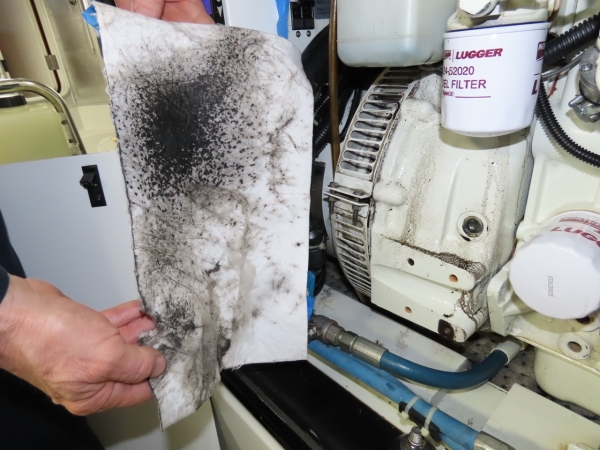 In the picture above, you can see what the engine looked like during its heavy leak phase. We wiped it off frequently and kept oil rags near parts of the cover where the oil would leak out. The leak didn't affect engine operation, but it really made a mess.
When we replaced the cylinder head we also purchased a rear main oil seal, but elected not to change it until the exhaust valve problem was known to be fully corrected. We wanted to give it at least 50 engine hours before taking on the rear main oil seal replacement, since it is quite a big job and we really don't want to start on it until we knew there were no other generator problems.
And then a strange thing happened. After replacing cylinder head, the rear main oil seal leak went from intolerable to moderate. We were relieved and decided to defer the job until we had more time this winter. And then, about 150 engine hours back, it stopped leaking entirely!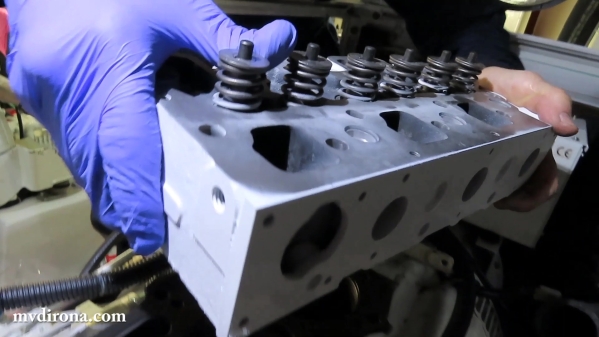 Almost certainly the oil leak will return, but it's nice that the big job of replacing the rear main seal does not need to be done immediately. The new cylinder head now has 289 hours, and the generator is running great and producing full power. The rear main oil seal has leaked very little during that period and not at all during the last 150 hours. We continue to enjoy the engine service reprieve and we're testing a few hypotheses as to why the generator rear main oil seal is no longer leaking.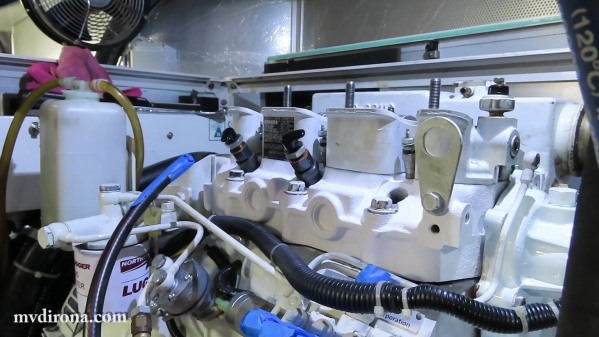 When we replaced the cylinder head, we also installed new injectors. The leading candidate explanation is the original problem was caused by a worn rear main seal combined with diesel oil dilution from poorly atomizing fuel injectors and operating with a failed cylinder (injected diesel not fully being burned). Normally diesel oil dilution will show up as a rising oil level, but it was leaking so much oil prior to the cylinder head replacement that this issue might have been hidden.
We're far from confident in this conclusion, and we're continuing to gather data and see what we can learn. We're finding this super-interesting, and we're glad that we didn't change the rear main oil seal at the same time as the cylinder head because it gives us a chance to learn more about the problem.
The rear main oil seal shouldn't leak even in the presence of fuel dilution, but without dilution it's back to just barely able to do its job. So its clearly getting close to end of life. But, with the fuel dilution corrected, it appears to be able to do its job and has stopped leaking entirely for the last 150 hours.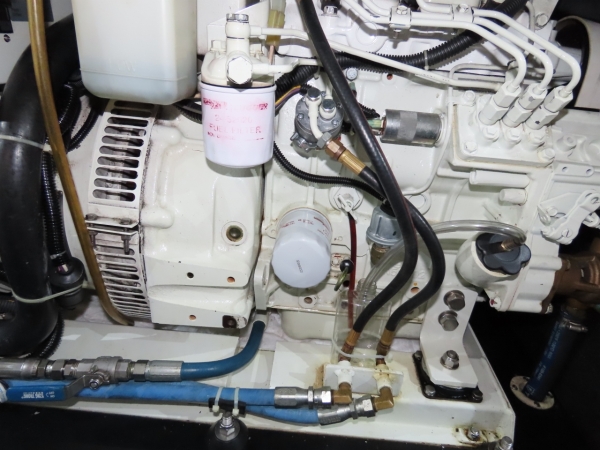 Above is a picture of the engine taken today, where you can see no evidence of oil leaks and there haven't been any for the last 150 engine hours. If you look carefully, you can see we've also made a slight change to the engine crankcase breather system. We'll blog that later, but it's just a neater version of that red shop rag we had hose-clamped to the engine oil fill to ensure the crankcase was at atmospheric pressure. Positive crankcase pressure is one of the most common causes of engine oil leaks.
We expect we eventually will have to change that rear main oil seal that's been in use for the last 7,000 hours. But, in the interim, we'll enjoy the reprieve and the nice clean and shiny engine.