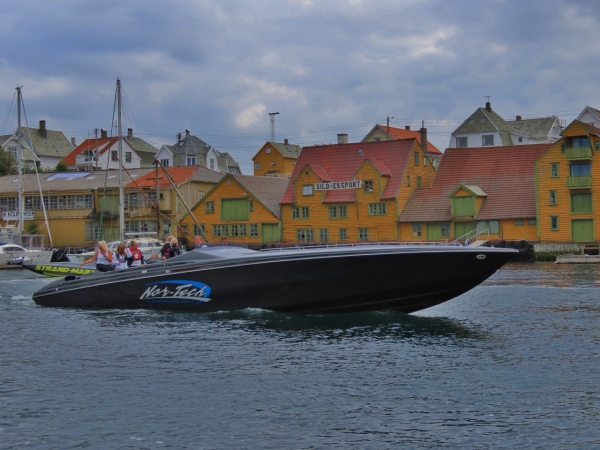 In early August, we returned to a very different Haugesund than the one we'd visited in late September of 2018. The previously tranquil town was absolutely packed with boats, many rafted several deep, and high-speed, muffler-free cigarette boats roamed the waterway. On this most recent visit, we were at the height of the boating season, made somewhat busier by the annual Haugesund Jazz Festival that weekend and that fewer Norwegian boaters were venturing abroad due to COVID-19 restrictions.
We arrived early after a short run from Forresfjorden and took the last available berth. After some shopping, we walked out to Haraldshaugen, the Norwegian National monument erected 1872 to commemorate the millennial anniversary of Norway's unification. We finished the day with a relaxing evening in the cockpit, taking in all the activity.
Below are highlights from August 7th, 2020. Click any image for a larger view, or click the position to view the location on a map. And a live map of our current route and most recent log entries always is available at mvdirona.com/maps.
Royksund Bridge

Heading under the bridge across Royksund en route to Haugesund. The bridge has a 13m clearance, plenty of room for 30ft (9.14m) air draft.
With Harvest

We saw the 229ft (70m) cargo vessel With Harvest several times on our previous visit to Norway.
Gulf Energy

The LNG carrier

Gulf Energy

was moored here over two years ago when we first arrived into Norway. Back then the

Bering Energy

was tied alongside. BBC's Richard Hammond hosted an excellent documentary on LPG tanker design and safety concerns:

LNG Super Tanker Engineering Connections
Normand Ships

Four of 125 ships in the Solstad fleet: the anchor handling tug supply (AHTS) ships Normand Master, Norman Titan, Norman Mariner and Norman Borg. Norway has an astounding number of very capable ships.
Karmsund Bridge

Approaching the Karmsund Bridge across the Karmsund as we near Haugesund.
Karmsund Group

The Karmsund Group's massive 1.2-million square foot (110 decare) servicebase for the petro/marine industry along the Karmsund.
Kystvakt

The 155-ft (47.2m) Tor moored at Haugesund is one of five Nornen-class inshore patrol vessels operated by the Kystvakt (Norwegian Coast Guard).
Haugesund

Moored at the last empty spot in the guest harbour along the Smedasundet in Haugesund. The marina is

much

busier than the last time we were here. Partly because it is early-August rather than late September, partly due to the Haugesund jazz festival being held this weekend, and partly due to COVID-19 restrictions. Blog reader and Bergen resident

Tronde Saetre

tells us that the marinas in Norway are much fuller than usual this summer because most boaters who normally would traveled internationally are staying home.
Power Plugs

The shorepower supply at our berth in Haugesund was a 15-amp SCHUKO socket, rather than the standard marine socket (IEC309) mostly used elsewhere in the guest harbour. We built some pigtail adapters for these while in Amsterdam, so it was a simple matter to plug in and get power. This is the first time we've used these SCHUKO adapters.
Bergen Kreds

The capable-looking Search and Rescue vessel Bergen Kreds passing south through the Smedasundet in Haugesund.
Seattle

A Norwegian wearing a Seattle-purchased T-shirt was very excited to learn that our boat had actually arrived from there on it's own bottom. He was a big fan of Seattle and had visited recently there with friends and family. We enjoyed the discussion.
Downhill

Looking down Asbygata to Dirona moored at the bottom. Hopefully no large trucks will have brake failure descending the hill.
Waterfront

This is the first Norwegian town we've visited on our return trip. Most of the bars and restaurants in Haugesund were open for business, and many were pretty full. This was a real contrast to the last town we'd been in, Stornoway, Scotland, where all bars were still closed and restaurants were only allowed to provide take-out.
Byparken

Gazebo and fountain in tranquil Byparken on a walk to the Haraldshaugen monument just outside Haugesund.
Harald Fairhair

Statue of Harald I Fairhair, who according to lore reigned as the first king of Norway from 872 to 930.
Beach

Nice beach and waterside picnic area at the end of a small park at the north end of Haugesund.
Haugesund Prison

Heavy-duty barbed-wire fencing surrounding the Haugesund High-Security Prison. We were surprised to see that kind of prison packed in amongst houses in a residential district.
Haraldshaugen

The Norwegian National monument Haraldshaugen to

King Harald I Fairhair

. The monument was erected in 1872 to commemorate the millennial anniversary of Norway's unification, near the site where Harald was believed to be buried. The 29 granite memorial stones surrounding the central pillar represent each of the historic counties of Norway.
Krosshaugen

Krosshaugen, a stone cross dating from the early days of Christianity in Norway, about 1000 AD.
1 HGSD 1910

We couldn't find any information about the purpose of this stone monument at Rekavik in north Haugesund engraved with '1 HGSD 1910'.
Normand Ocean

Another of

the 125 ships in the Solstad fleet: the subsea construction support vessel

Normand Ocean

. The boat was holding position off Haugesund for most of the day, probably testing its dynamic positioning system.
Haugesund View

View to our berth at Haugesund in the early evening (clockwise from top left: forward, aft, starboard and port). It's getting busier and busier here, with more boats arriving throughout the afternoon and evening. In several places boats are rafted two and three deep.
Poker Run

A Poker Run from Haugesund to Bergen takes place this weekend and from the cockpit we had a front-row view of the many high-speed vessels that arrived over the course of the evening. All looked very fast, and none had remembered their muffler. :)
Click the travel log icon on the left to see these locations on a map, with the complete log of our cruise.

On the map page, clicking on a camera or text icon will display a picture and/or log entry for that location, and clicking on the smaller icons along the route will display latitude, longitude and other navigation data for that location. And a live map of our current route and most recent log entries always is available at mvdirona.com/maps.