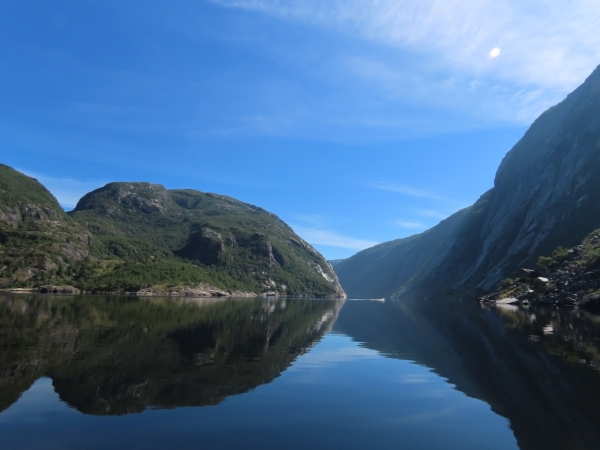 After two days of wind, heavy rain and overcast skies in Erfjord, we were rewarded on our third morning with clear and calm weather for a tender tour of spectacular Josenfjorden. What the 17-mile (27km) fjord lacks in length it makes up for in dramatic scenery, with 2,300 ft (700m) cliffs full of waterfalls.
After our tender tour, we finally dragged ourselves out of the beautiful anchorage at Hattavagen, picked up a load of gasoline for our tender at nearby Hjelmeland and continued on to anchor for the night at sheltered Kotavagen.
Below are trip highlights from July 31, 2020. Click any image for a larger view, or click the position to view the location on a map. And a live map of our current route and most recent log entries always is available at mvdirona.com/maps.
Anchorage

A beautiful calm morning in the anchorage at Hattavagen in Erfjord.
Hagalivatnet Waterfall

Waterfall from the lake Hagalivatnet flowing into the mouth of Josenfjorden, one of many we'll see today along the dramatic fjord.
Barebergneset

Waterfall flowing down the headland Barebergneset in Josenfjorden. The scenery already is fabulous here and we've hardly gotten started. It's no wonder tour boat ply these waters.
Overhang

Looking up from the tender to an overhang in a steep cliff along Josenfjorden.
Dolphin

One of several dolphins in Josenfjorden. The dolphins we've seen so far in Norway tend to be very shy around people, and usually disappear within seconds of us sighting them.
Nysand

The cargo ship Nysand moored at dramatic Totlandsvik. The operator of the on-board front-end loader was working so quickly that the ship rocked back and forth as he moved the crane about to offload his cargo into a waiting truck.
Segadalsneset

The headland Segadalsneset jutting into the waterway from the left where Josenfjorden begins to narrow towards the head. After two days of heavy rain, we've got a wonderfully clear and calm day to tour the fjord.
Segadalsana

Waterfall where Segadalsana flows into Josenfjorden. After visiting the head, we returned later to have lunch beside these falls.
Tana

The headland Tana on the left, looking towards the head of Josenfjorden.
Josenfjorden Head

Looking back from the head of Josenfjorden towards the mouth. For scale, a small white boat is barely visible at the center of the picture (click image for a larger view).
Midskog

The cliff Midskog soars over 700m almost straight near the head of Josenfjorden.
Lunch

A picnic lunch alongside the Segadalsana waterfall with a view down into Josenfjorden.
Sildafjelltunnelen

Waterfall at the Sildafjelltunnelen, a 3461ft (1055m) tunnel through the mountain (tunnel not visible).
Bridge

We'd started on a tour of Erfjorden two days ago, but the weather was overcast and raining, so we came back today. This is the 965ft (294 m) Erfjord Bridge crossing Erfjorden.
Sorhus

The town of Sorhus at the head of Erfjorden. Red paint is very popular in Norway.
Sigrid

The ferry Sigrid departing Hjelmeland as we arrive at the fuel dock.
Hjelmeland

Moored at the Hjelmeland fuel dock to take on a load of gasoline. The fuel dock is setup for smaller boats and we pretty much filled it. The pump is self-pay and limited to a certain dollar amount, with the instructions all in Norwegian. But with a little help from a local, we managed to sort it out over multiple purchases. Without a PIN-based credit card though, we wouldn't have been able to make the purchases.

We hadn't bought any gasoline since Puumala in the Saimaa Lakes in June of last year and we're nearly out with all the tender trips we've been making. We bought 82 gallons (313L) at 6.02 USD/gallon, so an expensive fill but we're happy to pay it in order to maximize our time touring the fjords.
Kotavagen

View to the anchorage at Kotavagen (clockwise from top left: forward, aft, starboard and port).
Rowboat

Two YouTube followers rowed over in this beautiful wooden to say hello at Kotavagen.
Cove Mates

Blog readers from one of the other boats moored in the cove came by to chat. We're surprised at how well-known the boat seems to be in Norway. Another boater came over to say hello later in the evening as well.
Sunset

Golden sunset at Kotavagen after another great day in Norway.
Click the travel log icon on the left to see these locations on a map, with the complete log of our cruise.

On the map page, clicking on a camera or text icon will display a picture and/or log entry for that location, and clicking on the smaller icons along the route will display latitude, longitude and other navigation data for that location. And a live map of our current route and most recent log entries always is available at mvdirona.com/maps.