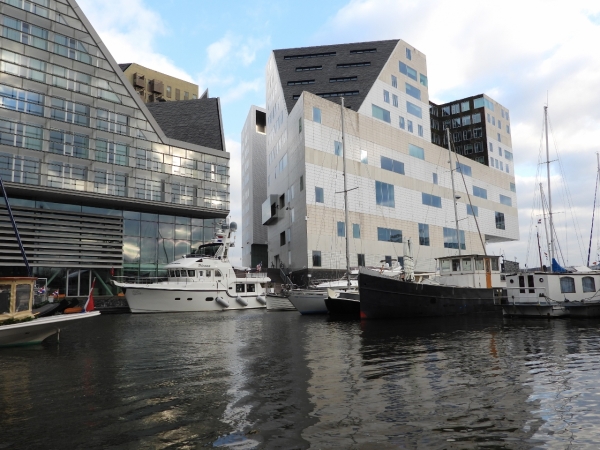 City Marina IJDok was an exceptional winter home for us. We were lucky to get a spot in the small marina in downtown Amsterdam that is an easy walk to the train station and countless restaurants and attractions. In addition to exploring the city and enjoying the Amsterdam Light Festival and the city's extensive New Year's celebration, we made many day trips throughout the Netherlands, including to Zaanse Schans, Haarlem, Delft, Rotterdam and The Hauge. We also took advantage of Amsterdam's excellent airport connections to make two trips back to the US and also a trip to Dubai and Abu Dhabi.
Below are highlights from November 1st, 2018 through March 18th, 2019 in Amsterdam, NL. Click any image for a larger view, or click the position to view the location on a map. And a live map of our current route and most recent log entries always is available at mvdirona.com/maps
11/1/2018
Amsterdam Arrival

We arrived into Amsterdam on November 1st after a 26-mile run from

Hoorn

and through two more bridges and a lock before finally reaching our winter berth. As is typically our custom, we spent the afternoon walking through the city on foot. We only scratched the surface though—Amsterdam has a lot to see and we'll enjoy exploring it.

Read more …
11/2/2018
Wyers

A relaxing meal at Wyers on Nieuwendijk after a long, tiring day of waxing the boat.
IJ River

Evening view to the Amsterdam waterfront as we return to the boat after dinner. The brightly-lit tower on the left is the A'DAM Tower, a converted former Royal Dutch Shell oil company office building that is one of Amsterdam's newest attractions with bars, nightclubs, a revolving restaurant and a four-person swing that extends out over the edge of the building.
11/3/2018
Sunrise

Beautiful pink sunrise looking over the pedestrian bridge from our berth at IJDok City Marina in downtown Amsterdam.
11/4/2018
Los Pilones

An excellent meal, after another big day of waxing, at Los Pilones mexican restaurant in Amsterdam. We'll be back.
11/5/2018
New Berth

Today we moved the boat because we were offered a berth that is more sheltered from the weather with a bit better view of town, has less boat traffic in the area, and is a more secure place to tie off to. It's great to see and

Dirona

looking all clean and shiny again with that brown "

Kiel Canal moustache

" gone.
Haarlemmerdijk

Looking down beautiful Haarlemmerdijk on our way to dinner. We had a busy day unloading and stowing the pallet contents, but not as tiring a day as waxing.

We're enjoying what we call the "Hawaii lifestyle" in Amsterdam. We both were working full-time when we were living in Honolulu, so we'd work aboard all day and then walk somewhere for a relaxing evening and dinner.
No Cash

In contrast with Germany, where most restaurants were

cash-only

, De Pizzabakkers doesn't even accept cash (top right).
De Pizzabakkers

We had exceptional pizza dinner and a great experience at tiny De Pizzabakkers. The restaurant has only about ten tables and they were full almost the entire time we were there. We'll be back for sure.
11/6/2018
IJ River

Looking east along the IJ River as we walk out in the evening for dinner. Amsterdam sure is beautiful—we're just loving it here.
De Gouden Reael

We didn't have a particular destination in mind for dinner and were just out walking until something caught our fancy. The warmly-lit De Gouden Reael with canal-view tables was just the ticket. We enjoyed talking with the proprietor over a pre-dinner drink.
Mmmm … Chicken

The specialty of De Gouden Reael is rotisserie-roasted chicken. We hardly had to look at the menu to decide what we wanted for dinner.
Dinner

After our pre-dinner drink on the main level, we had a delicious meal upstairs at De Gouden Reael with a view across the canal to the river beyond. We suspect we'll be back.
11/7/2018
Sunrise

Another great sunrise from our berth at IJDok City Marina in Amsterdam.
11/10/2018
Canal Boats

Amsterdam has more canals than Venice. We don't know if it has more canal boats, but there sure are a lot out there based on the AIS targets.
11/11/2018
Bickers aan de Werf

The weather has generally been clear and sunny most of time we've been in Amsterdam so far. But that

storm

James encountered in Dublin seemed to arrive here yesterday. We managed to time our 15-minute walk to and from Bickers aan de Werf between several torrential rain storms. The restaurant is situated canal-side with an outdoor patio that must be wonderful in dry weather.
Peri Peri Shrimp

A delicious Peri Peri shrimp appetizer before dinner at Bickers aan de Werf.
St. Martin's Day

As we walked to dinner, the street scene reminded us of Halloween. Young children, carrying what looked like goody bags, were out with their parents and stopping in at houses and businesses along the way. November 11th is

St. Martin's Day

, in honour of St. Martin of Tours, a fourth-century French bishop. St. Martin's Day is celebrated in differing ways throughout Europe—in the Netherlands, children walk door-to-door and are rewarded with candy for singing songs. Several groups earned candy at Bickers aan de Werf while we were there.
11/12/2018
Garbage

Several times we've seen people deposit garbage into a mailbox-sized container mounted in the sidewalk and wondered how the system worked. Today we learnt how when a truck came by opposite the marina to empty several. In the photo, all that normally is visible from the street is the smaller grey box on top. The driver lifted that box with a crane and out came the much larger silver box below, normally invisible under the street. The whole works was emptied into the truck and replaced street-side. This is a nice design in that, at street level, a garbage can not big enough to serve a single-family swelling can hold an entire apartment building's garbage.
Fresh from the Stream

After a heavy rain, Spitfire love to get outside for some "fresh from the stream" water. Here he is licking the pilot house hatch dry. He much prefers "wild" water to bowl water.
11/13/2018
Speculoos

Blog reader

Christopher Hylarides

recommended we try

Speculoos

, popular in The Netherlands and Belgium. The spicy spread has a caramelized, gingerbread flavour and is quite tasty.
METS

METS (Marine Equipment Trade Show), held annually in Amsterdam, is the largest trade exhibition of marine equipment, materials and systems in the world. This was our first time attending and we were amazed at the scale, with over 1,500 exhibitors from across the globe. Over two busy days we didn't come close to seeing it all.

Read more …
11/15/2018
12/8/2018
Christmas Tree

In Amsterdam, people carry everything from large families to Christmas trees on their bikes.
12/9/2018
Politie

The police make a pass through the marine every week or so. With our foreign ensign, it's rare that any police make an inspection of a marina and don't stop by and check on Dirona. Perhaps it's because of the the three visits the Dutch authorities have already made.
12/10/2018
Diesel

This is why we'd prefer to use electricity rather than diesel to power the boat: getting fuel on-board can be a real pain.
12/12/2018
Transmission

Transmission

is one of 29 displays in the the 7th edition of the

Amsterdam Light Festival

. The displays are mostly along the interior canals and designed to be viewed from the water as well as the shore. This year's theme is based on the famous quote by Canadian scientist Marshall McLuhan: "

The Medium is the Message

". The

Transmission

display evokes modern telecommunications through 19 wave-shaped tubes programmed to make the light appear to be moving through the air.
O.T. 976

Stefan Reiss's Amsterdam Light Festival display

O.T. 976

was inspired by string theory. But unlike string theory, this work is enjoyable evey when restricted to three dimensions. The work consists of three large planes folding over Eenhoornsluis bridge. Each plane containing dozens of cables onto which ever-changing colored geometric patterns are displayed. O.T. stands for Ohne Titel, ('without title') and 976 refers to the fact that this is Reiss' 976th artwork.
De Pizzabakkers

Back at De Pizzabakkers for another excellent meal. The food is delicious and we love the view over the balcony to the lower level and street.
12/13/2018
12/14/2018
Window Washing

This scaffolding to clean the windows has been out for a few days. Note the steadying post is unsecured over the water. The post is designed to ensure the scaffold doesn't tip over, in this case into the water and onto our boat beyond. The system is made more interesting by being on roller wheels only one foot from the edge. Who says window cleaning is boring?
Long Reach

This looks like a safer way to work than the

window washing

. These vehicles are remarkebly efficient, where both the passenger bucket can be raised and lowered from the bucket itself, but also the entire vehicle can be driven from there, even stretched out that far.
12/15/2018
Snow

The temperature was near-freezing overnight and we woke up to a beautiful snowy scene this morning.
12/16/2018
Swans

Hopeful swans looking for a handout.
12/17/2018
DHL Bicycle

We've seen a lot of different DHL delivery methods while in Amsterdam, so we starting to collect pictures of them.
12/18/2018
Westerkerk

Westerkerk Protestant church, completed in 1631. The ornate 286 ft (87 m) tower, Westertoren ("Western tower"), is the highest church tower in Amsterdam.
Anne Frank House

The Anne Frank House, famous world-wide as the house where

Anne Frank

hid with her family during the World War II German Occupation of the Netherlands. We plan to take the popular tour while we're in Amsterdam.
Dirty Chicken Club

Yummy beer-can-roasted chicken at the Dirty Chicken Club on restaurant-lined Warmoesstraat.
12/19/2018
Cafe Kobalt

Dinner at perpetually-packed Cafe Kobalt, a short walk from our marina.
12/20/2018
Bistrot Neuf

We were planning to have dinner somewhere new in one of the many restaurants along Haarmlemstraat, but everything that appealed to us was packed even though it was only 6:30pm. We must be into the Christmas restaurant rush. In the end, we reached Michelin Bib Gourmand Bistrot Neuf and opted for

another excellent meal

there. Here we are sharing a delicious Beef Rib with a bottle of Bordeaux.
12/23/2018
Happy Holidays

Wishing you all a Happy Holidays and that the New Year brings you plenty of success and fresh tuna.
12/25/2018
Christmas Breakfast

Fresh-made waffles with whipped cream and berries for Christmas breakfast.
Whipped Cream

Spitfire enjoying a little whipped cream from our Christmas breakfast.
Walking Tours

About a hundred people appeared on the street across the marina, possibly a cruise ship load out for a Christmas walking tour.
Amsterdam Canal Tour

Amsterdam has 165 canals, more than Venice at about 150, with a total length of 31 miles (50km). The city also has three times as many bridges over these canals than Venice, 1201 compared to 409. A canal tour of the city is a highlight of an Amsterdam visit&mcash;night and day, canal boats carrying tourists and locals alike constantly are plying the waterways. The canals were a little less busy than normal when on our Christmas Day cruise by tender, but plenty of boats still were out. It definitely was a great way to see the city.

Read more …
Christmas Dinner

After smelling the turkey cooking for several hours, everyone is ready for Christmas dinner. Spitfire sat down at the open place setting.
12/26/2018
Ice Festival Amsterdam

Christmas Markets, selling decorations, gifts, food, and drink, originated in Middle Ages Germany but now are common throughout Europe. A number of major markets are held in the Netherlands during the holiday season. Ice Village Amsterdam combines a market with another popular Dutch winter tradition, ice skating. An enjoyable 40-minute walking tour through central Amsterdam on Boxing Day brought us to the market, and on our evening return trip we took in the holiday lights and some of the Amsterdam Light Festival displays.

Read more …
12/27/2018
Nieuwe Kerk, Amsteram

Nieuwe Kerk (New Church) on DAM square in Amsterdam dates back to 1408. That may seem pretty old, but it's a century newer than Oude Kerk (Old Church). Nieuwe Kerk's spectacular 17th-century choir screen was the first to be made entirely of brass and its panelled main organ, lavishly decorated with gilding, paintings and statuary, is the largest historic pipe organ in the Netherlands.

As part of a walk into town to tour Nieuwe Kerk, we also stopped by Rokin Metro station to view some of the centuries of artifacts uncovered during the nine-year excavation along the Amstel River for the new North-South Metro line and checked out a couple of the Amsterdam Light Festival displays nearby. Read more …
12/29/2018
Maestro Card

After being

unable to pay

for delivered groceries using a foreign card, we opened a Netherlands bank account. We just received our Maestro card, the main debit card accepted in the Netherlands. We typically open a local bank account when we are going to be in a country for a while anyway, as it also simplifies online payments to local vendors.
Museum Cards

We also just received our Museum Cards, which give us free or discounted entry to about 400 Netherlands museums.
12/31/2018
Happy New Year

The Dutch LOVE their fireworks. The city literally erupted for several hours before and after midnight on New Year's Eve. The main show didn't exceed others we've seen, but the breadth of the displays was absolutely unrivaled. We walked more than five miles throughout town enjoying and taking pictures of the celebrations and fireworks leading up to midnight, and the main display. More on both:

Amsterdam Fireworks
Firenado

Massive bonfires are popular in the Netherlands on New Year's.

Jan Pieterse

sent us a link to one that got out of control this year, sending off a "firenado",

captured on video

, that sparked multiple fires.
1/2/2019
Power Outage

The marina staff needed to turn off the power at the shore pedestal briefly today for some maintenance. As soon as the power went off, our automation system responded by disabling turning off the HVAC and water heater (A/C and W/H indicators are black) since they would rapidly discharge the batteries without a power source. It also shut off both chargers (Chg#1 and Chg#2 are black) so there isn't an immediate draw when the power comes back. The system will reverse the process when power is restored, first turning on both chargers and then bringing the loads back online. While the shore power is unavailable, both shorepower indicators (Shr#1 and Shr#1) show in black. You can see the difference between the area outlined in red at the bottom of the screenshot compared to

normal operation mode

.
1/3/2019
La Oliva

A wide range of delicious tapas to choose from at La Oliva Spanish tapas restaurant on restaurant-packed Tweede Anjeliersdwarsstraat. We had a great meal over a bottle of Roija.
1/4/2019
2018 Timeline

James received a Google Maps 2018 Timeline summary email this morning, with a map showing all the places he had visited over 2018. One of the more interesting pieces of data included was that he'd visited ten countries last year. This was a lot more than we would have guessed, but added up when we counted them all. In order of first visited these were the UK, France, the USA, the Netherlands, Germany, Norway, Sweden, Denmark, Ireland and the UAE. We did even more travelling than usual last year.
1/6/2019
Anne Frank House

Anne Frank and her family hid from the Nazis for 25 months in a secret annex behind a 17th-century Amsterdam canal house. They eventually were captured and only Anne's father survived the concentration camps, but her story lives on through the diary she kept that has been translated to over 60 languages. Today we visited the excellent Anne Frank House Museum, where visitors can view pages from her diary, learn more about her life, and walk through the Secret Annex.

Read more …
1/8/2019
Rijksmuseum

The Rijksmuseum art and history museum was founded in 1800 in the Hague and moved to the current Amsterdam location in 1885. It's the largest and most visited museum in the Netherlands and annually sees over 2 million visitors. We spent much of our time there viewing the museum's treasures, including Golden Age masterpieces by Dutch painters such as Rembrandt, Jan Vermeer, Frans Hals and Jan Steen, and also taking in some works from their 20th-century collections.

Read more …
1/9/2019
Amsterdam Light Festival

The Medium is the Message

", the famous quote by Canadian scientist Marshall McLuhan, is the theme of the 7th edition of the

Amsterdam Light Festival

. The displays are mostly along the interior canals and designed to be viewed from the water as well as the shore. We'd seen several of the displays while walking through the city at night, and had a fabulous evening seeing them the way they are best viewed: from the water.

Read more …
1/11/2019
Container Risk

After sinking and fire, the threat of hitting things at sea is probably our next largest concern. Fortunately, the oceans are big and there really isn't much in the water. Having crossed all oceans and the Atlantic twice, we have seen lots of fishing gear, buoys, and parts of docks destroyed by storms but generally we don't see much floating debris offshore and what we have seen isn't a threat to hull integrity. In this category, the biggest concern is shipping containers lost at sea. These are plenty big and heavy enough to sink a boat so the risk is a real one. And on average, 1,390 containers are lost at sea every year. Again, the oceans are really big so this is spread over a vast amount of space and we suspect that the odds of loosing a boat to a meteorite strike is around the same probability. But 1,390 is still a very big number.

On January 2nd, the MSC Zoe lost 250 containers off the north coast of the Netherlands. We were just there a few months back, so the pictures of the containers washing up on shore from this loss seem particularly attention-grabbing.
Friends

After chasing his toy mouse all over the pilot house berth, an exhausted Spitfire promptly fell asleep holding it.
1/12/2019
Amsterdam Tigers

The Amsterdam Tigers are a semi-professional ice hockey team that play in Jaap Edenhal arena, a short train ride southeast of the city center. The complex is named after the famous Dutch speed skater Jaap Eden and includes the largest skating rink in the Netherlands, with a 1312ft (400m) lane. We hadn't seen a live ice hockey game since

attending a San Jose Sharks

match a years ago and had a great time at the Tigers game.

Read more …
1/14/2019
Bicycle Turn Lanes

We'd mentioned earlier that biking in Amsterdam's dedicated bicyle lanes is

much like driving a car

. This picture gives another example, and a sense of how busy the bicycle lanes can be. Here you can see separate right and left turn lanes for the bicyles.
The Waag

This castle-like building is the oldest surviving non-religious buildling in the city. It was originally built in the 15th-century as a gate in the wall surrounding medieval Amsterdam and in the 17th-century was used as a waag ('weigh house').
Amazing Oriental

Picking up some provisions at the well-stocked Amazing Oriental Asian grocery store.
Dunkin' Donuts

We haven't had a real Boston Creme donut since consuming the last of our

Newport donuts

during our 2017 Atlantic crossing and were happy to find a Dunkin' Donuts nearby in Amsterdam.
Rene's Croissants

At Rene's Croissants to pickup some pastries. Amsterdam has wonderful baked goods.
1/15/2019
Haarlem

Teyler's Museum of Wonder in Haarlem, opened in 1784, is the oldest museum in the Netherlands. It was funded to foster an interest in arts and sciences both through research and sharing discoveries with the public. Much of the museum has been preserved intact and entering feels a bit like stepping back into the 18th century.

Haarlem itself, a 15-minute train ride from Amsterdam, is a beautiful city to visit with other attractions including the Frans Hals museum devoted to the Dutch Golden Age painter and Bavo Church with its spectacular 5,086-pipe organ that stands 98 ft (30m) high. And just outside town is the Cruquius Museum, housing the world's largest steam engine. Read more …
1/16/2019
Thruster Wash

To avoid growth build-up, we run the hydraulic thrusters monthly. This the wash the forward thrusters throw underneath the dock and over to the marina wall, about ten feet away from the boat.
Tram

Taking the streetcar to pickup our new glasses from

Specsavers

. This the fourth form of public transit we've taken in Amsterdam. The others were the Metro subway, and the Sprinter and Intercity trains.
Haarlemmerbuurt

Looking down Haarlemmerbuurt from the west end after we'd gotten off the streetcar after picking up our glasses at Specsavers. We returned to

De Pizzabakkers

for another delicious meal.
1/17/2019
Delft

The city of Delft in South Holland is known as the home of Dutch Golden Age painter Johannes Vermeer and as the major 17th-century producer of Delftware, a Dutch ceramic product styled after Chinese porcelain. Much of the city dates from that period and is remarkably well-preserved, making it a popular day-trip destination in the Netherlands.

A half-hour's drive to the southwest is the Maeslantkering storm surge barrier, one of largest moving structures on Earth. The Maeslantkering, pictured above during a test, is designed to keep the New Waterway shipping canal clear for traffic to and from the busy port of Rotterdam, but will automatically close in the event of a storm surge to protect against flooding. Read more …
1/22/2019
Dawn

A beautiful pink dawn viewed from our berth at City Marina in Amsterdam.
January Trip to Seattle

In late January, we left a cold and snowy Amsterdam to make another return trip to Seattle. While there we spent time at the Seattle Boat Show and attended our first Nordhavn Owner's gathering since leaving Seattle in 2012. During the evening, PAE president Dan Streech presented us with two special pennants: one for having covered 70,000 miles in

Dirona

and an

Extreme Latitudes

pennant for crossing the

Arctic Circle

and beyond last summer.

Read more …
2/6/2019
Nordhavn Charter

While we were

in Southampton UK

last winter, we met Mika Naatula and Katri Rosenberg of Nordhavn 64

Sweet Hope

. They are great people who have boated in Finland, Sweden, and the Baltic Sea area for many years. We have heard so many great things about Finland and Sweden that we intend to spend next summer cruising the area and have been getting advice from Mika and Katri.

If you are also interested in the area, end up getting interested, or if you just want to spend some time learning about a Nordhavn, Sweet Hope is available for charter. It's a great boat and it's hard to get more knowledgeable hosts than Mika and Katri. More information at https://sweethope.fi/.
Deliveroo

Amsterdam has a number of on-line food delivery services supporting dozens of restaurants. We've been particularly enjoying the roast chicken from Rotisserie Amsterdam and find the

Deliveroo

app rather entertaining. Once an order is placed, an animated skillet tossing food indicates the order is being prepared. When the rider is underway, the animation changes to a peddling cyclist and we can watch their progress on a map in the app. As the rider approaches, the animation changes to an impatient diner banging their fist-held knife and fork.
2/7/2019
High Winds

A major storm system passed through the area, bringing gusts to nearly 40 knots and knocking over parked bicycles throughout Amsterdam.
2/12/2019
N62 Gray Matter

We first met Mark Mohler and Christine Guo of Nordhavn 62

Gray Matter

just north of Seattle in the

San Juan Islands

. We celebrated New Year's Eve with them that year in Victoria, Canada, later spent some with them on the

Columbia River

, and moored at the same

marina in San Francisco

. We frequently shared anchorages with them throughout the

South Pacific

and moored with them again for several months in

Brisbane

.

And now they are in exactly the same slip we moored at three years ago in Boston. Here's you can see it's cold enough that ice is starting for form around Gray Matter in Charleston Marina.
2/14/2019
NDSM Wharf

The NDSM wharf district in Amsterdam Noord was once home of the NDSM (Nederlandsche Dok en Scheepsbouw Maatschappij) shipyard until the 1980s. The area is in the process of revitalization, with a particular emphasis on companies in the creative sector, and is full of distinctive architecture and artwork. We took taking advantage of a warm and sunny Valentine's Day for a ferry trip across the IJ River and a walking tour through NDSM wharf and Amsterdam Noord.

Read more …
2/15/2019
Zaanse Schans

Zaanse Schans, north of Amsterdam, is one of the oldest industrial areas in the world and was particularly important in the 18th and 19th centuries. Over 1,000 windmills were built in the area to help produce linseed oil, paint, snuff, mustard, paper and other products. Today many of Zaanse Schans' remaining windmills are operating and open to the public as part of a large, outdoor museum.

On another beautiful February day, we took a train to Zaandam for lunch, continued by train to Zaanse Schans, then returned to Amsterdam by ferry. Read more …
2/17/2019
Bridge Lifting

We rarely see the bridge to our marina up to allow a boat to enter. There aren't that many boats in the marina to start with, and most either rarely move or can fit under.
2/18/2019
Rotterdam

Unlike historic Amsterdam, most of Rotterdam's buildings were constructed after World War II German bombers destroyed the central core. The city was rebuilt in a very modern style and although the traditional buildings visible through much of the Netherlands are beautiful, Rotterdam's contemporary and unusual architecture is quite appealing. Rotterdam also is full of statues and sculptures—over 150 are in the city center alone.

We took advantage of another sunny, warm February day to do a walking tour through the city, taking in the many unique buildings and sculptures. Read more …
2/21/2019
2/24/2019
Hotel Room

We noticed what were obviously tourists in the bridge control tower. Ton, the marina manager at IJDok, saw us looking up at the tower and explained: all these bridges are now remotely managed, and the control rooms have been converted into hotel rooms.
De Hus Asian Tapas Bar

A delicious meal at De Hus Asian Tapas Bar on Haarlemmerdijk, about a ten minute walk from the boat.
2/25/2019
Moving

An innovative way to move in and out of upper floor apartments: here a truck extends a ladder up to the seventh-floor apartment window and a platform is powered up and down the ladder, transporting personal effects. Essentially it's a temporary freight elevator for even quite-large furniture.
Cargo Bike

This isn't the biggest cargo bike we've seen, but it's up there.
Smoke

The marina filled with smoke this afternoon when a long-cold diesel engine was started.
Mojo

Another great meal with a fabulous canal view at

Mojo Japanese Kitchen

. Mojo seems to have the equation right where they have great food at good value and the fairly large restaurant is completely booked every night.
Piano

The person playing this public piano at Amsterdam Centraal Station was quite good and attracted a crowd.
2/26/2019
Meneer Nieges

On another unseasonably warm February day, we had lunch on the waterside patio at Meneer Nieges a few minute's walk from the marina. We arrived just before the lunch crowd and nearly every table was taken by the time we left.
La Motte Picquet

The French anti-submarine destroyer La Motte Picquet departed Amsterdam for sea while we were having lunch at Meneer Nieges.
IJDok

The narrow edge of this apartment complex at IJDok makes it look almost two-dimensional from certain angles.
Canal

The day was so nice we decided to go for a walk after lunch. This is looking down the canal Linjbaansgracht, built starting in 1612.
Cafe Sonneveld

We ended up outside

Cafe Sonneveld

in the vibrant Jordaan district, where we'd escaped a downpour in early January. But this time we sat outside in the sun.
Sloterdijkerbrug

Looking across canal boats along the river Prinseneilandsgracht to the Sloterdijkerbrug. The bridge looks old, but was built in 1952 in the traditional style.
2/27/2019
Foundation

A new foundation going into a canal house along Hartenstraat that runs between the innermost two canals in Amsterdam's canal ring. In the examples we've seen, what appears to be happening is the structure, held up by pilings and are getting dug out below and basements put in while the structure stands above.
Singelgracht

Looking north along the Singelgracht. The canal circled medieval Amsterdam and served as a moat for the city until the late 1500s.
2/28/2019
Morgan en Mees

A great lunch street-side at Morgan en Mees. The weather continues to be unseasonably warm for February, with the temperature in the low 60s F (15C).
Pilings

Another Amsterdam

canal house foundation

being replaced. The pilings visible on the left likely have supported the house since the 17th century.

Amsterdam canal houses were built on shifting marshland, each supported by roughly eighty Scandinavian pine trees pounded 40-60 feet (12-18m) into the earth. The piles were driven under the waterline, where they would be directly exposed to oxygen and rot, and continue to support many of Amsterdam's canal houses centuries later. They may not have rotted, but the piles have shifted over the centuries, causing some of the structures to list and lean, so it is a reasonably common practice to replace the foundation.
Moving

A ladder-based moving platform,

similar to the one

we watched the other day, but this one mounted on a trailer rather than a separate truck. Here you can see the portable freight elevator at work, where furniture is halfway up to being delivered at the second-floor apartment window.
Orphan Boxes

While walking to the

Rokin Metro station

, we passed through a courtyard outside the Amsterdam Museum. The museum is built on the site of an old orphanage and the "orphan boxes" visible in the walls are where the boys used to keep their tools. The cupboards now are part of a free-of-charge display detailing the building's history.
Amsterdam-Zuid

We took the Metro 52 to the southernmost station at Amsterdam-Zuid and stopped for an excellent lunch at Gustavino overlooking a fabulous display of daffodils. James is just visible on the patio at the left. The restaurant was packed inside with a business crowd, but surprisingly, we were the only ones choosing to enjoy eating outside.
Kamera Express

The reason we'd come to Amsterdam-Zuid was to pickup a spare camera battery, as we couldn't get a Lithium-Ion battery shipped to the Netherlands from outside the country. In fact, we couldn't even get Lithium-Ion batteries shipped from the European mail-order vendors that we tried. We got one at the vast Kamera Express outlet here.
Vinoly Tower

Escape staircases running along the outside of the distinctive Vinoly Tower in the Zuidas business district, viewed from the Amsterdam-Zuid Metro platform. The district is rapidly developing and the train station here is expected to become the 5th busiest in the Netherlands, with high-speed rail connections to Schiphol airport, Rotterdam, Belgium, France and Germany.
3/1/2019
iDEAL

Another advantage of having a

Dutch bank account

is we can make payments using iDEAL, a Netherlands e-commerce system. iDEAL allows real-time online payments without sharing sensitive information such as credit card numbers with the vendor and is used for over 50% of online transactions in the Netherlands. Some vendors we've used here either couldn't process a US credit card, required several days to process transactions other than iDEAL, or the use of other payment methods imposed a surcharge.

When we've used iDEAL, the vendor displays a code, pictured, that we scan using the bank app on our mobile phone. This generates a debit request from the vendor to our account that we approve in the mobile app and that completes the transaction.
Eetcafe Rosereijn

We've walked past Eetcafe Rosereijn on Haarlemmerdijk many times, but it usually was pretty full. We stopped in for an early meal today and had an excellent evening. The meal was delicious and reasonably-priced.
3/6/2019
The Hague

James has long had an interest in the famous Dutch graphics artist Maurits Cornelis Escher, whose work features mathematical objects and optical illusions. Naturally, the

Escher in the Palace

exhibit was high on our list for a visit to The Hague.

Read more …
3/8/2019
Tight Quarters

More than a dozen canal boats moor at City Marina. The boats are quite long for the small marina and the skippers are experts at maneuvering in tight places. Here they are working out of the spot in front of Dirona.
3/13/2019
Containers Blown Off Dock

We've been having quite a bit of wind where we are in Amsterdam and apparently nearby Antwerp, Belgium is as well. In this video, a stack of 40ft containers blows over in winds reported to be Beaufort 12 (more than 64 kts) winds. Full containers can run 70,000 lbs. Presumably these are empty but, even empty, that's more than 8,000 lbs each. What we find particularly scary is how nicely the container that landed in the water floats away.

The world shipping council might be motivated to under-report containers losses off ships but, even in their estimates, 1,582 containers are lost each year. We've seen estimates as low as 320 and has high as 10,000 but the 1,500 containers per year is a credible data point.

The video shows how well a light container can float. Keep in mind that most cargo is relatively light—far lighter than water—so even relatively heavy containers float distressingly well.
3/14/2019
Weather

We've been watching the weather for the past week in preparation for our departure from Amsterdam to the Baltic Sea. After wonderfully warm, clear and calm weather mid-February, storm after storm has rolled through the area over the past few weeks. This screenshot from Windy.com shows the winds at Heligoland, Germany over the next six days. Conditions look pretty miserable in the German Bight short-term, but it looks like the winds will be settling down early next week. When they do, we plan to go to to Heligoland to pickup a load of duty-free fuel and then continue into the Kiel Canal, through Denmark, and north to Sweden.
3/15/2019
Fighters Over Amsterdam

Yesterdam afternoon a KLM passenger plane swooped in over the marina with two fighter jets on each wing. They were MUCH lower than any passenger jet normally flys away from an airport, banking harder than they normally would, and on a route they don't normally fly. A jet escort of a commercial plane had last happened in The Netherlands on

October 6, 2018

when a KLM passenger plane en route from Dubai became violent.

We couldn't find any air shows scheduled or news reports of why the fighters were scrambled, but this morning found a write-up in the NL Times: Fighter Jets Escort KML Plane Across Amsterdam. It turns out it was an unannounced part of the celebration of 100 years of Dutch Aviation.
3/17/2019
Pontsteiger

The dramatic Pontsteiger building in Amsterdam, viewed from the ferry to NDSM Wharf. We decided to head over to the north shore for lunch.
Submarine B80

The Russian Zulu class submarine B-80 moored off the ferry dock at NDSM wharf as we return back to Amsterdam Centraal. The vessel was brought to the Netherlands by submarine enthusiasts and later sold as a party boat. We liked the idea of a waterfront party, but we're not sure that a small tube with no windows is the right venue.
De Bijenkorf

We'd walked past de Bijenkorf department store in Amsterdam several times, but had never gone in. The complex is huge, covering multiple floors and selling brands ranging from Swarovski Jewelry to Levis jeans. We went for the jeans. :)
Formula 1: Drive to Survive

We've been really enjoying the show

Formula 1: Drive to Survive

, covering the 2018 Formula 1 season. The race footage, interviews, and commentary really bring you into the center of the competition. The final episode covers the Abu Dhabi Grand Prix. As we watched, we were commenting on how fun it was to be there in Abu Dhabi to see many of the scenes, events and places covered in this episode. We were walking along pit road when the Red Bull team got together for an

end-of-season photograph

and then posed for a more lighthearted one with departing driver Daniel Ricciardo. We were standing only ten feet behind the camera operator when this scene was shot.
Hey, that's Us!

After showing the Red Bull team photo on

Formula 1: Drive to Survive

, the scene backed away from the team and swept across the sea of photographers getting that shot. That's us in the ace viewing position, partway up the stairs to the official's position over the start-finish line.
3/18/2019
Departing City Marina

We plan to depart Amsterdam at 5am tomorrow morning and decided to moor on the other side of the bridge tonight to not waste any time waiting for a bridge opening. The bridge is operated remotely on a central system by dailing a number and supplying the bridge code. After testing the number this morning, we couldn't connect to the system on two different phones and neither could the harbourmaster. He eventually telephoned someone who was able to open the bridge. If that had happened tomorrow morning when we left, our departure would have been delayed for hours.
Aitana Hotel

After being in Amsterdam for over four months, it's strange to see the Aitana Hotel without Dirona in front of it.
Outside Mooring

We moored for the night on an outside wall that is part of City Marina. It was a fun place to be, with a great view of the river. With no power, water or security, it's not a good spot for a long-term stay, but it's a pretty awesome place to visit.
Cafe Kobalt

A final dinner in Amsterdam at Cafe Kobalt, with their highly-relaxed resident cat visible behind.
Amsterdam At Night

Dirona and the city, aglow at dusk, as we return from dinner. What a fabulous berth, and Amsterdam has been an amazing home base over the last four months.
Click the travel log icon on the left to see these locations on a map, with the complete log of our cruise.

On the map page, clicking on a camera or text icon will display a picture and/or log entry for that location, and clicking on the smaller icons along the route will display latitude, longitude and other navigation data for that location. And a live map of our current route and most recent log entries always is available at mvdirona.com/maps.