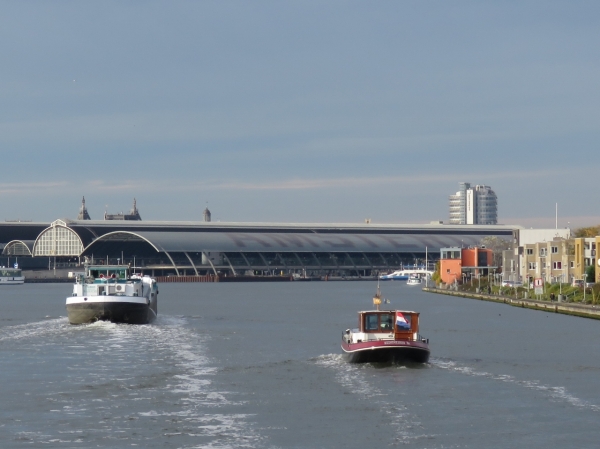 Way back in March of this year, while still in London, we booked a berth for the winter at City Marina Amsterdam starting November 1st. We'd had an incredible summer cruising Norway, but were now looking forward to spending some time exploring the Netherlands capital. We arrived into Amsterdam on November 1st after a 26-mile run from Hoorn and through two more bridges and a lock before finally reaching our winter berth. As is typically our custom, we spent the afternoon walking through the city on foot. We only scratched the surface though—Amsterdam has a lot to see and we'll enjoy exploring it.
Below are trip highlights from November 1, 2018 en route to and in Amsterdam. Click any image for a larger view, or click the position to view the location on a map. And a live map of our current route and most recent log entries always is available at mvdirona.com/maps
Traffic

Heavy traffic in the shipping channel into Amsterdam as we approach at 7:30am on morning run from Hoorn.
Typhoon

The barge Typhoon passing us heading north. Since the barges operate only in sheltered, inland waters, they don't need much freeboard.
Overtaking

The water outside the lanes was too shallow, so we tucked just inside. This overtaking barge gave us as much room as was available, but it was still pretty close.
Rush Hour

Rush-hour traffic heading in and out of a tunnel under the waterway just past 9am.
Four Rudders

This canal barge has four rudders for more control in close-quarters.
Schellingwoude Bridge

A sailing canal barge passing through the Schellingwoude Bridge eastbound.
Green Light

Once the sailing canal barge passed through, we got a green light to proceed through the open Schellingwoude Bridge.
Oranjesluizen

Entering Oranjesluizen, our final lock on the journey from Denmark to Amsterdam. A large commercial barge is on the left and we'll tuck in behind the pleasure craft on the right.
Swan

Swan looking for handouts in Oranjesluizen. We're right up against the lock wall on the starboard side and there's not much space to port. We're lucky we fit.
Locking Through

Locking through westbound, with the lock chamber to the left filling with eastbound vessels.
IJ River

We're now on the IJ River, Amsterdam's waterfront, where Dirona will be for the next four months. The long buildings in the distance are Amsterdam Station. (IJ is a digraph pronounced roughly 'ay', like the first letter in the English alphabet.)
Pedestrian Bridge

The Oranjesluizen was our final lock, but we still have one more bridge to pass under before we're officially in our winter home.
Tight Moorage

Backing into our berth was challenging. We were inches off a boat to port, were nearly touching the bridge itself, and our bow pulpit completely overlapped the bridge channel pilings with only inches to spare there as well. Here Jennifer is checking the clearance off the second set of bridge pilings, not visible under our pulpit.
Moored

Moored at City Marina IJDok in Amsterdam for the winter. Our

dual shorepower system

, that we designed specifically for spending the winter in this marina, is working like a champ.
City Marina IJDok

Looking across City Marina IJDok from the pedestrian bridge we just passed under. The marina is quite small—we were lucky to get a winter berth in such an awesome location right in downtown Amsterdam.
Bicycle Storage

This double-layer bicycle storage rack outside Amsterdam Station contained thousands of bikes.
Unloading

When the passenger ferries unload, you don't want to be in the way. When the gate opens, pedestrians, cyclists and scooters shoot off the ferry like the start of a horse race.
More Bicycle Storage

Another huge bicycle storage area on the other side of Amsterdam Station.
Brew Pub

Our first meal in our new temporary home, Amsterdam, at the Brouwerij de Prael microbrewery.
Canal Boat

One of the dozens of tour boats that ply Amsterdam's canals. Waterways run throughout the city, giving it a real Venice feel.
Garbage

Garbage dredged up from the canals in this scow intrigued us. A lot of bicycles met their end in the water.
Basilica of Saint Nicholas

Looking down another Amsterdam canal to the spires of the Basilica of St. Nicholas.
National Monument

The National Monument, a World War II memorial erected in 1956 in Amsterdam's Dam Square.
Royal Palace

The 17th century Royal Palace on Dam Square in Amsterdam was initially built as a city hall and is one of three palaces at the disposal of the Dutch monarchy.
Click the travel log icon on the left to see these locations on a map, with the complete log of our cruise.

On the map page, clicking on a camera or text icon will display a picture and/or log entry for that location, and clicking on the smaller icons along the route will display latitude, longitude and other navigation data for that location. And a live map of our current route and most recent log entries always is available at mvdirona.com/maps.