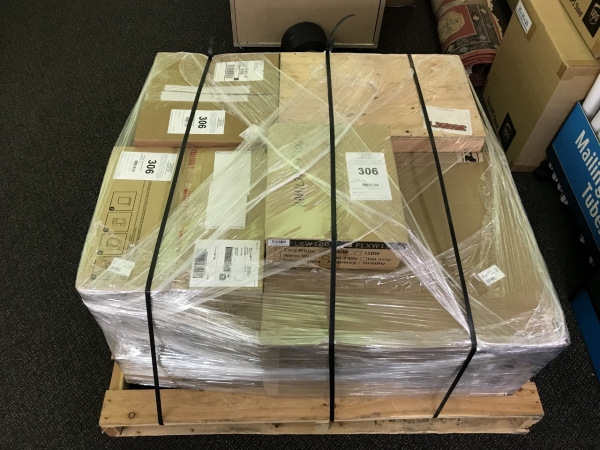 In May of this year, while cruising Arctic Norway, we ordered two new Accu-Steer HPU 200-24 steering pumps from Emerald Harbour Marine in Seattle after our Accu-Steer HPU212 steering pump developed serious bearing noise. This actually was our secondary pump that we'd switched to when the primary started leaking. Both pumps were still fully-operational, but we didn't expect either would last a long time. So we ordered two new replacement pumps and planned to ship them via sea freight to Amsterdam, where we would be spending the winter starting in November.
Each steering pump weighs about 88 lb (40 kg) with packaging, and we weren't in a rush to get them, so sea freight to Amsterdam was an ideal shipping mechanism. Back in 2013, we'd learned how cost-effective sea freight can be when we tried to source a bank of house batteries in Whangarei, New Zealand. The shipment to Amsterdam would be our fourth sea freight pallet delivery since leaving Seattle: after the shipment to Whangarei, we shipped a second pallet to Wellington, New Zealand and a third to Melbourne, Australia.
A month after we'd ordered the pumps, while still cruising in Arctic Norway, the secondary pump failed entirely and so we switched back to the primary. Both pumps were experiencing bearing failure and, since we were dangerously close to having no operational autopilot pump, we couldn't wait until the sea freight delivery in the winter to get a replacement. Fortunately the pumps hadn't yet shipped, so we asked Emerald Harbor to ship one via air freight to Trondheim, Norway. Air freight is quite fast, so the pump would reach Trondheim around the same time we would. The pump arrived quickly and wasn't that difficult to install, but it did cost just over $600 to ship air freight.
We shipped the second pump to Amsterdam via sea freight, along with a bit more than a half cubic meter of other heavy and difficult-to-ship parts. This shipment would proceed us to the Netherlands and the local shipping company handling it for us, Intervracht, would keep it in storage until we were ready to take delivery. The pallet arrived into Amsterdam a few days after we did, and we spent the day unpacking, stowing and installing the contents.
Below are highlights from November 5th, 2018 in Amsterdam, Netherlands. Click any image for a larger view, or click the position to view the location on a map. And a live map of our current route and most recent log entries always is available at mvdirona.com/maps
Pallet

The pallet

that we shipped to The Netherlands from Seattle this summer just arrived.

Intervracht

handled the transport efficiently and cost-effectively, including storing the shipment at their warehouse in Rotterdam for several weeks until we arrvied in Amsterdam.
Folding Cart

Amazingly, we were able to fit the entire pallet contents into our

folding cart

for transport to the boat. In addition to a new steering pump, the pallet also included a few bulkier or heavier items that couldn't come back with us in our baggage, including a replacement upholstery set for our Stidd helm chair, a spare Lenovo monitor, an water pump accumulator tank, an LED deck light, a loudhailer and two axial engine room fans.

That cart has proved invaluable on many occasions, as many of the marinas we've stayed in throughout the world don't supply carts. And it's incredibly strong and durable—it had no trouble carrying the nearly 200lb (90kg) pallet contents all the way down a flight of stairs. (Perhaps the only negative of City Marina is there's no approach from the street that doesn't have stairs).
Bare Stidd

One of the items in our pallet was replacement upholstery kit for our Stidd helm chair that was worn through to the foam in many places. This is what the chair looks like without upholstery.
Not As Comfortable

James trying out the bare-metal Stidd chair. Definitely not as comfortable.
Installing New Upholstery

The old upholstery came off easily and the new went back on quickly. The job was complete in under a half hour.
Stidd Chair

Our Stidd chair is effectively brand new again. Stidd had the original ulraleather color on record and ordering the replacement upholstery kit was an easy process. With the excellent job

Mike Homer

did in Southampton of reupholstering the settee, the pilot house is looking pretty spiffy again.
Craning

The heaviest item in the pallet was the second new Accu-Steer HPU 200-24 steering pump. As we did when the first pump arrived

air freight to Trondheim

, we craned the 88lb (40kg) box onto the swimstep where we pry-barred the crate open, unbolted the new pump, and together carried it down to the lazarette.
Click the travel log icon on the left to see these locations on a map, with the complete log of our cruise.

On the map page, clicking on a camera or text icon will display a picture and/or log entry for that location, and clicking on the smaller icons along the route will display latitude, longitude and other navigation data for that location. And a live map of our current route and most recent log entries always is available at mvdirona.com/maps.