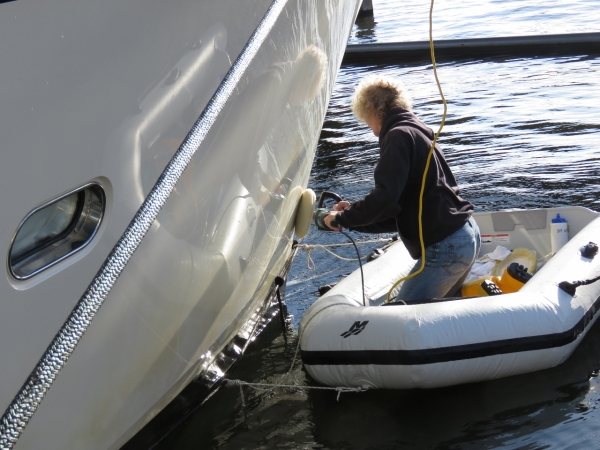 During our first two weeks in Amsterdam, we did what most newcomers to the city do: we waxed the boat :). Waxing the boat is one of the few jobs we typically hire out, but we want to get rid of that brown "Kiel Canal moustache" on the bow right away. Arranging for someone else to do it, particularly on short notice, always is a hassle in a new city. We also had some fun during that period, particularly checking out some of Amsterdam's many excellent restaurants.
Below are trip highlights from November 1st through 12th, 2018 in Amsterdam, NL. Click any image for a larger view, or click the position to view the location on a map. And a live map of our current route and most recent log entries always is available at mvdirona.com/maps
11/1/2018
Wax




Getting our boat wax ready for the wax job tomorrow (we're using

3M Marine Cleaner and Wax

). Unfortunately the wax had settled out after sitting around for a few years and no amount of shaking would loosen it up. Also, one of the two one-gallon containers had cracked.

We were able to get the wax flowing well again by warming the containers in boiling water. We then transferred it from the one-gallon containers into more manageable and durable squeeze bottles. We use the squeeze bottles to apply the wax and we found if they're filled no more than two-thirds full, vigorous shaking will get the wax flowing again.
11/2/2018
Micro-Tender




We used the micro-tender a lot in the South Pacific through Australia, where it was ideal for surf landings or long, shallow beaches without enough water to float the big tender. We haven't seen those conditions for years, so it hasn't been used since

Cumberland Island

in Georgia in early 2017. The dock we're on doesn't extend all the way down the hull, so the micro-tender is our best option reach the bow.
Wyers




A relaxing meal at Wyers on Nieuwendijk after a long, tiring day of waxing the boat.
IJ River




Evening view to the Amsterdam waterfront as we return to the boat after dinner. The brightly-lit tower on the left is the A'DAM Tower, a converted former Royal Dutch Shell oil company office building that is one of Amsterdam's newest attractions with bars, nightclubs, a revolving restaurant and a four-person swing that extends out over the edge of the building.
11/3/2018
Sunrise




Beautiful pink sunrise looking over the pedestrian bridge from our berth at IJDok City Marina in downtown Amsterdam.
11/4/2018
Brow




James waxing the brow suspended from a climbing harness bolted to our bimini mounts. Waxing the boat is a big job, and is why we normally hire it out. But the quality of the work is quite variable and it can be difficult to arrange quickly in a new city.

We weren't able to find anyone to wax the boat in Kinsale, Ireland after our Atlantic crossing and ended up waxing the stack ourselves. And the last wax we had done early this year only got about half the boat done and, at that point, had already wound up a £4,000 bill. At that price, we decided to take a run at it ourselves.
Looking Better




Local Ruud Nederveen sent us a photo he took of us at work waxing. The job is tiring but rewarding—Dirona is looking so much better now.
Los Pilones




An excellent meal, after another big day of waxing, at Los Pilones mexican restaurant in Amsterdam. We'll be back.
11/5/2018
Washing Machine




We had a moment of concern when the washer went into a fault mode where it just dumped water down the drain rather than fill—both the drain and the fill were open at the same time. We thought of all kinds of mitigations, including using the marina laundry facilities, picking up a replacement part in Seattle since we'd be there soon, or even having a new one shipped sea freight to Amsterdam as we'd be there long enough.

But it appeared to be a control systems bug where if you restart a cycle at just the right moment, or rapidly rotate the mechanical control, the drain valve close isn't triggered and it stays open. After restarting the cycle it appears to be operating correctly now and we suspect it will continue to operate fine. Essentially, it's a design bug rather than a worn mechanical control system part.
Power Washer




Our

power washer

, that we find super-useful for cleaning the boat, stopped working. James found a faulty RCD and it's now back operational.
New Berth




Today we moved the boat because we were offered a berth that is more sheltered from the weather with a bit better view of town, has less boat traffic in the area, and is a more secure place to tie off to. It's great to see and

Dirona

looking all clean and shiny again with that brown "

Kiel Canal moustache

" gone.
Pallet




The pallet

that we shipped to The Netherlands from Seattle this summer just arrived.

Intervracht

handled the transport efficiently and cost-effectively, including storing the shipment at their warehouse in Rotterdam for several weeks until we arrvied in Amsterdam.

Read more …
Haarlemmerdijk




Looking down beautiful Haarlemmerdijk on our way to dinner. We had a busy day unloading and stowing the pallet contents, but not as tiring a day as waxing.

We're enjoying what we call the "Hawaii lifestyle" in Amsterdam. We both were working full-time when we were living in Honolulu, so we'd work aboard all day and then walk somewhere for a relaxing evening and dinner.
No Cash




In contrast with Germany, where most restaurants were

cash-only

, De Pizzabakkers doesn't even accept cash (top right).
De Pizzabakkers




We had exceptional pizza dinner and a great experience at tiny De Pizzabakkers. The restaurant has only about ten tables and they were full almost the entire time we were there. We'll be back for sure.
11/6/2018
Waxing Stack




Jennifer, secured with a climbing harness, waxing the top of the stack. We spent much of our of our fourth day of waxing doing the stack and portions of the flybridge. We have one more day to complete the entire job, so it's basically a five-day job for us. We figure if we could allocate one day a month, or twelve days a year, to do a section of the boat, we could keep it well-waxed. Or, we could pay someone to do it. We'll see if temptation wins. :)
Andre Verhoek




Blog reader Andre Verhoek stopped by for a visit and a tour of Dirona today. He and his wife Annemarie live aboard Liberty, a beautiful steel Stentor motoryacht moored near Amsterdam. They have cruised Liberty through Denmark and up the Swedish west coast up to Oslo and have been sending us lots of helpful advice and recommendations as we travelled south from Norway to Amsterdam. It was great to finally meet in person.
IJ River




Looking east along the IJ River as we walk out in the evening for dinner. Amsterdam sure is beautiful—we're just loving it here.
De Gouden Reael




We didn't have a particular destination in mind for dinner and were just out walking until something caught our fancy. The warmly-lit De Gouden Reael with canal-view tables was just the ticket. We enjoyed talking with the proprietor over a pre-dinner drink.
Mmmm … Chicken




The specialty of De Gouden Reael is rotisserie-roasted chicken. We hardly had to look at the menu to decide what we wanted for dinner.
Dinner




After our pre-dinner drink on the main level, we had a delicious meal upstairs at De Gouden Reael with a view across the canal to the river beyond. We suspect we'll be back.
11/7/2018
Sunrise




Another great sunrise from our berth at IJDok City Marina in Amsterdam.
Dutch Customs




Dutch Customs came by today with a few more questions about the boat's VAT status. We suspect our American flag will "capture" a few more Dutch officials before our visit is done.
11/9/2018
De Kledingspecialist




At De Kledingspecialist to drop off a dress for alteration.
Like a Local




Jennifer shopping by bicycle like a local. Well, not exactly. Hardly anyone wears a bicycle helmet here and panniers such as our yellow

Ortliebs

are pretty rare too. And our bicycles definitely aren't the sturdy Dutch standard. But other than that, just like a local. :)
Deluge




James made a two-day work trip to Dublin and a major storm delayed his return flight. Rain fell so hard at Dublin airport that it was pouring inside some parts of the terminal.
11/10/2018
Multilingual




Spitfire can be a picky eater, so we left London with enough cat food to get us to Amsterdam to avoid the hassle of having to test and purchase food for him in Norway. Now that we're in Amsterdam, we have more time to try out various foods to see what he likes. This one is translated into an impressive twenty-five languages.
Canal Boats




Amsterdam has more canals than Venice. We don't know if it has more canal boats, but there sure are a lot out there based on the AIS targets.
11/11/2018
Grey Water Sensor




The gray water tank sensor was clogged with hair, causing rapid cycling at the control panel the past few days.
Bickers aan de Werf




The weather has generally been clear and sunny most of time we've been in Amsterdam so far. But that

storm

James encountered in Dublin seemed to arrive here yesterday. We managed to time our 15-minute walk to and from Bickers aan de Werf between several torrential rain storms. The restaurant is situated canal-side with an outdoor patio that must be wonderful in dry weather.
Peri Peri Shrimp




A delicious Peri Peri shrimp appetizer before dinner at Bickers aan de Werf.
St. Martin's Day




As we walked to dinner, the street scene reminded us of Halloween. Young children, carrying what looked like goody bags, were out with their parents and stopping in at houses and businesses along the way. November 11th is

St. Martin's Day

, in honour of St. Martin of Tours, a fourth-century French bishop. St. Martin's Day is celebrated in differing ways throughout Europe—in the Netherlands, children walk door-to-door and are rewarded with candy for singing songs. Several groups earned candy at Bickers aan de Werf while we were there.
11/12/2018
Garbage




Several times we've seen people deposit garbage into a mailbox-sized container mounted in the sidewalk and wondered how the system worked. Today we learnt how when a truck came by opposite the marina to empty several. In the photo, all that normally is visible from the street is the smaller grey box on top. The driver lifted that box with a crane and out came the much larger silver box below, normally invisible under the street. The whole works was emptied into the truck and replaced street-side. This is a nice design in that, at street level, a garbage can not big enough to serve a single-family swelling can hold an entire apartment building's garbage.
Fresh from the Stream




After a heavy rain, Spitfire love to get outside for some "fresh from the stream" water. Here he is licking the pilot house hatch dry. He much prefers "wild" water to bowl water.
Click the travel log icon on the left to see these locations on a map, with the complete log of our cruise.

On the map page, clicking on a camera or text icon will display a picture and/or log entry for that location, and clicking on the smaller icons along the route will display latitude, longitude and other navigation data for that location. And a live map of our current route and most recent log entries always is available at mvdirona.com/maps.