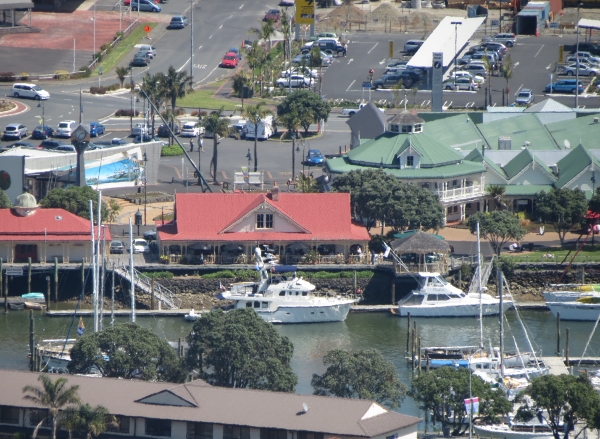 We love Whangarei. It's a beautiful town, we enjoy the restaurants, and we have the primo spot in the Town Basin Marina in front of Reva's restaurant. Another advantage of Whangarei is you can get great service work done at reasonable prices. A broad selection of trades is available in Whangarei and that is a big part of why we ended up coming here. Dirona needed bottom paint, zincs, and other service items and, for that work, we selected Norsand boat yard. Getting a boat lifted out of the water and work done on it is always a bit of a stressful process in that mistakes are always possible. Norsand are professionals and the work done was excellent.
The combination of good availability of chandleries, specialized engineering firms, and specialist in hydraulics, filters, fasteners, etc. make Whangarei a great place to get boat projects done, so we decided to take on a few additional jobs. An important one was the replacement of our house battery bank after one battery suffered thermal runaway. The bank is five years old, which is arguably early for replacement. But they have done far more than the manufacturer-estimated 1,000 cycles down to 50% charge lifetime, so we can't complain too much.
Sourcing the batteries yielded some surprises. We needed eight Lifeline GPL-8DL and, when buying in that number, price is important. The quotes we were able to get around New Zealand were very fairly uniform around $1,175 NZD (about $980 USD) per battery. Almost all quotes were for the standard New Zealand retail price, without any discount for buying eight batteries and spending more than $9,400 NZD in a single purchase. The US quotes for eight batteries were just over $625 USD per battery–more than 35% less. We expected that the cost of shipping a half ton of merchandise, however, would exceed the price advantage, so our natural inclination was to not even consider shipping them.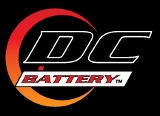 The interesting lesson here is that shipping can be amazingly cheap. The batteries were shipped from DC Battery Specialist in Florida to Auckland New Zealand for only $553.18 using sea freight. The disadvantage of sea freight is it is slow, taking just a bit more than 30 days, but it is incredibly cheap. We prefer to buy locally when we can but, in this case, we saved just over $2,000 purchasing batteries in Florida. The local installation was done expertly and carefully by McKay Marine Electrical of Whangarei.
On the day the batteries were scheduled to arrive, we emptied all non-fixed items from around the banks in preparation for the install. We had a huge amount down there–the contents practically filled the cockpit.
We took advantage of having the lazarette emptied to give it a good scrub-down. Six of the batteries (banks two, three, and four), are in the aft section of the lazarette, pictured above. The other two batteries (bank one) and the start batteries are port-side in the forward section of the lazarette, in a cabinet to James' right in the picture below.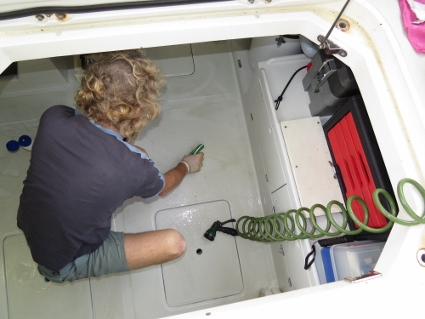 When the batteries arrived later that morning, the truck driver dropped the pallet off just behind the marina office. So far, so good. The batteries looked correct and without damage after their trans-ocean crossing. The next problem was how to get the half-ton of batteries (8 at 156 pounds each) from the parking lot to the boat. Jennifer has a rule, admittedly violated when moving our 135-pound Mirage M-3si speakers years ago, that she won't help move something that weighs more than she does.
The Whangarei Fire Department came to our rescue. Two trucks just happened to be here, and the firemen offered to carry the batteries down for us so long as they didn't get a call. They made quick work of the job, and seemed to be having fun with it–certainly more fun than we would have had. And the emergency call did come in, right after they'd finished the hard work.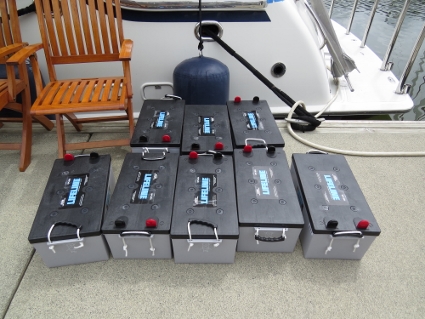 In the first photo below, James and Ben Haselden of McKay are sliding out the six aft-most batteries that make up banks two, three and four. The second photo shows the area after the batteries have been removed.
A large void area is underneath the batteries, but unfortunately the only access is through the top where the batteries sit. This is an unfortunate waste of space–we might put in an access panel at some point.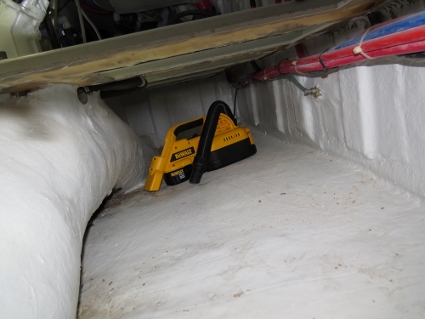 Because we can switch each bank on and off independently, a nice design on Nordhavn's part, we were able to do the whole job without having the boat's power down for more than a few minutes: bank one supplied power until we had replaced and enabled bank four. After Ben slid in two of the new batteries for bank four, James hooked them up and enabled that bank so we could disable and remove bank one. Standing next to Ben in the third and fourth photo below is Ben's manager, Denis Crene (pronounced "crane") of McKay, who came down to help with the job. Denis amazingly could lift one of those 156-pound batteries from the lazarette and up to the deck on his own–he says it's no accident his last name is Crene.
All eight new batteries installed:
The final result, with the banks labelled and the lazarette equipment all back in place:
McKay disposed of the eight old batteries for us. From battery arrival to final disposal, the entire job took only three hours. Shipping took just over a month, but we weren't in a rush and the total price was much more economical than sourcing the batteries locally. When looking at purchasing options, don't rule out sea freight as an ingredient in the solution.