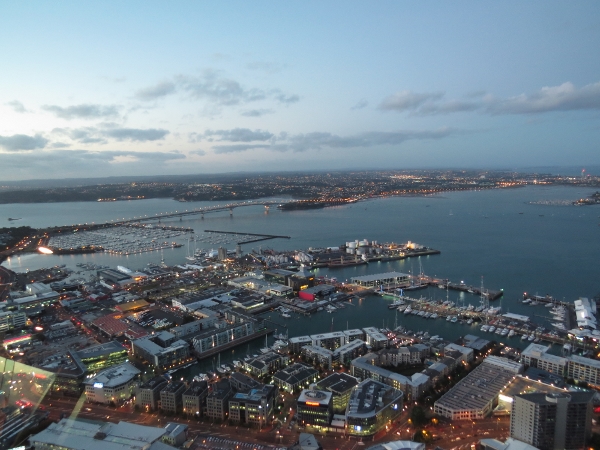 Auckland's Sky Tower stands 1076 feet high and is the tallest freestanding structure in the southern hemisphere. On a clear day, the views from the tower are spectacular. Besides several restaurants and observation decks, visitors also can experience the tower from the outside, either through a Sky Walk or a Sky Jump. Sky Walk participants are tethered to a ring that circles the permiter of the tower, and take a full-circle outside tour on the edge, 646 feet up. A Sky Jump is a bungee jump from the same height to street level. Bungee jumping is popular in New Zealand. Kiwi A. J. Hackett, invented the activity here inspired by the land divers in Vanuatu. The pictures below show a Sky Jumper leaping from the tower, viewed from street level.
Below are some views 636 up from level 53. The cone-shaped mountain visible in the distance across Auckland Harbor is the inactive volcano on Rangitoto Island that we'd hiked up earlier.
Level 53 also is where the Sky Walk and Sky Jumps take place. Participants are dressed in special jumpsuits and transferred to this level through a dedicated elevator. For Sky Jump, they are taken to a staging room that is locked from the jump room. One participant at a time is brought into the jump room and carefully connected up for the jump. Below are a couple of photos of a group in the staging room while the first of their party makes a jump.
The video below shows the Sky Jump process from start to finish, starting with a group at ground level in their suits, then with shots from level 53 as a jumper is prepared and jumps, and ending with a view down from the Sky Deck to Sky Walkers and a jumper. The spool that releases in the bungee cord is cone-shaped with different "gear" levels that decrease the amount of line let out per rotation to slow the descent near the end.
Sky Deck, at 722 feet up, is the highest of the publically accessible levels. The views there were even better. In the last picture below, Auckland's second harbour, Manukau Harbour, is visible to the west of the city.
Even the tower elevator ride was interesting. Through the glass floor, you can watch as the elevator ascends and descends. This video we shot of the descent looks like something from a science-fiction movie.
We bought tickets that allowed for a second entry within 24 hours, and returned after dinner for an evening view as the sun set.