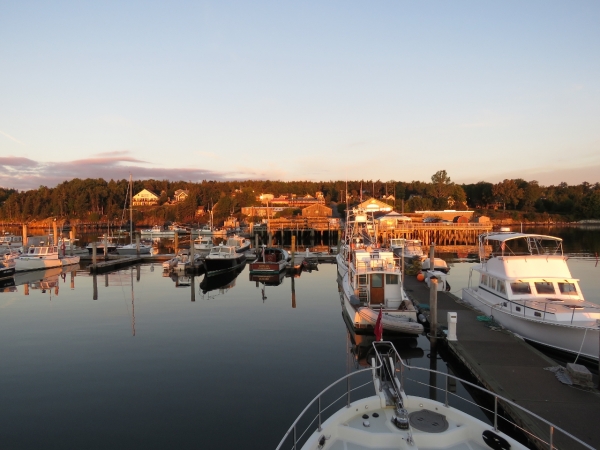 The Hinckley company was founded at Southwest Harbor, Maine in 1928 and continues to operate there today. We spent two excellent weeks there at Dysart's Great Harbor Marina, where the docks are full of beautiful Hinckley jet-drive boats. We completed several large boat projects, including changing our engine mounts, and also spent time visiting nearby Acadia National Park and Bar Harbor. And we learned that Jennifer's clavical pin was ready to come out and scheduled her for surgery in Bangor, Maine.
Trip highlights from September 23rd through October 7th, 2016 in Southwest Harbor, Maine follow. Click any image for a larger view, or click the position to view the location on a map. And a live map of our current route and most recent log entries always is available at http://mvdirona.com/maps
9/23/2016
Packages




We'd built up a good list of things to buy over the past two months and a lot of packages waiting for us when we arrived at Dysart's Marina. We actually didn't buy everything on our list, just the items we needed short-term. We'll get the rest at our next longer-term stop later this year.
Sockets




One of the packages contained a set of 3/4-inch-drive sockets ranging from 19mm to 50mm. We've needed bigger sockets for several jobs over the past few months and will need some for replacing the engine mounts.
More Sockets




We also got a set of large 1/2-inch-drive deep sockets ranging from 8mm to 36mm.
Nordhavn Gathering




We're moored right in front of Nordhavn 47 Bluewater and across from Nordhavn 68 Grace of Tides and all got together on Bluewater that evening. Milt and Judy Baker of Bluewater are wearing dark shirts and Dee and Jerry Fraelic of Grace of Tides are seated leftmost and center. It was great to meet Dee and Jerry, and to see Milt and Judy again—we last saw them back in 2011 when they dropped by to visit us on Dirona in Seattle.
9/24/2016
Morning Sun




The morning sun lighting up the shore above Dysart's Great Harbour Marina. The location is beautiful and we've very happy to be here. It's only been two months, but we were suffering from severe Amazon Prime withdrawal symptoms.
9/25/2016
Thermal Switch




Among the

packages waiting for us

was a new thermal fuse for our dryer that had

failed while we were in Newfoundland

. The thermal fuse is a safety feature required for US dryers to prevent the dryer from overheating. Unfortunately the fuse is not resettable and we didn't have a spare. Steve Coleman had a great suggestion of replacing the fuse with a manually-resettable one so we don't have to replace the entire fuse if it trips again. On the left is the old fuse and on the right is our fancy new manually-resettable fuse. We left a small hole open in the back of the dryer panel after installing the new fuse and now we can just remove the panel at the back of the wet locker and press the button if the fuse ever trips again.
Low Tide




The Gulf of Maine is home to the largest range in tidal ranges on the planet. In the Bay of Fundy, just north of the Maine coast, the tidal range is an astonishing 50 feet. The maximum tidal range in Maine is only about half that, and is about 13ft at nearby Bar Harbor. We've so far seen an 11.8ft range, with a high tide of 18.4ft and a low tide of 6.6ft on -0.1 and -0.2 low tides. That's exactly our draw, so we don't want any less than that. That does mean we'll need to move by October 14th when the low tide will hit -0.4 and then -1.4 by the 17th. We save all telemetry every five seconds to a database. That's all navigation equipment data, electrical data, weather system data, and the state of many switches throughout the boat, all saved to the database every five seconds and kept indefinitely. We love having that data. We'd only noticed a minimum depth of about 7.5ft in glancing at the Maretron display in passing, but a quick database query showed nearly a foot less than that.
9/26/2016
Acadia National Park




Acadia National Park is Maine's most popular tourist destination, with miles of rocky coastline and fabulous mountain-top views. With a clear and calm forecast, we spent the day taking in the highlights and natural beauty of this impressive park.

Read more …
9/27/2016
Upper Deck




Dinner at the Upper Deck pub overlooking the marina with Real Ale, an English Brown Ale from Altantic Brewing Company of Bar Harbor.
9/28/2016
Breakwater




Dropping a rock into place in the new breakwater east of the marina.
Rear Engine Mount




We attempted to change the engine mounts shortly after arriving at Bras d'Or Lake and found that we had the wrong parts. And the rear mounts could only be removed by cutting them off, so we needed some new parts there as well. These all arrived at Southwest Harbour shortly after we did and today we began the second attempt to replace them.

Read more …
Forward Camera




Another of our

packages

shipped to Southwest Harbor contained two IP cameras. Here James is drilling a hole to mount a forward-looking camera just under the flybridge brow.
9/29/2016
Cafe 2




A delicious lunch street-side at Cafe2 in downtown Southwest Harbor.
Oil




We picked up fifteen gallons of engine oil today from a nearby Napa auto parts store. We are now up to the full complement of engine oil we carry, enough for three main engine changes and two generator changes.
9/30/2016
Groceries




A small reprovisioning trip for fresh produce at the local IGA.
Bicycles




We brought the bikes down to get them ready for a bicycle trip through the Acadia National Park tomorrow. Those Giant FCR 2s have performed wonderfully and needed surprisingly little maintenance given they've travelled around the world on our flybdridge. We store them in a custom canvas cover and the only regular maintenance they've gotten is a heavy chain lubing every few months.
Upper Deck




Fresh lobsters on the boil outside a road-side restaurant is a common sight when driving in Maine. The Upper Deck pub above the marina seems to always have pots going.
10/1/2016
Acadia Carriage Roads




Between 1913 and 1940, millionaire philanthropist John D. Rockefeller Jr. built 45 miles of carriage roads on Mt. Desert Island that were closed to automobiles and remain that way today. Rockefeller also financed the construction of sixteen stone bridges at gorge and stream crossings. The majority of the roads are within Acadia National Park—we spent much of the day biking through them and viewing the graceful bridges.

Read more …
Boat Hook




We installed a boat hook in the Portuguese bridge. Having a boat hook forward saves the time of having to go to the stern to get the other one.
Flares




Some of our flares were nearing expiration, so we bought some replacements at the on-site West Marine store. We keep the current ones in the orange box and any expired ones in the clear plastic box in the front. We also carry a set of current flares in the tender.
10/4/2016
Docks




Many marinas in Maine remove some or all of their docks in the winter. Several places we'd contacted looking for dockage were either closed for the winter or had removed sufficient docks that they could no longer fit us in. Some of the Southwest Harbor docks were already out of the water when we arrived, and more were lifted out while we were here. Southwest Harbor does stay open all winter, but with much less dock space available.
Healed!




Jennifer drove up to Bangor today to visit Dr. Aronowitz, an orthopedic surgeon recommended by her Florida surgeon,

Dr. Diaz

of Jupiter Hand to Shoulder. It's been eight months since the

initial break

and six months since

the surgery

to address the subsequent nerve issue. We were hoping to have the pin removed before leaving Florida, and

tried again in Boston

, but the bone hadn't healed sufficiently, even by the time we were leaving Boston. Within minutes of the new xrays being taken, Dr. Aronowitz had sent them to Dr. Diaz and they were texting each other to consult. Pretty impressive service. And they both agreed—the bone has healed sufficiently and the pin is ready to come out! Jennifer is scheduled for surgery in Bangor on October 13th.
Aft Camera




While Jennifer was in Bangor, James was busy installing a aft-facing camera on the mast. You can see it just to the right of the stack.
Stack




James up the stack, hooked on with a climbing harness, running wires for the new camera.
Wire Run




The wire run from the stack comes in through the pilot house ceiling and across to the area above the dash. We ran more wires than we needed to have some spares for future use. On most jobs the wire pull is by far the biggest part of the job, so a few spares always comes in handy.
Nate & Anastasia




Nate and Anastasia dropped by for a visit and a tour of Dirona. They're blog readers who happened to be in the area, and arranged to meet us and see the boat.
10/5/2016
Hinckley




Southwest Harbor is full of beautiful Hinckley jet-drive boats. The yard where the

Hinckley company

was founded in 1928 is visible from our dock.
Mount Parts




We finally got all the mount parts we needed and were able to change all four mounts.

Read more …
10/6/2016
Aligned




Most of yesterday was spent replacing the engine mounts and a good chunk of today went to aligning the engine. Here is a happy James after the job is complete.
TNF




We haven't bothered getting a satellite TV service while in the US and have been experimenting with various ways to watch

NFL football

. Tonight we tried the Twitter live stream of Thursday Night Football and it worked great.
10/7/2016
Bar Harbor




Bar Harbor has been a popular tourist destination since the mid 1800s as tourists flocked in to experience Mt Desert Island's incredible natural beauty. Thirty hotels operated in the town by 1880. Today Bar Harbor is the gateway to Acadia National Park, where over two million people from around the world visit annually. We dropped off our rental car in Ellsworth this morning and biked back toward Southwest Harbor to the start of the Island Explorer line, a free bus service that covers Mt. Desert Island. From there we took the bus to Bar Harbor to spend the day exploring and returned by bus back to Southwest Harbor.

Read more …
Click the travel log icon on the left to see these locations on a map, with the complete log of our cruise.

On the map page, clicking on a camera or text icon will display a picture and/or log entry for that location, and clicking on the smaller icons along the route will display latitude, longitude and other navigation data for that location. And a live map of our current route and most recent log entries always is available at http://mvdirona.com/maps.