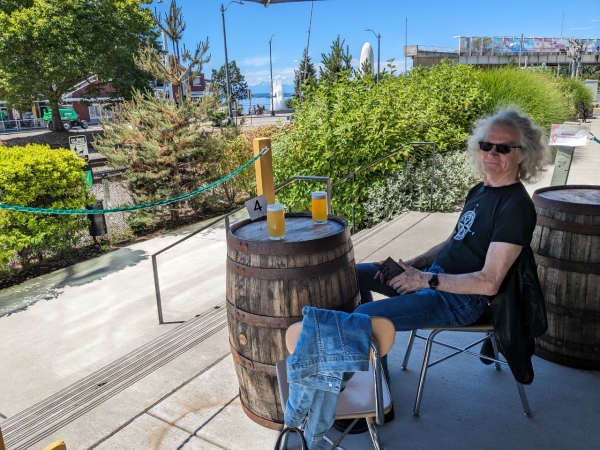 July in the Pacific Northwest typically is wonderfully warm and sunny, and this year was no exception. We took advantage of the excellent weather with several outdoor activities, starting with a weekend of hiking in Whistler, Canada, and later a local hike and an overnight camping trip. At restaurants, we dined al fresco whenever possible. We also had a couple of indoor events planned for this month, including Celebrate Merlot in Walla Walla, Washington and the Tony-award-winning musical Six here in Seattle. And in the middle of the month, Spitfire the "wonder kitty" turned 20 years old.
Below are highlights from July 1st through 31st, 2023. Click any image for a larger view, or click the position to view the location on a map. And a map with our most recent log entries always is available at mvdirona.com/maps.
7/1/2023
Whistler Blackcomb

The Whistler Blackcomb ski resort, about a two-hour drive north of Vancouver, Canada, is frequently ranked as one of the best ski resorts in North America. It also is one of the largest and busiest in North America, has the greatest uplift capacity, of 65,500 skiers per hour, and annually draws more than two million winter sports enthusiasts.

But Whistler Blackcomb is not just a winter sports destination. The complex sees over 2.5 million summer visitors annually, 25% higher than in the winter, for activities including mountain biking, golfing and hiking.
7/5/2023
Assaggio Ristorante

A delicious meal over a bottle of Barolo on the terrace at Assaggio Ristorante. We really enjoy living downtown with its seemingly endless supply of restaurants to try. We mostly stay within a 15-minute walk of our apartment, but if we ventured further, dozens more are within a 15-minute drive.
7/7/2023
Orthopedic Boot

James foot has been hurting quite a bit since our hikes at Whistler, so he saw a podiatrist today. The diagnosis was a possible broken foot, and he'll be wearing an orthopedic boot until he can get an MRI and know definitively.
7/8/2023
Three Wheels

Our Honda Passport on three wheels as we navigate a washed-out section of National Forest Development Road 9021 at Mine Creek. We continued another 3 miles beyond this point, but the road became very overgrown. We did find a potential campsite, but the area thick with mosquitoes and so fogged in we couldn't be sure of the view. That combined with a difficult return discouraged us from staying.
Big Load

A big load coming down Forest Road 4832 as we head up. We're impressed that the driver could manage that big trailer on these rutted and windy roads.
7/9/2023
7/10/2023
Air Force Planes over Seattle

Two air force planes, one with a refueling boom, flying over Seattle.
MLB All-Star Week

The Seattle Mariner's are hosting the Major League Baseball All-Star Week, and the posts supporting the monorail are decorated in celebration.
Serious Pie

Serious Pie is another restaurant that is close to our apartment but for some reason we've never tried. The pizza was excellent and we'll definitely be back.
7/13/2023
Happy 20th Spitfire!

Spitfire the wonder kitty enjoying a can of his favorite food, Applaws tuna fillet, as a 20th birthday treat. We've always used August 1st as his birthday, but learned recently from his original microchip record that it is in fact July 13th. We told him that now that he's 20, its time for him to get a job and start paying his own way :-).
Celebrate Merlot, Walla Walla

We've always favored full-bodied reds, such as Cabernet Sauvignon and Zinfandel, over lighter choices such as Merlot and Pinot Noir. But after attending a couple of

Winemaker's Dinners

at the Butcher's Table restaurant, arranged by Merlot-enthusiast Jason Sanneman, we began to appreciate that varietal more. We'd also become interested in visiting Walla Walla in eastern Washington, after receiving several recommendations. The Celebrate Merlot weekend hosted by the Walla Walla Valley Wine Alliance seemed like a perfect opportunity to explore the Walla Walla area while sampling the region's Merlot.
7/21/2023
Maiz, Seattle

A delicious Margarita at our favorite table overlooking the street at Maiz in the main floor of our apartment building.
7/22/2023
Smashed Windows

Seeing a car with smashed windows makes us glad we have underground parking and don't have to leave

our Honda

on the streets overnight. Downtown Seattle is still a bit rough in places.
7/23/2023
Bell Harbor Marina

Bell Harbor Marina, our old home port where we

lived aboard

for four years, at Pier 66 in Seattle. On the left is Anthony's restaurant and the

Norwegian Encore

is on the right.
Here Today Brewery & Kitchen, Seattle

At Here Today Brewery near the Seattle waterfront for a lunch of wings with their excellent Hazy IPA.
Patio

We really like the patio at Here Today Brewery, with it's peek-a-boo view to the Seattle waterfront and Olympic Sculpture park. Partly visible in the background is the top of the monumental sculpture

Echo

by Spanish visual artist Jaume Plensa.
Train

Another reason we like visiting Here Today Brewery is to watch the trains.
Outside Paramount Theater in Seattle

Outside the Paramount Theater in Seattle before attending the musical Six.
Paramount Theater Lobby

The Beaux-Arts lobby of the Paramount Theater prior to the start of the musical Six. Hollywood-based Paramount Pictures built the theater in 1928, as part of a project to build a theater in every major city in the US to ensure broad distribution its films. The theater's lavish interior compensated for its remote location, on 9th Ave, several blocks away from Seattle's finest theaters on 2nd Ave.
Paramount Theater Stage

View to the Paramount Theater stage from our balcony seats. Starting in the 1970s, the theater became one of the city's foremost music venues and played host to bands including Pink Floyd, Bruce Springsteen, The Grateful Dead, Fleetwood Mac, David Bowie, Queen, Madonna and Nirvana. We saw Motley Crue play there in the early 1990s. The audiences of such productions were hard on the building and its furnishings and a recent $37 million renovation has returned the theater to its former glory.
Six Musical, Paramount Theater in Seattle

The start of the musical Six, at the Paramount Theater in Seattle. The Tony-Award-winning show, based on the six wives of English King Henry IIIV, was energetic and entertaining.
Deep Dive, Seattle

After watching the musical Six at the Paramount Theater, we stopped at Deep Dive for one of their creative cocktails. We love the hushed ambiance of the speakeasy, located under the Amazon Spheres. Getting in without a reservation often is difficult, but it was quiet on this Sunday night.
7/27/2023
Puget Sound Co.

The a cappella group

Puget Sound Co.

entertaining at a dinner party we attended along the west shore of Lake Washington. They were quite talented and we really enjoyed their performance.
7/29/2023
Dirty Harry's Balcony

Dirty Harry's Balcony offers great views of the western Cascade Mountains on a relatively short hike that is closer to Seattle than most. The 4.2-mile (6.8 km) return trail ascends 1,354 ft (412 m) through healthy, second-growth forest from a trailhead that is only a 45-minute drive from our apartment. The trail is named not after the Clint Eastwood movie, but refers to Harry Gault, known as "Dirty Harry", who built precipitous roads and aggressively logged the area in the 1940s.
7/31/2023
Quantum of the Seas

The cruise ship Quantum of the Seas on a early-morning approach to Pier 91 in Seattle.
Boeing 737 Fuselage

We love watching the trains pass by from the patio at Here Today Brewery. Today we got a real treat when an entire Boeing 737 fuselage passed by en route from Boeing in Everett.
Sounder Commuter Train

Normally we just see freight trains along the Seattle waterfront, but today we got both the Boeing fuselage and a Sounders commuter train.
| | |
| --- | --- |
| | Click the travel log icon on the left to see these locations on a map. And a map of our most recent log entries always is available at mvdirona.com/maps. |