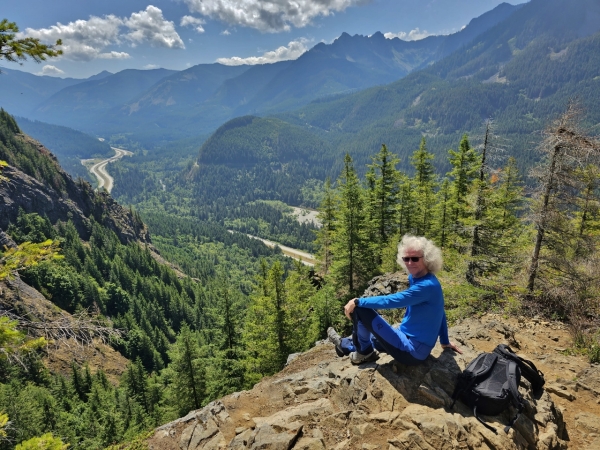 Dirty Harry's Balcony offers great views of the western Cascade Mountains on a relatively short hike that is closer to Seattle than most. The 4.2-mile (6.8 km) return trail ascends 1,354 ft (412 m) through healthy, second-growth forest from a trailhead that is only a 45-minute drive from our apartment. The trail is named not after the Clint Eastwood movie, but refers to Harry Gault, known as "Dirty Harry", who built precipitous roads and aggressively logged the area in the 1940s.
We made the hike to Dirty Harry's Balcony as a test run shortly before a long-planned hiking trip to North Cascades National Park. The hikes we'd planned were rather strenuous, and James was recovery from a foot injury after hiking at Whistler. So we made the short test hike to Dirty Harry's Balcony to ensure his foot really was fully recovered.
We arrived shortly before 11am on a sunny and warm Saturday morning. By that time the parking lot was full, but plenty of parking was available on the road a short distance from the trailhead. We reached the top in just over an hour, and really enjoyed the hike and the viewpoints along the way. On the return, we stopped off at a rock climbing area near the trailhead, full of climbers scaling the cliffs. And we're happy to report that James foot was just fine.
That afternoon, we watched the Seafair Torchlight Parade from our apartment balcony. Seafair is a multi-week, annual summer festival that began in 1951 to celebrate Seattle's centennial. The Torchlight Parade is one of the original and most well-known of the Seafair events, along with the Seafair Cup hydroplane races and a Blue Angels aerial display. In the parade, more than 100 displays made their along 4th Ave from the Space Needle through downtown Seattle to Seneca Street. Our favorite display was a massive inflatable replica of a Blue Angels plane that was so wide it kept getting caught on buildings along the street.
Our route to to Dirty Harry's Balcony is shown on the interactive map below. Click here for a full-page map.