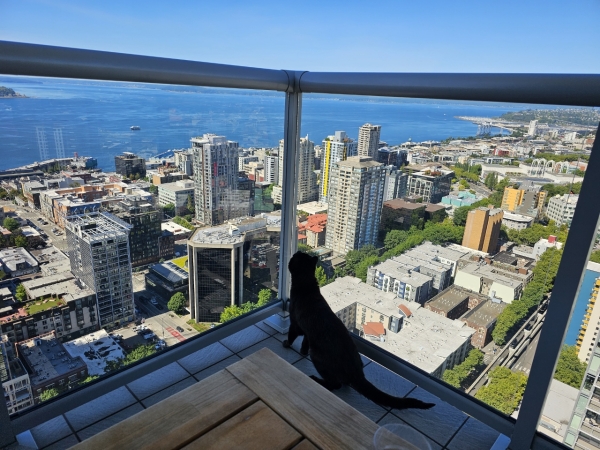 August brought more warm and sunny weather to Seattle, and the return of NFL season. We attended two Seattle Seahawks preseason NFL games, and a couple of Seattle Mariners baseball games, all in T-shirt weather. And we had fabulous weather for a hiking trip to Washington's North Cascades National Park, known as the American Alps for its dramatic mountain scenery. We also stopped by Ballard to view the substantial Chinook spawn, and James made a couple of business trips. James got a year older this month, and Spitfire a month older. Spitfire continues to do well, despite his advanced age of 20.
We ended the month in the dramatic style in the exact opposite weather conditions, below freezing, overcast and windy, standing at the North Pole. We departed in late August for our long-planned journey aboard Le Commandant Charcot and reached the North Pole after a day in Paris and a three-day sail from Svalbard. We had a fabulous time both on the trip there and of course, actually being at the North Pole. And were lucky to see a polar bear while there, a rare sighting that far north.
Below are highlights from August 1 through 31st, 2023. Click any image for a larger view, or click the position to view the location on a map. And a map with our most recent log entries always is available at mvdirona.com/maps.
8/1/2023
USS Barry

The 505 ft (154 m) missile destroyer USS

Barry

parading across the Seattle waterfront as part of

Seafair Weekend

.
8/2/2023
Le Commandant Charcot Travel Documents

Our flight and ship boarding passes for our upcoming cruise to the North Pole aboard

Le Commandant Charcot

arrived today in a nice leather pouch with matching luggage tags and passport holders.
Serious Pie

Enjoying a pitcher of IPA on the patio at Serious Pie while we wait for our pizza to cook.
8/4/2023
North Cascades National Park

North Cascades National Park is known as the American Alps for its dramatic mountain scenery, with jagged snow-covered peaks, alpine lakes, hundreds of the waterfalls that give the Cascade Range its name, and over three hundred glaciers. Despite the many attractions, and the park's proximity to Seattle, it is one of the least-visited national parks in the country. Barely 30,000 people visited last year, making it the sixth-least visited of the 63 national parks. Compare this with Mt. Rainer, a similar distance from Seattle, that saw 1.6 million visitors in 2022.

Read more …
8/8/2023
Happy Birthday James

Celebrating James' birthday at one of our favorite Seattle restaurants, Butcher's Table.
8/9/2023
Crane Tour

We normally never see anyone other than the operator on the crane. Today a lucky group somehow got a crane tour. Not sure how that was arranged but sign us up!
Seattle Mariners

The Seattle Mariners on the field just before the start of a game against the San Diego Padres at Safeco Field. James had a customer work event that was held in one of the suites, so we got a different perspective from where we normally sit near home plate.
8/10/2023
Seattle Seahawks

At Lumen field to watch the first home game of the season, with the Seahawks taking on the Minnesota Vikings in preseason week 1.
8/11/2023
Metropolitan Grill

We've not been to the Metropolitan Grill for ages, as it's a bit out of our walking distance radius. But today we decided to grab an Uber and enjoy a great meal.
New Archetypes

The sculpture New Archetypes by renowned French sculptors Anne and Patrick Poirier, outside the office building at 1201 Third St. in Seattle, is considered one of the city's significant works of public art.
8/12/2023
SLU Saturday Market

The weekly Saturday Market in the South Lake Union (SLU) neighborhood. We're not usually in town on weekends, but have been traveling quite a bit recently, and have the North Pole trip coming up at the end of the month, so are spending a couple of weekends at home.
Insignia

Looking way up to the top of our apartment building, Insignia, from the street entrance.
Felix Hernandez

Seattle Marines legendary pitcher Felix Hernandez, known as "King Felix", speaking during the ceremony to induct him into the Mariners Hall of Fame. In 2012, Hernandez threw the 23rd perfect game in MLB history, and the first for the Mariners. He also holds Marines pitcher records for his 2,163 strikeouts and 146 wins. To his left are fellow Mariners hall-of-famers and teammates (from left) Ichiro Suzuki, Edgar Martinez and Ken Griffey Jr. (hidden behind Hernandez).
Mariner Moose

The Mariner Moose wearing a red cape in celebration of "King Felix" Hernandez's induction into the Mariners Hall of Fame.
T-Mobile Park

T-Mobile park glowing in royal purple following "King Felix" Hernandez's induction into the Mariners Hall of Fame.
8/13/2023
Bell Street Diner

When the weather is nice on the weekend and a cruise ship is in dock, we enjoy having lunch at Anthony's Bell Street Diner at the foot of Bell street. Just visible behind in the background is the

Norwegian Encore

that we took on our

Caribbean cruise

last fall.
Suncadia Resort

The view from James' room at Suncadia Resort, off I-90 east of the Cascade Mountains, where he is presenting at an Amazon internal conference.
8/14/2023
Traffic

Lots of boat traffic in Elliott Bay this morning, with two fast ferries arriving at far left and right, the Victoria Clipper crossing from bottom right to refuel, and a Maersk container ship approaching the port under tug assist.
8/15/2023
Spitfire

We emptied our hall closet to install a new shoe rack, and Spitfire was immediately inside to check out the new space.
Shoe Rack

Our new

shoe rack

is a lot neater than storing our shoes on the floor, and allows us to keep many more pairs of shoes in the hall closet where they are more readily available.
Seattle Police

The Seattle Police never seem to show up in small numbers. Here at least 6 cars are responding to an incident at 6th and Olive.
8/16/2023
Natural Causes

Spitfire staring intently at a spider beneath the railing in the corner of our balcony. Whenever he looks about to jump up, we always remind him that the rule is "Natural Causes" for how he should finish his life, rather than falling from a high-rise apartment. He's more careful than when he was younger, but we always keep a close eye on him if he's outside as he's still pretty fast when he wants to be.
8/17/2023
Sunrise over Cascade Mountains

A striking sunrise over the Cascade Mountains, viewed on James' flight to California on a short business trip.
KRB7 Knights of Beaumont

James at the Amazon KRB7 Storage and Distribution Center in Beaumont, California. It's a big one at 1.2 million sq ft and 13 million sq ft of rack storage. The KRB7 team is proud of their facility, and "Knights of Beaumont" is their logo. This

video clip

shows the group James was with cheering them on.
Lake Union

View to Lake Union from James' return flight home from California. The visible bridges are, from foreground to background, the Aurora Bridge over Lake Union (SR 99), the Ship Canal Bridge (I-5), and the Evergreen Floating Bridge over lake Washington (SR 520).
Insignia

The twin towers of our apartment complex, Insignia, as James' flight banks over the city. Looking at the two towers central in the picture, our apartment is the upper closest corner in the right tower.
Stadiums

View to two of Seattle's major league sports venues, Lumen Field at left and T-Mobile Park at right, from James' return flight to Seattle. Lumen Field is the home to the Seattle Seahawks NFL team and the Seattle Sounders MLS team, and T-Mobile Park is home to the Seattle Mariners MLB team.
8/19/2023
Seattle Fire Department

The Seattle Fire Department at the ready in the Lumen Field parking lot prior to a Saturday Seattle Seahawks preseason game against the Dallas Cowboys.
Seahawks vs Cowboys

A surprisingly good turnout for the Seattle Seahawks' match with the Dallas Cowboys, given it's a preseason game.
8/20/2023
Ballard Locks

In most Pacific Northwest rivers, dams and locks block the spawning path, and the salmon work upstream around these barriers through fish ladders and other passes. One of these ladders is at the Ballard Locks in Seattle. This year's Chinook spawn was trending to be one of the best in years, with visitors raving about the incredible number of salmon passing by the viewing windows.

Read more …
Smoky Sunset

A striking sunset over Seattle through the smoke from forest fires to our north.
8/21/2023
Monorails Stopped

A rare sight of the monorails that run between Seattle Center and the city core both parked side-by-side between stations on the tracks below our apartment.
Above Grade

Contruction of the apartment complex to our north at 6th and Bell has reached above grade now.
8/23/2023
Lola

A fun evening at Lola Mediterranean restaurant near our apartment. We particularly enjoy their skewered meats.
8/25/2023
Paris

After many months of anticipation, the departure date for our trip to the North Pole aboard

Le Commandant Charcot

finally had arrived. We would be flying from Seattle to Paris, spending a day there, then taking a charter flight the following morning to Svalbard, where we would board the ship.

Read more …
8/26/2023
Le Commandant Charcot

Le Commandat Charcot

, owned by French cruise ship operator Ponant, is the most capable non-nuclear icebreaker in the world. While the term icebreaker typically connotes a military or research vessel, long on capability, but short on comfort, the

Le Commandant Charcot

has plenty of both.

Read more …
8/29/2023
Off the Map

We're only 3.5 degrees and y 235 statue miles away from the North Pole aboard

Le Commandant Charcot

, but our most recent personal track puts us "off the map" of what a Mercator projection can display. This screenshot from Google Maps shows our current position and route from Longyearbyen, Svalbard.
8/30/2023
92 Miles

We're now 1.5 degrees and 92 statue miles from the North Pole, aboard

Le Commandant Charcot

, and even further "

off the map

". We should reach the North Pole this afternoon. The ship is the world's most capable non-government ice breaker, and we're currently breaking up to 2.5-meter ice.
North Pole

We've reached the North Pole aboard

Le Commandant Charcot

. The mercator projection in Google Maps fails pretty badly as we near the North Pole, and no mapping program except Google Earth will even display our location.
Standing at the North Pole

When we

visited Svalbard

five years ago, we noted that "lying 600 miles from the North Pole, it is about as far north as a person is likely to get without being a polar research scientist". So we certainly didn't expect to be standing ashore at the North Pole five years later. It's absolutely amazing to be here where so few have been before. Our North Pole arrival is only the 168th visit by boat ever, and some of those visits were repeats by the same boat. Not many ships can make the trip. (Map unable to show position at North Pole.)

Read more …
Polar Bear

Polar bears are rare north of 88°N, so we were lucky to see one at the North Pole while

Le Commandant Charcot

was "moored" into an ice floe. Whenever people are ashore, armed lookouts continually monitor for polar bears to give the crew ample time to react. When this bear was spotted several miles away, everyone ashore was ushered back on board and we watched from the deck as the majestic animal came right up to the bow. (Map unable to show position at North Pole.)
Polar Bear Departing

The polar bear spent several minutes wandering around the bow of

Le Commandant Charcot

, sniffing the air and our footprints to decide what we were, and eventually ambled off towards the edge of the ice floe. (Map unable to show position at North Pole.)
8/31/2023
Overnight Drift

Overnight we drifted five miles as

Le Commandant Charcot

remained "moored" into the ice floe. (Map unable to show position at North Pole.)
90 North

The passengers of

Le Commandant Charcot

spelling out 90°N. We're at the bottom of the '9'. (Map unable to show position at North Pole.)
Polar Plunge

Jennifer leaping into the water on a polar plunge at the North Pole. She's now done a polar plunge at both ends of the world, with the

first one in Antarctica

late last year. (Map unable to show position at North Pole.)
Around the World in 15 Minutes

As we departed the North Pole,

Le Commandant Charcot

made a quick blast around the world in 15 minutes by circling the pole. (Map unable to show position at North Pole.)
| | |
| --- | --- |
| | Click the travel log icon on the left to see these locations on a map. And a map of our most recent log entries always is available at mvdirona.com/maps. |