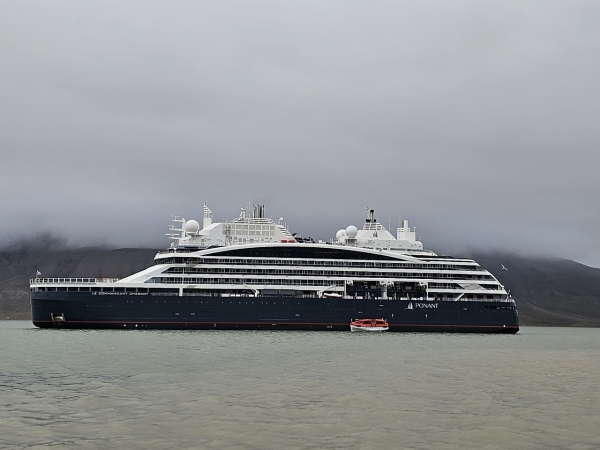 Le Commandat Charcot, owned by French cruise ship operator Ponant, is the most capable non-nuclear icebreaker in the world. While the term icebreaker typically connotes a military or research vessel, long on capability, but short on comfort, the Le Commandant Charcot has plenty of both. Launched in 2021, the 492 ft (150 m) LNG-powered ship was purpose-built for icebreaking expeditions to the North Pole and can break through 15 ft (4.6 m) of ice while providing a luxurious on-board experience. Every cabin has a balcony, with cabin sizes ranging in size from 215 sq f (19sq m) to 1,237 sq ft (115 sq m), some with butler service. The on-board menu was created in consultation with Michelin-starred chef Alain Ducasse, and the ship is well-stocked with fine wines and spirits.
For our trip to the North Pole, we flew from Paris to Svalbard, Norway on a charter flight arranged by cruise operator Ponant. We opted for a business class upgrade, and enough other passengers did so that Ponant chartered a separate plane for us. The five-hour trip to Svalbard was wonderful, particularly the views to the Norwegian islands and the glaciers of Svalbard as we neared our destination. And we were delighted that they served Brew Dog IPA. It was one of our favorite beers when we lived in Europe, and we'd not had since departing in 2021.
In Svalbard, we transferred directly from the airport to the port, with time only for a few pictures ashore before a riding one of the ship's lifeboats to the anchored Le Commandat Charcot. We were nearing the end of the Arctic cruise season, and only one other ship was in port, the Viking Neptune. We'd last visited Svalbard in 2018 when Dirona was in Tromso, Norway, and back then could never have guessed that we'd return to take a cruise ship to the North Pole.
Since this was a once-in-a-lifetime experience, we'd opted for one of the nicer cabins on the ship, a Duplex Suite. The two-level stateroom has a living and dining area on the main level that opens onto a balcony with a hot tub, and an upstairs loft-type bedroom with a view aft. It was a spectacular cabin, and we absolutely loved it.
We spent much of the first day exploring the ship. Indoor common areas include a cigar room, two lounges, two restaurants and a large theater.
At the stern is the Blue Lagoon, an outdoor bar with a fire pit, heated seats and a wrap-around heated "lagoon". Other exterior amenities included outdoor benches heated with hot water pipes and Swarovski Optik.
For health and wellness, the ship had a spa, sauna, snow room, gym and a hair and nail salon.
One of the features we really appreciated was an open bridge. Except for a few brief occasions, we could visit the bridge whenever we wanted. As you would expect from a modern expedition ship, Le Commandat Charcot was fitted with state-of-the-art electronics.
The ship also has an aft bridge that we toured. The aft bridge is used when the ship can no longer make forward progress in the ice and needs back out. It's also used as a last resort when breaking through particularly thick ice. In this mode, the ship turns around and backs into the ice previously not breakable going forward. In this rearward approach to the ice, massive stainless steel propellers are used to grind up ice like an egg beater and this ship has been successfully tested in breaking through up to 15 ft (4.6m) of ice.
For emergencies, the ship carries the usual complement of safety gear, plus a helicopter for emergency evacuation. The helicopter normally is stored below deck, but was brought up at one point during the trip. The ship also carries two massive spare propeller blades on the helicopter deck.
With so little deep Arctic vessel travel, the opportunity for scientific research are somewhat limited. Le Commandant Charcot contributes to science by making space for several scientists and their lab work on every trip.