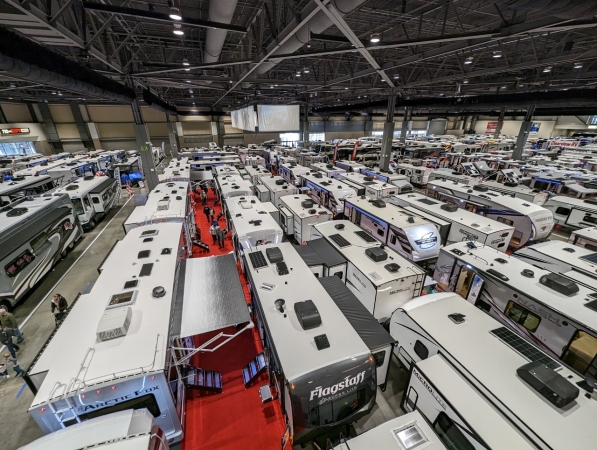 February was even colder than January, with Seattle setting a record low temperature for Feb 24th of 22°F (-5.5°C) and fountains and ponds freezing up throughout the city.
We started the month at the Seattle Boat Show, where we presented a seminar on our the trip around the world and checked out some of the boats on display. Later in the month, we continued the theme with a day at the Seattle RV show. We're not really in the market for an RV, but it's fun to look and get ideas.
Towards the end of the month, longtime Hamilton family friend Mike Dilley visited us from Eugene, Oregon. We had a wonderful weekend enjoying meals at some great Seattle restaurants and touring the Museum of Pop Culture and the Klondike Gold Rush Museum. The latter was particularly interesting as we'll be stopping in Skagway, one of the main route to the Klondike during the 1896-1899 Gold Rush, on a a cruise up the Inside Passage to Alaska from Vancouver on May 1st aboard the Norwegian Jewel.
And we had a little extra excitement this month when Jennifer nearly sliced off the top of her thumb while cooking and got her very first stitches. James, on the other hand, can hardly keep track of the various times he's been stitched up.
Below are highlights from Feruary 2 through 28, 2023. Click any image for a larger view, or click the position to view the location on a map. And a map with our most recent log entries always is available at mvdirona.com/maps.
2/2/2023
US Mail Chute

A US Mail chute in the downtown Seattle Polyclinic building. US Mail chutes have been popular in multi-floor buildings since the late 1800s, but were superseded by modern building mailrooms that can handle larger volumes of mail. By 1997, the National Fire Protection Association banned their construction in new buildings because they provide a conduit for fires to spread between floors. Their other downside is that letters can get stuck in them, and sometimes not be discovered for decades.
2/4/2023
Seattle Boat Show

Looking across the display floor at the annual Seattle Boat Show at the Lumen Field Event Center.
Life Proof Boats

After our Seattle Boat Show seminar, we spent some time touring the floor, particularly this

Life Proof Boats

35 Full Cabin. It's a totally different design point from

Dirona

, but at a top speed of 54 mph (87 kph) would allow us to quickly reach local destinations such as the San Juan or Gulf islands. Exploring different design points is fun, and this one has some appeal for us.
Bow Thruster

An innovative fold-out bow thruster on a Beneteau sailboat on display at the Seattle Boat Show.
The Library

Stopping for a drink on our way home from the Boat Show at the cozy Library bar in the Alexis hotel. We stayed in the hotel on one of our return visits to Seattle and really enjoyed the Library.
2/5/2023
Lai Rai

Lunch at recently-opened Lai Rai before walking down to Bell Harbor for the afloat portion of the Seattle Boat Show. They brought us a complementary tray of three delicious desserts after our order was slightly delayed.
Hampton 63

On the flybridge of a Hampton 63 at the Seattle Boat Show. It's not really our style of boat, but we quite liked the design with the galley at pilot house level.
Ranger 43CB

The latest and largest Ranger Tug in the fleet, a 43CB , at the Seattle Boat Show.
Utility Room

We've always been impressed with the creative space-utilization of the Ranger Tugs. The designers pack a lot into a small space. On this 43CB at the Seattle Boat Show, the dinette lifts away hydraulically to reveal a utility room underneath containing a full-sized washer and dryer.
Model Car

Remote-controlled cars are becoming increasingly capable. This one we saw in a downtown parking lot is capable of something close to 20 miles an hour (32 kph) with a high-performance suspension and aggressive, low-inflation tires supporting impressive handling even on rough or wet surfaces.
2/6/2023
Lobby Closed

The lobby of our apartment building is closed this morning while the overhead glass panels are replaced.
2/8/2023
Shinya Shokudo

Jennifer enjoying a Sake tasting flight at Shinya Shokudo. James has a Kyoto Matcha IPA that is very green in color, but quite tasty. We continue find new restaurants to try in Belltown and really enjoyed the grilled skewer dishes at Shinya Shokudo, particularly the blistered shishito peppers.
Fire Station 2

Boots ready to go for a quick launch at Seattle Fire Station 2, viewed as we walked home from dinner at Shinya Shokudo.
2/9/2023
Stitches

Jennifer managed to nearly slice off the end of her thumb while cooking and just got stitches at Virginia Mason. At least we know our

knife sharpener

is working well.
2/10/2023
2/11/2023
Hill Top Ale House

Lunch at our favorite table at Hill Top Ale House in

Queen Anne

. The beer and ambiance are excellent, we love the street view from this table, and they have a blistered shishito pepper dish that is delicious.
Flight of Gulls

Looking across the the sculpture Flight of Gulls to the Seattle Space Needle as we walk home through Seattle Center from Queen Anne. The sculpture is part of the larger Fountain of Creation created by American sculptor Everett Dupen for the 1962 World's Fair.
International Fountain

The 125-jet International Fountain, built for the 1962 World's Fair, is a perennial favorite at Seattle Center and always attracts a crowd. Children never tire of trying to outwit the jets by getting in close, then running away squealing and laughing when water suddenly sprays towards them.
Teku Tavern

A drink at our favorite table in Teku Tavern southwest of Seattle Center.
2/14/2023
Butcher's Table

A Valentine's Day dinner at The Butcher's Table. Pictured with us is Jason Sanneman, the Assistant General Manager and Wine Director. We enjoy chatting about food and wine with Jason when he drops by.
2/15/2023
Brrr

The Seattle temperature remains cold, at just below freezing this morning.
Above Garage

The floor above garage level at the 4th and Bell construction site is going into place.
Taqueria Cantina

Delicious tacos and margaritas for dinner at Taqueria Cantina in Belltown.
2/16/2023
Brick Mural

A decorative brick mural depicting Seattle past and present on the Lumen telecom building in Belltown.
Musicians

A metal sculpture of musicians covering a large air intake at a Belltown building near 2nd and Lenora.
2/17/2023
Bedside Lights

We've been looking for some bedside lights for the guest bedroom for ages and found some we liked today
Foundation

The foundation of the apartment building being constructed north of our apartment is taking shape.
2/18/2023
Seattle RV Show

We've never attended the Seattle RV Show before, and decided to check it out this weekend. We're not really in the market for an RV, but it's fun to look and get ideas.
Thor Aria

This Thor Aria Class A motorhome has a huge interior with multiple slide-outs on each side. It was nicely done, but we'd not likely want something so large. Were we to get an RV, we'd probably want something small and nimble such as a

Winnebago Revel

.
Wildwood Grand Lodge

We definitely don't want to tow, but this Wildwood Grand Lodge trailer caught our attention in being so huge. The massive trailer is 43 ft (13.1 m) long and is 13.25 ft (4 m) high, with a raised sleeping loft inside.
Locus Wines

We stopped in at Locus Wines for a drink on our way home from the RV show. We'd not been here before and quite enjoyed the wine and the window seat.
Kraken vs Detroit

Two of the many TV cameras filming the action as the Seattle Kraken take on the Detroit Red Wings. In an exciting game, that we weren't predicted to win, the Kraken beat Detroit 4-2.
2/20/2023
Storm Coming

The winds are picking up in Seattle as a big North Pacific storm heads our way.
Goodtime III

The Argosy tour boat

Goodtime III

rolling heavily in tight seas as

the storm

passes through Seattle.
2/21/2023
Booster Shot

Getting our third COVID booster shot. We've mostly gone with Pfizer, but opted for Moderna this time. The larger dose hopefully will provide us better protection, but it really knocked out Jennifer. She spent much of the following day with a fever over 102°F (39° C), occasionally spiking up to 104°F (40 °C).
Mantra Thai

Dinner at Mantra Thai after our booster shot. This is yet another restaurant that we've not yet tried, and we quite enjoyed it.
2/22/2023
Snow

A rare snowfall in the Seattle suburb of Belleuve, with our

Honda Passport

parked at Meydenbauer Dental. James was there for an early-morning appointment and was the first in the parking lot.
2/23/2023
Bushwick Tea

We're sampling various herbal teas as a coffee alternative. This Ginger Turmeric flavor from artisan tea maker

Bushwick

looks and tastes wonderful, but we didn't like the staining aspect of the turmeric.
Kraken Store

The Kraken store at Climate Pledge Arena always is busy during a home game, with a line-up out the door.
2/24/2023
Olympic Mountains

The snow-covered Olympic Mountains lit pink in the morning sun.
Record Low

The temperature is 24°F (-4.4 °C) now, but earlier this morning we hit a recrod record low of 22°F (-5.5 °C) for Feb 24th in Seattle.
Tonbi

The fountain Tonbi, by Seattle artist George Tsutakawa, on the Amazon campus. The flow is frozen in today's unusually low temperature.
Amazon Prime

A broken-down Amazon delivery van. The drivers are moving all the packages from the disabled van to the new one for delivery before the disabled vechile is towed off for service.
2/25/2023
4th & Bell

We find modern construction techniques quite interesting. Here you can see the central elevator shaft with forms that are jacked up one floor at a time. In the middle of the tower attached to the jack-up form is a hydraulically-actuated cement pump that is able to reach the entire surrounding building floor. Cement trucks on the street pour into a cement pump that comes out from the articulating green arm. The workers set the forms over the course of several days, install the rebar, pump cement over the entire floor, then jack up the central form and pours the walls for another floor of the elevator shaft. This process is repeated as the building builds upwards.
Sound Off!

Musicians on stage during the sound check for tonight's Sound Off! concert at Seattle's Museum of Pop Culture (formerly the Experience Music Project). Sound Off! is a mentoring program for young musicians that includes an opportunity to perform live in the museum's state-of-the-art facility.
If VI Was IX

The tornado-shaped sculpture If VI Was IX: Roots and Branches by German artist Trimpin at the Museum of Pop Culture. The towering sculpture is made up entirely of musical instruments, mostly guitars. Many of the guitars are self-playing and the sculpture actually plays music.
2/26/2023
Snow

The gardens between our two apartment buildings, 33 floors below us, dusted with snow.
Klondike Gold Rush Museum

At the Klondike Gold Rush Museum in downtown Seattle. The city was the gateway to the gold fields in the late 1800s, and this had a huge effect on Seattle's economy and growth. The city became a major transportation huge and the population increased more than five-fold between 1890 and 1910, from 42,837 to 237,194.
Routes to the Klondike

The Klondike Gold Map showing the various routes to the Klondike during the late 1800s. The most common route was the land and water route via Skagway or Dyea. Secondary routes included the all-water route via St. Michael and an all-land route through northwest Canada via Fort St. John.
One Year's Supplies

Canadian police required that anyone heading to the gold fields carry a year's worth of supplies. This is a recommended list from one Seattle supplier, including 150 lbs (68 kg) of bacon and 400 lbs (181 kg) of flour. The total kit weighed over a ton and a prospector would need to take about thirty round trips on foot through the passes to transport all the goods.
2/27/2023
Door Repair

The door to our storage room has become increasingly difficult to open due to slight settling of the building. Our condo maintenance team fixed the problem by shaving a little off the bottom of the door and replacing the strike plate.
Squall

A squall passing through Elliott Bay, bringing dark skies and strong winds.
2/28/2023
USS Chosin

The guided missile server USS

Chosin

underway through Elliott Bay with tug assist. The ship is departing

Vigor shipyard

for its home port of Everett following a successful three-year modernization project.
Victoria Clipper

The Victoria Clipper arriving into Pier 69 in preparation for the start of the 2023 season in a week or so. The high-speed ferry runs between Seattle and Victoria Canada in the spring through fall.
| | |
| --- | --- |
| | Click the travel log icon on the left to see these locations on a map. And a map of our most recent log entries always is available at mvdirona.com/maps. |