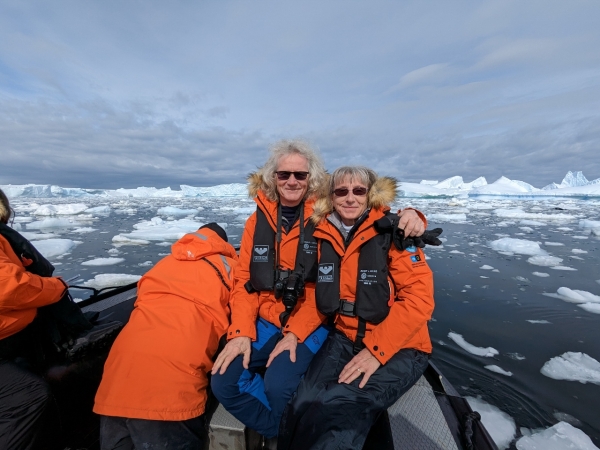 We brought a lot of gear with us on our trip to Antarctica. Most was for keeping warm, dry, and comfortable in the colder weather, but we also brought a variety of other equipment, including cameras, binoculars and a dry bag. In this post, we describe what we brought, what we were glad to have, and items we might not bring next time.
Our luggage limit was 50 lb (23 kg) per person of checked baggage and 17 lb (8 kg) of carry-on. This seems like plenty, but with all the stuff we were carrying, we needed to pack with care and weigh all the bags. The picture below left shows everything laid out and ready to pack. For our checked bags, we used the two LL Bean rolling duffle bags in the foreground, and also had two smaller carry-on bags with valuables and other items we wanted with us in transit. The LL Bean bags worked well for this trip as they hold a lot and are wheeled for easy transport. And when we unpacked in our cabin on board the Endurance, the bags collapse and can slide nicely into a narrow storage space for the duration of the cruise.
| | |
| --- | --- |
| | |
When we visited over the holiday season the temperature in Antarctica was mostly around freezing, but the feel could change a lot depending on wind and sun. The temperature can feel very cold when riding in the zodiacs at speed, and a short time later feel quite warm if hiking ashore in the sun. Dressing in layers is the best way to deal with that. For a base layer, we wore Devold Duo Active Merino 205 thermal underwear that we bought while living in Norway over the winter.
Over the thermal underwear tops we wore long-sleeved shirts (a turtleneck for James and MoFiz hiking shirt for Jennifer), then Norrona falketind Alpha120 hooded jackets. We also brought neck gaiters along, but found we were warm enough without them.
The final top layers were our Lindblad-supplied expedition parkas, which included a bright orange waterproof outer shell and a dark blue lightweight inner insulation jacket. We'd also brought with us warm ski jackets (Norrona lyngen down850 for Jennifer and trollveggen down850 for James). Jennifer wore hers instead of the parka inner shell, mostly for brighter clothing in pictures.
We also wore wool hats to keep our heads warm, and a baseball cap with sunglasses to help with the sun glare off the snow. On particularly cold and clear days, we wore both hats together. We also brought ski goggles to help with windier conditions, but didn't find we needed them.
Over the thermal underway bottoms we wore hiking pants (Lundhags Makke Ws Pant for Jennifer and Norrona falketind flex1 heavy duty for James) with waterproof Gore-Tex rain pants over top. Neither of us were very happy with our rain pants, old pairs that we'd owned for decades. They lacked pockets and front zippers, and Jennifer's tore easily and tended to slip down and make walking uncomfortable. We've since purchased Arc'teryx Beta AR Gore-Tex pants that seem to solve all those problems.
To keep our feet warm and dry we wore two pairs of Smart Wool socks. We brought several pairs of Classic Hike Zero Cushion Liner Crews to change daily, and then wore Hike Classic Edition socks over top. We also brought a pair each of heavier Mountaineer Classic Edition, but were warm enough with the lighter ones over top of the liner crews.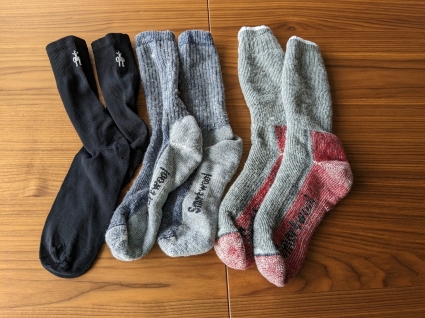 For footwear we needed warm and high waterproof boots for surf landings and walking ashore. We bought Muck boots (Arctic Sport II for Jennifer and Arctic Sport for James). (The Muck boots fit small, particularly with thick socks, so we needed a size up from our normal shoe size.) The ship will also rent out boots, but the price of a new pair was about the same as the rental, so the only advantage there is not having to transport them. Since we have a trip to the North Pole coming up, we decided to just buy our own. And this allowed Jennifer to go for a fancy pink color over utilitarian black. They've also turned out to be great for keeping our feet warm and dry when snowshoeing.
| | |
| --- | --- |
| | |
Looking at gloves, we were expecting to go with our heaviest pairs but found the combination of Black Diamond Midweight Softshell gloves coupled with HotHands hand warmers ended up being our go-to solution. The light gloves allow easy use of a camera and, with hand warmers, we found we were able to stay nice and toasty warm. And at the end of the day, if we leave the hand warmers in the gloves, the continued heat production for their 10-hour heat duration will dry even fairly wet gloves.
| | |
| --- | --- |
| | |
For taking pictures and video, we used a combination of Pixel 7 Pro and 6a cell phones, a Canon SX70 HS, and a Nikon P1000. The Nikon has an impressive optical zoom of 3000 mm, but is a monster at 5.8 x 4.7 x 7.1 inches (146 x 119 x 181 mm) and weighing 3.12 pounds (1.42 kg) compared to the 1365 mm Canon at 5 x 3.58 x 4.61 inches (127 x 91 x 117 mm) and weighing 1.36 pounds (0.6 kg). We liked having the Nikon in our cabin for long-distance shots from the ship, and used the Canon and the cell phones for the rest. This worked out well for us. The Canon is fairly lightweight and portable, and the 1364 mm optical zoom can reach much farther than the Pixel 7 Pro at 120 mm and the Pixel 6a at 27 mm. The Canon also is image-stabilized, a feature we've found is super-important when taking long-lens shots from a moving vehicle or vessel.
We didn't bring a waterproof case to protect our cell phones, but several people on board with us did. They looked quite useful to avoid dropping a phone in the water while taking pictures on a bouncy zodiac ride, and to keep from having to put the phone safely away between shots.
We also brought binoculars, Fujinon TS1440-14×40 with image stabilization. We used and loved them on Dirona for a decade, but they turned out to be too heavy to carry around on the ship. We did really enjoy having them in the cabin to view something far away from the ship though, and would opt for something more lightweight to bring on a future trip. Some of the pairs we tried on board the Endurance and liked included Bushnell 10×42, Pentax 10×43, and Vortex Optics Razor HD.
Once final piece of gear we brought was a large drybag pack, a SealLine Boundary 35-Liter, that proved very useful in keeping our gear dry when out in the zodiac and carrying our coats when ashore. All the layers we needed when running at speed in the zodiac were too much when walking ashore for any distance. Having the pack meant we could stuff our big coats inside, compress them down and easily carry them on hikes.